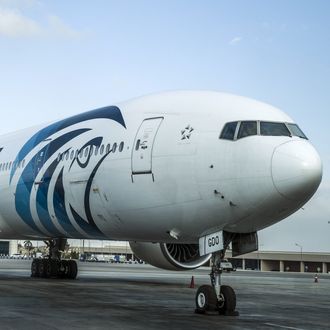 An EgyptAir jet.
Photo: KHALED DESOUKI/This content is subject to copyright.
An EgyptAir flight from Paris to Cairo, Egypt, vanished from the radar Wednesday night shortly before 11 p.m. EST, according to NBC. Flight MS804, an Airbus A320, left Charles de Gaulle Airport in France at 11:09 p.m. Paris time and was scheduled to land in Egypt shortly at 3:05 a.m. Cairo time. But officials lost contact with the plane at 2:45 a.m. Cairo time, and nearly two hours later, it remained unaccounted for. EgyptAir confirmed the plane had gone missing on its social-media accounts.
Airline officials told Reuters they believed the jet had crashed into the sea. The plane reportedly sent out an emergency signal at 4:26 a.m., which was two hours after it vanished from radar screens (although an Egyptian newspaper, Ahram, reported that no distress call was made).
"All causes for the disaster are open, whether it is a major technical fault or a terrorist action or any other circumstance," said an official who declined to be identified. "This will be ascertained when we inspect the plane's wreckage and transcribe its black boxes."
The plane reportedly vanished over the Mediterranean Sea less than 400 miles from its destination at an altitude of 37,000 feet. It was carrying 66 people: 56 passengers, three security officers, and seven crew members. Search-and-rescue crews have been notified, and a search for the plane is underway.
The Greek military sent two ships and two of its aircraft to help with the search, and French president François Hollande said France is working closely with the airline; France's aviation authority is reportedly assisting in the investigation. So far, search-and-rescue teams have found no evidence of the plane.
This post has been updated throughout.