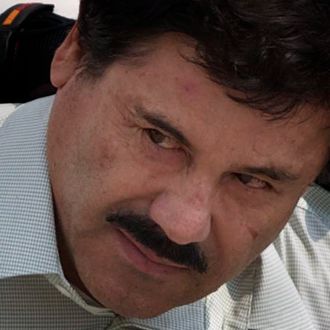 No sleep till Brooklyn.
Photo: Eduardo Verdugo/AP/Corbis
Infamous drug lord and tunnel enthusiast Joaquín "El Chapo" Guzmán may very soon get the chance to try out prison accommodations in the United States. A Mexican federal judge gave approval Monday to extradite the drug lord across the border, where he's wanted on a slew of criminal charges, including money laundering, kidnapping, murder, and, of course, drug trafficking. Charges have been filed in a handful of cities, among them New York and Chicago. 
El Chapo will probably stay in a Mexican prison for a bit longer — at least a few more weeks, and the order still needs the final okay from the Mexican foreign ministry. But CNN reports that American officials are preparing for his transfer. Yet the cartel leader did change prisons within Mexico this weekend, moving to lockup in Ciudad Juárez, close to the U.S.-Mexico border, from the maximum-security prison in Altiplano, where El Chapo had been held since his arrest in January. Guzmán has already escaped from Altiplano; last summer he disappeared through his bathroom connected to a really swanky tunnel. That earned him about six months of freedom.
Some speculated that authorities relocated El Chapo to Ciudad Juárez to put him closer to the U.S. for this coming extradition. Officials denied that motive. Other reports suggested that the Mexican authorities wanted to change things up and thwart any potential Altiplano escape plans El Chapo may have been cooking up.
Yet the prison in Ciudad Juárez — while apparently very horrible — is not, like Altiplano, a maximum-security facility (though everyone knows how well that worked out). El Chapo's cell in Ciudad Juárez will be in a maximum-security wing, and he'll still be under 24-hour surveillance. (El Chapo complained that he was being woken up every two hours by Altiplano guards and felt like a "zombie." Officials also cut his visits, conjugal and otherwise.) "There is no risk of escape," the governor of the state of Chihuahua, where the jail is located, assured the public. 
While El Chapo plays carceral musical chairs, the kingpin's attorneys are fighting the U.S. extradition order, despite reports that Guzmán had asked his attorneys to negotiate a plea deal with the U.S. so he could serve time in a medium-security prison in America. 
If extradited, El Chapo will probably face prosecution in Brooklyn. Now–attorney general Loretta Lynch had filed charges against Guzmán in 2009, back when she was the U.S. Attorney for the Eastern District of New York. The Justice Department will ultimately make the final decision on jurisdiction, but if El Chapo does head to New York, there's an L train tunnel that could really use his expertise.