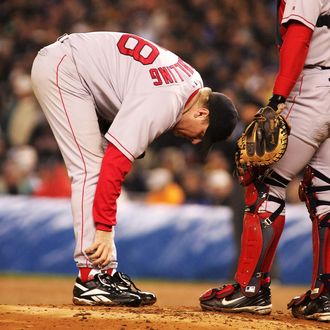 Curt Schilling duing Game 6 of the 2004 ALCS.
Photo: Al Bello/Getty Images
Last week, ESPN cut ties with former pitcher and noted meme-sharer Curt Schilling after he once again fired off a tweet that the company found unacceptable. (Schilling was finally canned from his analyst job after drawing criticism for sharing a meme about bathroom laws, such as the one recently enacted in North Carolina.) After his firing, Schilling ripped the network, so it did not slip his attention yesterday when a re-airing of a documentary about the 2004 Red Sox edited out Schilling's famous bloody-sock game from that year's ALCS.
After the film aired without the segment on that game, Schilling blasted the company and, in solidarity with another Boston sports legend, referenced an inaccurate Deflategate report the company didn't revise for months:
And then he joked about selling his World Series ring:
The documentary was scheduled to air between a live college softball game and the Sunday Night Baseball game between the Yankees and Red Sox. But because the softball game ran long, the network says that one of the film's segments had to be cut. In a statement, an ESPN spokesperson said, "When a live event runs long, it's standard procedure to shorten a taped program that follows. In this case, we needed to edit out one of the film's four segments to account for the extra length of the softball game." A spokesperson added on Twitter that it was "only edited due to timing, not for any other reason."