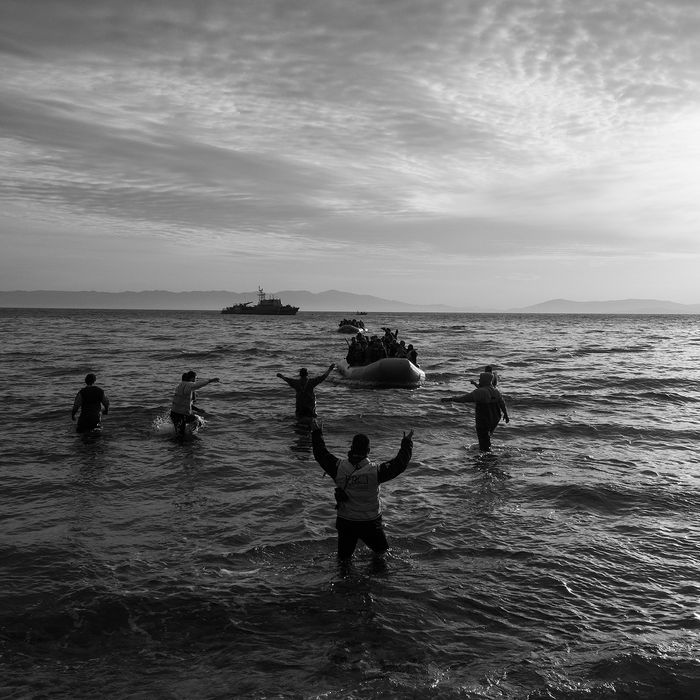 Consider two pieces of bad news that have come out of Europe of late.
The first is that the continent is growing more slowly than economists thought, and they expect its growth to slow down yet further this year. "It's almost a lost decade," Joseph Stiglitz, the Nobel prize–winning economist, told the Times of the region's economic fortunes. "It's a remarkable testimony to the economic failure of the euro and the eurozone." The second is that an estimated 880 people have died trying to reach Europe in the past week alone, bumping this year's death toll up to 2,510. The odds of dying while trying to cross the Mediterranean this year are now 1 in 81.
These are emblems of the twin crises that Europe is trying and failing to solve, and has been for interminable months and months and months on end: an economy that has not expanded since before the global financial meltdown hit in 2008, and the hundreds of thousands of immigrants that have sought refuge on its shores. The conventional wisdom is that each crisis has intensified the other. "The euro crisis has not gone away, and the intra-bloc tensions it has engendered have now been compounded by a migration crisis," argues a new report from the Economist Intelligence Unit, for instance. "Disagreement about the free movement of people has become the latest existential threat to the legitimacy of the E.U. and its major governments."
In some ways, this conventional wisdom is right. A Europe riven by years of economic malaise and fights over its currency has struggled to come together to form a humane, fitting response to the refugee situation. The two countries most weakened by the recession, Italy and Greece, just happen to be the landing sites for the bulk of the refugees, straining already-strained state coffers. Polities that have struggled with decline have openly balked at being ask to support the hundreds of thousands of alien families arriving.
Yet in an another, less-recognized and much more important way, one crisis might actually help alleviate the other. The thousands upon thousands of people arriving from Iraq, Syria, Afghanistan, Eritrea, Somalia, and other countries tend to be young. The families that are willing to make the perilous journey are brave. The vast majority of the migrants want nothing more than to work and to live in peace. Already, there is evidence that the migrants are boosting state spending, increasing demand, and contributing to Europe's economic growth. And in the long term, the migrants might be just the salve for continent's economic problems — helping to solve the massive demographic crisis that threatens to doom it to sluggish growth for decades yet to come.
"It might be considered bizarre for people in the midst of a crisis to try to help these people, the thousands of them who are showing up on these beaches," Michael Clemens, an economist at the Center for Global Development, told me. "But most of Eastern Europe is shrinking. This is not a future demographic challenge. They're shrinking right now. Germany is already shrinking. It's going to lose 7 million labor-force participants in the next 15 years. Their economy is going to get hollowed out."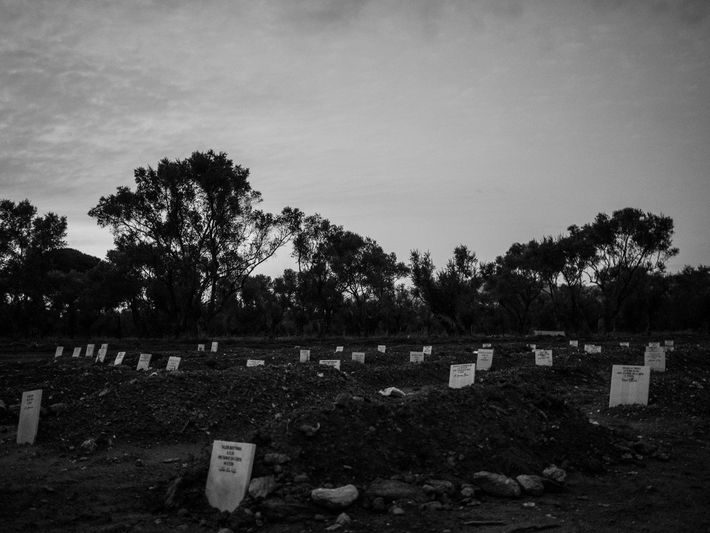 The problem is that so few Europeans believe in the upside of the migration crisis, given its very real downsides. They are bearing the short-term cost of helping the refugees. They are watching tens of thousands of people walking along their roadsides, sleeping in their town squares, and crowding their housing units. They see the situation as dangerous and untenable. And their leaders' policy response to it has been a catastrophe just as bad as their response to the global recession was: far too slow, far too little, far too late, permeated by the belief that making the journey safe and residency in Europe even minimally comfortable would encourage more migrants to come.
Given that reality, passage to the continent remains horrifically dangerous for the migrants, and xenophobia and political inertia have made life miserable for many of them once they reach it. Late last year, I went to Greece to see it for myself. When I came back, I often found myself describing it as "Europe's Katrina," a pageant of suffering so dark and unnecessary, so rooted in cruelty and incompetence, that it seized the words in my throat and twisted my hands into fists.
But in crisis, there is opportunity. And here's the case for Europeans to see it that way.
***
Late last year, I stood on the northern coast of the Greek island of Lesvos, by dint of geography one of the single biggest landing sites for refugees fleeing to Europe. That morning, the coastline was almost totally empty of workers from non-governmental organizations, the European government, and the Greek police. In their absence, two bands of do-gooders had taken it upon themselves to act as de facto welcoming committees for the hundreds of migrants who would arrive in Europe that day. One was a Dutch nonprofit called Stichting Bootvluchteling, or the Boat Refugee Foundation. The second was a band of anarchists from Athens, helped by local townspeople, a few Danish volunteers, and a Malaysian cook.
"Is it always like this?" I asked one of the anarchists. He shrugged, as if it were obvious. Yes.
We watched for the dinghies coming across the water, with the volunteers waiving neon vests to try to summon them so that the boats would avoid being dashed on the hidden rocks. The first was filled with Afghans, identifiable by their inexpensive and often ineffective black life vests. A second was filled with Syrians, with their more-expensive orange vests. The differences don't end with vests: Europe sees the Syrians as refugees and people from Afghanistan and Iraq as mere migrants, undeserving of aid. (This distinction is debatable on the geopolitical merits. ISIS controls part of Iraq, after all.)
As the first boat approached, the men aboard shouted and waved their arms. The volunteers waded out, signaling for the refugees to sit and wait, not just to spill their bodies into the turquoise water. They reached out to lift out the wet and terrified infants and children first — a 3-year-old named Mustafa with a sullen expression, a baby with a scratched-up face and a diaper soaked in seawater. Then, they helped anyone who might be sick or infirm, carrying an old woman out firefighter style. Finally, the adults spilled onto the coast, crying, shouting, and brandishing their cell phones.
Then, celebration. "You made it, you made it," a young volunteer said, helping a family off the boat, carrying their tripled-up garbage bag filled with possessions. Most of the migrants carried nothing with them but the clothes on their backs and plastic sandwich bags filled with their papers, cash, and cell phones. An Afghan woman in a black scarf who I helped off the boat held me in a hug for more than a minute, sobbing on my shoulder and pinching my cheeks, while her teenage daughters rolled their eyes.
This dinghy passage, which takes about 90 minutes, has been the most frightening and dangerous part of the journey from Damascus to Berlin, or Kabul to Stockholm, or Homs to Hamburg for thousands of migrants. At the time, smugglers were discriminating on price: The wealthier Syrians were getting charged about $1,500, the poorer Afghans less. Trips that launched in the black of night, when you could not see the Greek shore, were half off. (This economy, by the way, is now worth $5 billion a year, though the Turkish government has recently tamped it down, and the number of migrants coming by sea has fallen.) The smugglers were cramming 60 or 65 migrants to a boat that would be unsafe with 35. They did not even take the migrants across. They would just crowd them in, sometimes robbing them first, and point them toward Europe.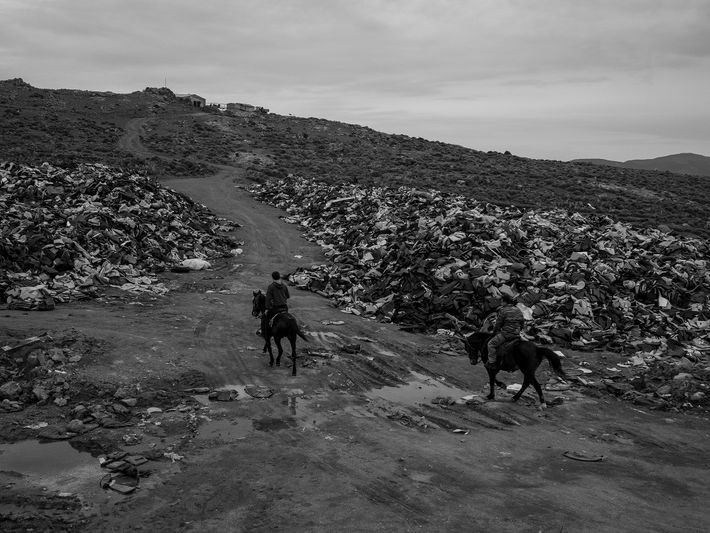 Few of the refugees know how to swim; Afghanistan and Iraq are landlocked, after all. Tragedy is often the inevitable result. One of the Greek anarchists, a man who goes by Sparrow, told me about a woman whose baby had drowned at the bottom of her water-logged dinghy. Another woman's boat came ashore while she was in labor, with her infant crowning. Hence the emotion on the rocky shore: These refugees had not just made it past the most arduous and terrifying part of the trip, but they had arrived in rich, humane Europe, where they would be able to formally seek asylum.
The volunteers managed a small aid station, where they wrapped babies in foil blankets, changed their diapers, and put them in dry clothes. The cook gave the parents and bands of single men tea, soup, and sandwiches. The refugees drank some fresh water. They waited out their seasickness and calmed their nerves. A few volunteer first-aid workers in a camping tent covered their abrasions and swabbed lotion on salt-chapped lips. There were no sanitary facilities, no showers, no information centers, no shelters.
The migrants journeyed on.
***
Right now, the economic situation in Europe seems to be stabilizing, if not improving much. The economy is growing at a decent pace, with Greece the only eurozone country still contracting. But Europe never really recovered from the Great Recession. Its economy is only just as big as it was back in 2008, while the United States' is roughly 20 percent bigger. The euro-area unemployment rate is still above 10 percent, twice as high as it is here. Low inflation, or even deflation, continues to be a problem. And the continent's growth trajectory looks bleak: the International Monetary Fund has yet again downgraded its expectations for the continent. "Emerging markets had largely driven the recovery and the expectation was that the advanced economies would pick up the growth baton," Christine Lagarde, its managing director, said last month. "That has not happened."
This economic malaise has many, many fathers, European leaders' insistence on belt-tightening during the downturn, the chance that one or more countries might leave the euro, and too-little-too-late monetary policy among them. But demographics are another. Europe's working-age population is shrinking, and has been since the pitch of the crisis in 2010. In Portugal, maternity wards, schools, and businesses are shutting down as the population grays. In Greece, fewer people are working than are retired or unemployed.
It will only get worse. Right now, Eurostat expects the working-age population to decline 0.4 percent a year, every year, between now and 2040. "The EU's productivity growth would have to double in order to keep the EU's economy growing at the same pace as it did before the crisis started," Eurostat concluded. (And let's not count on productivity growth swooping in to save the day.)
The situation is bad in some of Europe's best-performing economies, like Austria and Germany. A recent study by the Bertelsmann Stiftung found that the country's working-age population will fall by more than a third — to 29 million from 45 million — between now and 2050, absent other changes. "Even if women were to be employed at the same rate as men and the retirement age was increased to 70, the number of potential workers in the country would rise by only about 4.4 million," it concluded. And it is worse in Europe's absolute worst-performing economies, like Portugal and Greece. The Greek working-age population is expected to plummet from 7.2 million as of 2013 to just 4.8 million by 2050.
So what if the countries' working populations are getting smaller? you might ask. That doesn't mean that their workers would be any less productive; a smaller economy is not necessarily a worse economy. And that is true — but not for Europe. Its women are having fewer children. Its life expectancies are increasing. But as its working-age population shrinks, its old-age population is expected to swell. Younger families will be working to support the old. Tax revenues will decline as social spending goes up. Already, 27 of the 30 countries with the oldest-skewing populations are in Europe.
The lone solution is warm bodies — young warm bodies, bodies just like the ones drowning in the Mediterranean and jumping over fences in the hopes of making it to Berlin or Lausanne or London.
***
After coming ashore at Lesvos, the refugees walked through the tiny town of Skala Sikamineas, where tourists and local farmers sat eating pasta and drinking Greek wine, staring with knowing annoyance or stunned disbelief at the wet migrants shuffling by. In bands of two or five or ten, they continued their journey along the hairpin turns of a steep, shoulderless road. The next part of their journey — whether they knew it or not — would be a 40-mile walk over goat-dotted cliffs and past olive groves.
A short way up the road, there was a checkpoint of sorts, managed by the United Nations High Committee on Refugees and staffed by a handful of volunteers for the organization Eurelief. The migrants could use a portable toilet and see a doctor there, and they received a printout showing them the road to Mitilini, with an all-important stop at the now-infamous Moria registry point. There, they would get a piece of paper that would allow them to travel off the island of Lesvos and onto mainland Europe.
How to get to Moria? Well, there were legal restrictions on volunteers moving the migrants, though some enterprising farmers were nevertheless offering rides for 50 euros a head. A handsome Syrian woman with a full face of makeup and a pink-silk headscarf approached me shortly after staggering off a boat. She waved a dead iPhone in a plastic sandwich bag in my face. "Will you call us a taxi?" she asked, in perfect English.
From the beach, there were a few vans to shuttle women and children from the coast up to the Eurelief checkpoint. But they were slow in coming, and insufficient for the sudden flood of refugees who had arrived on Lesvos that day. At that checkpoint and one other down the road, there were supposed to be U.N. buses to take the migrants to Moria. But unbeknownst to the migrants, the police had stopped the transit system owing to dangerous overcrowding at the police camp. These migrants, even the ones traveling with the elderly or with babies, would have to wait or walk — so they walked.
Families climbed up and down the hills. Many were wearing donated or waterlogged shoes that blistered their feet, forcing them to go barefoot. There were no checkpoints with water. There was no shelter. Men awkwardly shifted the weight of their infant children as they carried them. (What refugee travels with a stroller?) Women struggled in their headscarves, stinking of sweat and the sea. Given the conditions, many collapsed onto the side of the road to sleep under olive trees. In a strange way, all 40 miles resembled the last mile of a marathon: an endless parade of travelers on foot, shuffling forward awkwardly and exhausted, littering their detritus and defecating on the side of the road, wrapped in foil blankets, begging for food and for water.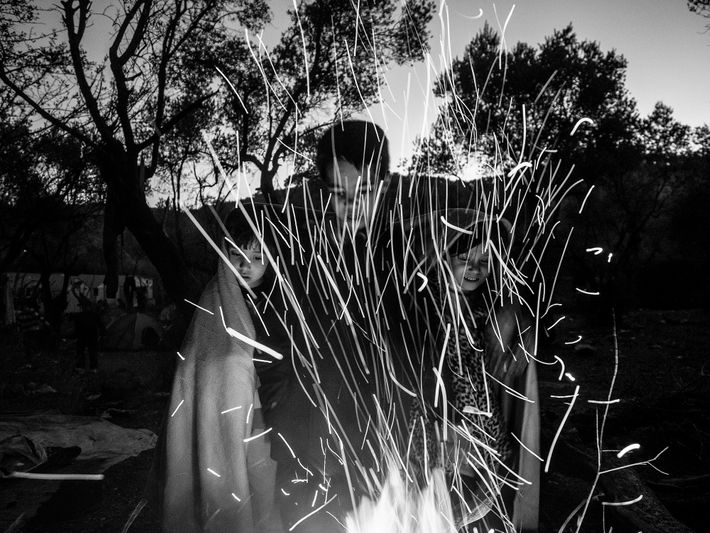 At Mantamados, about eight miles into the walk, Doctors Without Borders had set up a temporary white-tent encampment: some health facilities, some portable toilets, but no hot meals, sanitary facilities, or shelter. As night fell, the refugees built camp fires with dried olive branches and huddled around them. Dozens and dozens of families slept on pieces of cardboard boxes, women pulling their headscarves in front of their faces to block out the white light of the sun the next morning when it rose. Whenever my fixer and I pulled over our car, we pulled migrants to us like a magnet: "Bus? Bus?" Nobody had explained to them what was going on. Nobody could.
At Mantamados I met a carpenter from Damascus named Khalid Kabbani, who had remembered us as being part of the anarchist band that had helped him off the boat the day before.
He told me about his journey: He had found a smuggler on Facebook — social media being a vital resource for the refugee travelers, who face official indifference and profound confusion at every point of their journey — and met him at a checkpoint in Turkey. He paid his $4,000 in cash for himself, his 11-year-old son, his 7-year-old daughter, and his wife to cross to Europe. "He doesn't see us as human," Kabbani said. "He sees us as money." On a sunny, calm day, they boarded the boat, choosing a refugee from the Syrian coast to pilot it in the hope that he knew something about seafaring.
"We do swim," Kabbani told me. "But I told my children to float, like a pickle in a kettle" if the boat sank, he said.
***
There is no question that the migration crisis has imposed a short-term cost on many countries that have offered food, shelter, medical care, and other social services to the refugees and to the economic migrants joining them. For Germany, it adds up to about half a percentage point of GDP this year and next, for Sweden somewhat more, for Austria less. And granted, the influx of foreign-born workers — many of whom might end up in low-wage work, or informal work arrangements — might disrupt the employment prospects of some native-born workers. (All the concerns that Americans have about Mexicans stealing their jobs apply in Europe.)
But these costs might be smaller than Europeans realize. A recent World Bank study of Turkey showed that Syrian migrants have displaced informal domestic workers — but that many of those informal workers "upgraded" into formal employment. There are ways that the migrants are outright boosting the Turkish economy too. The number of new Syrian-partnered firms founded in Turkey jumped from 30 in 2010 to 1,599 last year, pumping $220 million in capital into the economy and employing thousands and thousands of workers, mostly Turkish. A new report by Standard & Poor's goes so far as to describe the migrants as a "positive shock" for the Turkish economy.
There is no reason to think that the same could not be true for refugee and migrant workers in a wide variety of European countries. This is not a popular sentiment. "If a good student and a middling one did their homework together, no one would say that the better student profited from the mediocre one," argued the population scientist Herwig Birg, formerly of the University of Bielefeld.
But many economists and demographers disagree with him. One recent study looked at the potential effect of migrants in Germany. It assumed that migrants would have an unemployment rate of 60 percent in their first year after arrival, and took as given that they would be less skilled than native-born workers. It also anticipated a cost to the German government of 12,000 euros per refugee, for shelter, social support, and so on. Those costs would swamp the benefits at first, the study found. But soon after, the migrants would start boosting GDP by about one percentage point a year, year after year.
"Even if the labor market integration turns out to be sluggish, the refugees will still have a positive impact on the German economy after five to ten years. Most importantly, even in terms of per capita income of non-refugees, the benefits will exceed the costs in the long-term," it found. "Because current debate focuses mainly on the short-term costs arising from housing, care, and societal and labor market integration, it is easy to lose sight of the fact that these costs are actually an investment in the future."
***
A few miles north of Mitilini sits Moria, a former military installation ringed in concertina wire. When I was there, the Greek police were managing the installation, with nongovernmental groups and local businesses selling food, water, and SIM cards forming a makeshift camp right outside its gates.
A young police officer named Kostas walked me through it. On its western side, its officers had directed the "war refugees," from Syria, Palestine, Eritrea, and a few other countries whose citizens have been deemed deserving of immediate asylum status by the European Union. On the eastern side, it had directed "non-war migrants," from Iraq, Afghanistan, and number of other countries that are nevertheless obviously theaters of war, with single men lining up on a dirt road that stretched to the north and families lining up on a dirt road that stretched to the south. They would have to prove themselves worthy of asylum status.
This line lasted about three days when I arrived. Families or groups of friends generally nominated one man to stand in line, while the others took to the olive groves or shaded sections of the roadside to wait. In a few places, migrants had left garbage bags, backpacks, or shoes to wait in line for them.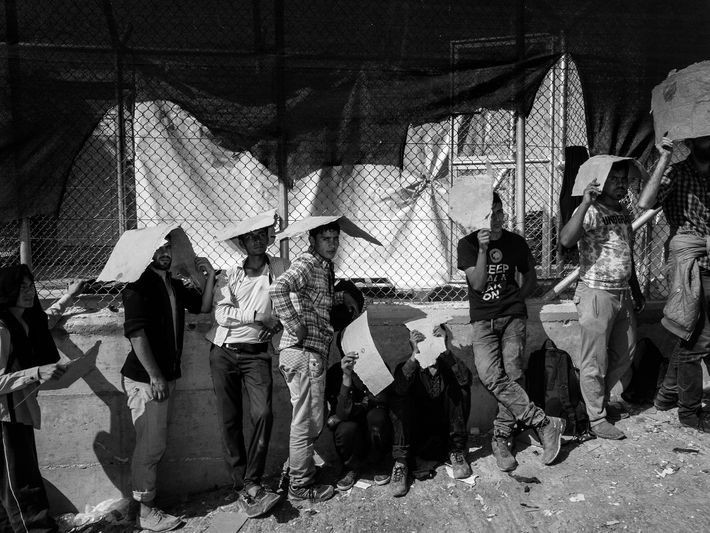 The Greek police — Kostas had been in charge of traffic before the flood of migrants overtook his island — were taking in groups of 40 at a time to process. The migrants were given a card where they wrote out their name, age, and country of origin. Then they were allowed inside, where a volunteer translator might help them as they sat for a short interview, explaining their circumstances. "We process families from 9 a.m. until 5 p.m.," he said, opening a door to an interview room with a series of desks and chairs. There was nobody in it. "I guess they have already gone home for the day," he said. It was 2 p.m.
"They push, and it is dangerous," Kostas said, gesturing to the high wire fences and the thousand-person line. "They try to climb up." To control the crowd, the Greek officials had called in the riot police, clad with helmets, shields, guns, and Kalashnikov-sized tear-gas shooters. And repeatedly, they had used them. "It is utter chaos when it happens, with families torn apart," one volunteer said. "What kind of person uses tear gas on children?"
Now, with Europe spurred to some action, it is different, but arguably not better. Frontex, the pan-European border control service, has taken control of Moria. And Europe has started to send some refugees back, rather than simply — in their months-long policy of what might be most optimistically termed benign neglect — ignoring them, neglecting them, and allowing them to pass through.
"The EU's policy, carried out in Greece, has locked up families and others who have fled horrors such as ISIS terror, Taliban threats, or Syrian-government barrel bombs," reported Eva Cossé at Human Rights Watch. "When alternatives to detention exist, as they do on the Greek islands, there is no legal or moral justification to hold asylum seekers and migrants behind bars."
***
Thus far, the European Union has instituted two major policies to deal with the migrant situation. The first is a deal designed to help share the burden of the short-term cost of caring for the refugees and the longer-term issue of integration — resettling 160,000 refugees from Greece and Italy across Europe. The second is a pact with Turkey, exchanging billions of euros and the promise of visa-free travel in exchange for Turkey staunching the migrant flow, giving Europe some breathing room to address the million people now within its borders. The continent has also started to try to separate war refugees from migrants more forcefully, and has begun sending a few migrants back.
At least one small part of those deals has proven a success: The number of arrivals in Greece has dropped by 90 percent. But the pact with Turkey looks likely to fall apart. The plan to resettle those 160,000 migrants — again, out of 1 million, including 54,000 in Greece alone — has led to the resettlement of just 1,564 people as of early May. And experts are warning that with the sea route to Europe closed off, migrants might find other ways in as the weather warms and fighting continues to intensify in the Middle East. The European Union still has no unified, coherent, humane policy response to the arrival of the migrants. And it still has no unified, coherent, humane policy response to helping integrate them.
This is not to say that many country-level and local governments have not done a tremendous amount to accommodate and aid them. I saw it on Lesvos: hundreds of local citizens, nonprofit workers, and visiting humanitarians there to save lives and provide some sense of sanity where the government provided none. "The country was unprepared. We had to create something from nothing. We started from nothing," the Greek civil servant Anthi Karaggeli told me, sitting in the Athens refugee camp she manages, as Afghan children played tag around her.
But continent-wide, confusion and cruelty continue to reign. Migrants are either trapped in a militarized system, or awash in a chaotic continent that offers them no help — and often makes it clear that it does not want to help. Denmark has passed a law allowing it to confiscate valuables from refugees to offset the costs of their social services.The Czech Republic has strip-searched them. Belgium has taken out advertisements telling Iraqi refugees not to come. Add to that the stories of refugees drowned, beaten, malnourished, injured by exposure, jailed without representation, and so on.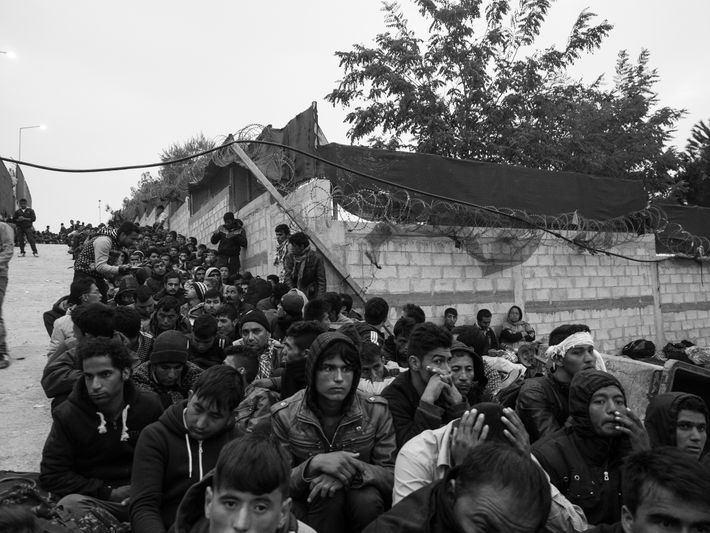 Last year "will be remembered as the year in which Europe catastrophically failed in its responsibility to respond to the urgent needs of assistance and protection of hundreds of thousands of vulnerable people," reads a devastating Doctors Without Borders report. "Not only did the European Union and its member states collectively fail to address the urgent humanitarian and medical needs of refugees and migrants arriving at external or internal E.U. borders, but the European Union's deterrence and anti-immigration policies — developed over the last 15 years and further strengthened in 2015 — have increased the demand for migrant smuggling networks and pushed people towards ever more dangerous routes which jeopardize their health and lives." This year looks to be only somewhat better.
There are surely options for a humane policy that would accept, settle, and integrate refugees, though, while dissuading economic migrants that have not been displaced by violence. Take the suggestion of Human Rights Watch, one of the organizations that has bird-dogged the issue for years. Its executive director, Kenneth Roth, suggests creating a system where refugees could apply for asylum outside of Europe, then receive better social supports once within. The International Rescue Committee, now headed by former British foreign secretary David Miliband, has called for the world's richest countries to institute a much broader program to assimilate migrants from the world's poorest and most war-torn states.
But managing the integration of refugees right now feels a task as impossible as solving the euro crisis, or providing an appropriate humanitarian response to the migrants. And because of that, Europe risks letting this opportunity go to waste — bearing significant short-term costs for less long-term gain.
There is clearly is a moral case for Europe to manage this crisis. And there is a stronger case for Europe to do it in its self-interest. "We know that we have to contribute," Kabbani told me.
Dionysia Safari contributed reporting and translation to this story.