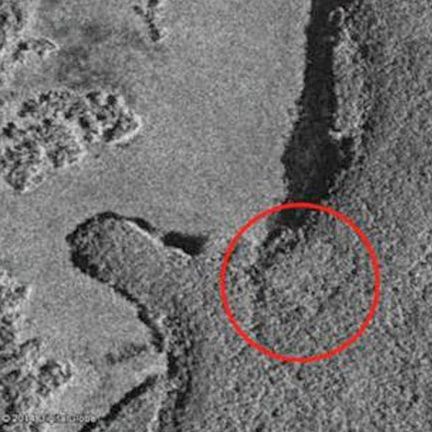 Sadly, the feel-good/feel-embarrassed-about-how-little-you've-accomplished story of a Canadian 15-year-old discovering a previously undiscovered Mayan city isn't quite as impressive as first hoped.*
The tale, as it went viral (and as we originally wrote it), was simple: Canadian 15-year-old William Gadoury thought he'd found an abandoned Mayan city deep in the heart of Mexico's Yucatan Peninsula. Using star maps, Gadoury discovered that 22 major Mayan cities correlated with the brightest stars in constellations. He was the first person, teen or otherwise, to use this method, the Telegraph reported, and using the location he determined from the third star, Gadoury connected with the Canadian Space Agency, who sent the teen satellite images showing visible geometric shapes consistent with a lost city. Gadoury (as well as Dr. Armand Larocque, a remote sensing specialist from the University of New Brunswick) believes it's a central Mayan pyramid, with several other nearby structures.
Sadly, Larocque's endorsement wasn't shared by the academic community. Since this story was first published, several skeptics have voiced concerns with Gadoury's potential discovery. "This current news story of an ancient Maya city being discovered is false," David Stuart, an anthropologist from The Mesoamerica Center-University of Texas at Austin, wrote on Facebook.
The whole thing is a mess – a terrible example of junk science hitting the internet in free-fall. The ancient Maya didn't plot their ancient cities according to constellations. Seeing such patterns is a rorschach process, since sites are everywhere, and so are stars. The square feature that was found on Google Earth is indeed man-made, but it's an old fallow cornfield, or

milpa.
We've reached out to Stuart and will update this post further if we hear back. IO9 has also updated its post with quotes from other Mayan experts, who agree that the corn field is most likely a milpa. UC San Diego Anthropology professor Geoffrey Braswell explained via email that the zones shown in Gadoury's images are "places that are well known to archaeologists who work in the area" and that the images are "not of Maya pyramids." But he did also say one of the sites could contain "active marijuana fields," so at least there's that.
*This post has been updated throughout to reflect skepticism about the discovery from authorities in Mayan studies.