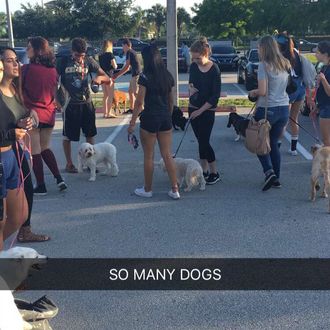 Senior pranks are a time-honored high school tradition that usually start out with the best-laid plans and end up somewhere south of a giant penis joke. These days, if you want to go viral (any good teen's goal), you gotta up your game. So this year, the class of 2016 at Monarch High School in Florida decided they wanted to do something more memorable (and way more viral): Turn the parking lot into a giant dog park.
After a dog followed one of her classmates to school earlier this semester, Monarch senior Anna Douglas told me that her class decided to use that as their inspiration. All in, Douglas estimates around 70 students (out of about 500) brought their dogs to school on the last day of class.
"Our principal showed up and tried to put a stop to all of the commotion, (while he was taking pictures)," she said. "However, more students and their dogs showed up and he couldn't control everyone. There were dogs in purses, dogs in strollers." Douglas shared photos of the event on Twitter, which have since been retweeted by nearly 2,000 people and liked by several thousand more.
"We came to an agreement with our principal, that we could stay until the middle of first period. So my boyfriend drove his car over to where everyone was and played music," Douglas explained. "Our principal was trying to be mad, but then begged us to play 'Who Let the Dogs Out.'"
As far as actual mischief goes, the pooch stunt is about as tame as an episode of The Brady Bunch. But, hey, it's better than the 700-ish other unoriginal, soon-to-be grads who, as you read this, are no doubt purchasing three chickens (or pigs, or goats, or what-have-you) with plans of labeling them one, two, and four, and setting them loose in the halls.