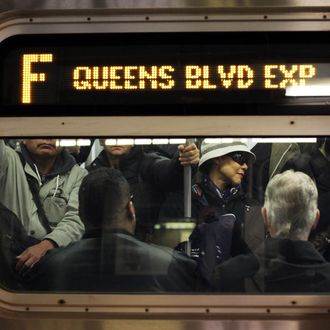 F Express: Not just for Queens anymore.
Photo: Allison Joyce/Getty Images
The MTA can't seem to do anything these days without upsetting neighborhoods, and Tuesday was no exception after news broke that the transit agency plans to restore express service along the F train line in Brooklyn starting as early as this summer for a limited run, and then implemented for real in the fall of 2017. About half of the trains would run express between Jay Street–MetroTech and Church Avenue during peak morning and evening rush times, skipping all stops in between (except 7th Avenue) and forcing commuters to wait for less frequent F local service or just give up and get on the G. The MTA isn't adding more trains to the line, either.
City Council member Brad Lander, who represents Park Slope, disagreed:
To take a step back, this is a big and much-needed win for many people who depend on the F train. Many Southern Brooklynites are very happy over the return of the F express, which hasn't been seen in those parts since 1987. The service was nixed because of budget cuts, and residents had been clamoring for its return, as many along the line lack other train alternatives and face a slow and hellish ride into and out of Manhattan. According to the MTA's study, riders on the express train would save an average of 3.4 minutes in travel time, but up to 7.3 minutes — about a snooze button's worth! — in commute time into the city. 
Local F riders will only lose about one minute in travel time, but many more straphangers will suffer overall. Ridership is heavier at the stations that serve Brownstone Belt neighborhoods like Cobble Hill, Carroll Gardens, and parts of Park Slope — and they'll be getting 50 percent fewer trains. The MTA said that stairwells could also get overcrowded, particularly during the evening rush, as more people are pushing to get out of the stations at these local stops.
Brooklyn borough president Eric Adams called the return of the F express a victory, but said the proposal, as it stands now, "seeks to pit Brooklynite against Brooklynite in a fight for quality transportation." Let the battle begin, the L train said.