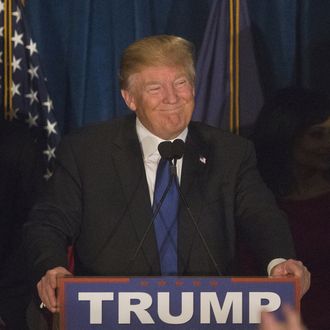 Trumps setting the bar high.
Photo: Victor J. Blue/Bloomberg via Getty Images
Donald Trump is "not a groper," insists his daughter Ivanka (in contradiction to the deposition of a woman who has accused Trump of groping her under the table). Trump's vigorous defense of her father follows on the heels of Melania Trump's protestation that her husband is "not Hitler." Finally, a plausible line of defense for the Republican nominee from his familial surrogates. He may reduce women to their sexual value and humiliate them routinely, but he usually confines himself to verbal rather than physical abuse, and he admires authoritarian governments in Russia, China, and North Korea and proposes to replicate some of their tactics, but he's just a common dictator rather than a genocidal one. Good enough!