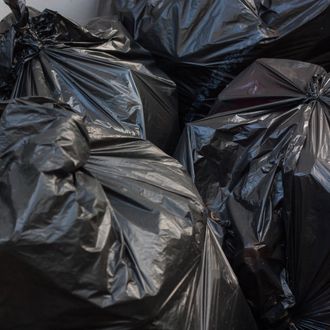 A Parks Department contract for trash bags has come under the scrutiny of the FBI.
Photo: Photocheaper
Part of the ever-widening investigation into Mayor de Blasio's fundraising activities concerns whether favors were traded for donations to either his campaign or to a nonprofit that supported his causes. And as part of that probe, NBC New York reports that the FBI showed up unannounced last week at Parks Department headquarters, where they sought answers about a contract given to a company that makes rat-proof trash bags, and whose owner gave $100,000 to the mayor's Campaign for One New York.
The station reports that, according to sources familiar with the investigation, the feds wanted to know whether de Blasio himself had called Parks workers and asked them to meet with officials from the company that produced the Mint-X trash bags. Company officials had previously complained that they'd had trouble getting a meeting to pitch their mint-scented garbage bags designed to repel rodents.
The Wall Street Journal reports that the Joseph Dussich, the company's owner, donated $50,000 in both 2014 and 2015 to the Campaign for One New York, and that he met with de Blasio at City Hall ten days after the second donation. The paper reports that Dussich's company, the JAD Corporation of America, received a contract with the city soon after that meeting, in early 2015.
According to the NBC New York report, as FBI agents were questioning workers at Parks headquarters in hopes of getting candid, unrehearsed answers, city lawyers stepped in and told them to leave. The city Corporation Council's office told the station that investigators could speak with any city employee, as long as it was done in an orderly way, and that the FBI should contact them in advance, rather than just show up.
Said a spokesperson in a statement: "We are working cooperatively with the FBI to enable them to interview city employees to ensure they have access to attorneys." Indeed, two days later, the FBI was invited back to interview Parks workers. The Journal reports that the FBI also sought documents related to the contract, and that they specifically were looking to speak with a top official in the Parks budget office.
The company's owner didn't comment to the station, and the mayor's office has repeatedly said it's done nothing wrong and would cooperate with investigators.