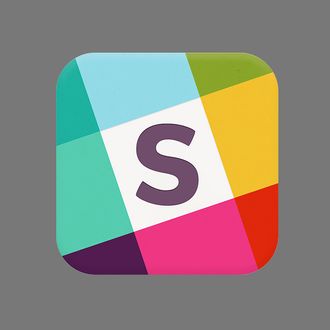 Slack, the enormously successful team-messaging platform, might not seem totally intuitive if you're not a 24-year-old who enjoys playing a daily game of ping-pong at an office with Monster Energy beverages packed four deep in the fridge. That's where David Markovich, the 27-year-old behind ChatOverload, comes in. Markovich charges companies $1,000 per day to teach employees how to use everybody's favorite email killer, Bloomberg reports.
Slack, in case you're not familiar, is a versatile chat program that lets you both directly message individual co-workers or chat with a group in a "channel." Users can program bots to do any numbers of tasks (I once worked in an office where a bot would respond immediately to anybody who asked about the Wi-Fi password), and it's integrated with about a zillion external apps, from Google products to GIF platform Giphy. (The latter often being the most important, with many a Slack conversation being comprised solely of the internet's favorite micro-video clips.) The all-consuming nature of the platform is either extremely convenient or a total pain, depending on whom you ask.
"I actually encourage people to be on it as much as possible, that's my job," Markovich told Bloomberg about his Slack coaching. "They might be messing around, but they're not in their e-mail, where their grandma is e-mailing them a picture of a puppy. Everything is work-related. Even if they're just chatting with a friend, that's culture."
2016: Everything is work-related! Of course, it's worth noting that people have also started using Slack for personal communication outside of the office, too, so Markovich could also be enabling a whole new way to waste time. For example, there's an apartment building in Brooklyn with its own Slack channel for tenants, and I'm in several channels that my friends and I use in lieu of Gchat or iMessage during the workday. Though upon writing that, I realize I might be in need of a new job. Perhaps Slack consulting.