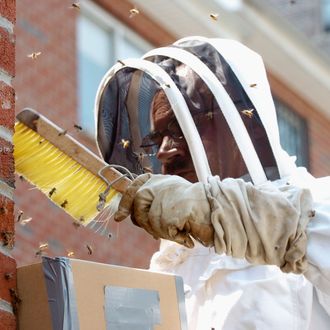 Anthony Planakis removes bees from a building on East 182nd Street in 2008.
Photo: New York Daily News Archive/Daily News, L.P./Getty Images
It's been a while since we've heard from Anthony Planakis, a.k.a. Tony Bees, the NYPD's former resident bee wrangler who retired in 2014 after two decades on the job. Planakis was something of a local legend for his work dealing with scary bee swarms, including one in Astoria two years ago estimated to include more than 30,000 of the stinging insects. But last year, he said he left the NYPD amid accusations that he was keeping the bees he removed on the job to make honey that he sold for profit. He denied that was true, and Thursday, after coming out of retirement to handle a job in the Bronx, he took the opportunity to take a swipe at the department, which, as he noted, has a bigger scandal to worry about these days.
Planakis was called in yesterday by the Parks Department to remove a five-pound swarm — that's about 15,000 bees, if you're looking to visualize it in your nightmares tonight — from Virginia Playground in the Bronx. Said Planakis, referring to the department's alleged pay-for-favors scandal: "People were accusing me of stealing bees when they should have been looking at all the high ranking members of the job taking diamonds and money."
The bees, if you're wondering, survived the heat emitted from that vicious burn and were taken by Planakis to a new hive in Connecticut later in the day.