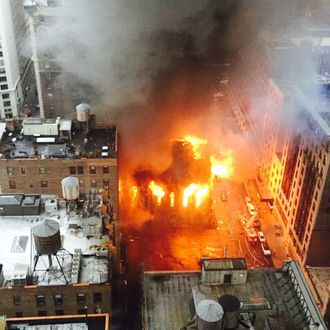 It was upgraded to a four-alarm fire around 8 p.m.
Photo: Breaking911 / Twitter
Just after 7 p.m. on Sunday, a massive fire broke out at the Cathedral of Saint Sava on 25th Street between 6th Avenue and Broadway in Manhattan. No major injuries were reported, although the church's caretaker reportedly suffered minor-smoke inhalation when he ran into the building to stop the blaze. The New York City Fire Department tweeted that 170 firefighters were on the scene shortly after the blaze began, and as of 9:45 p.m., it announced the fire was under control. 
"When [firefighters] arrived, it was an advanced fire already involving the entire interior of the church," FDNY commissioner Daniel Nigro told the New York Daily News. "The good news is no one has been injured. There's no one reported missing. The bad news is this church has been destroyed by fire."
Today is Easter for Orthodox Christians, and the church's congregation had celebrated the holiday a few hours before the blaze broke out. Officials still aren't sure what caused the blaze. The church, which was formerly known as the Trinity Chapel Complex, was built in the 1850s by Richard Upjohn, an architect famous for his Gothic revival designs. It was given landmark status by the city in 1968. 
This post will be updated as more information becomes available.