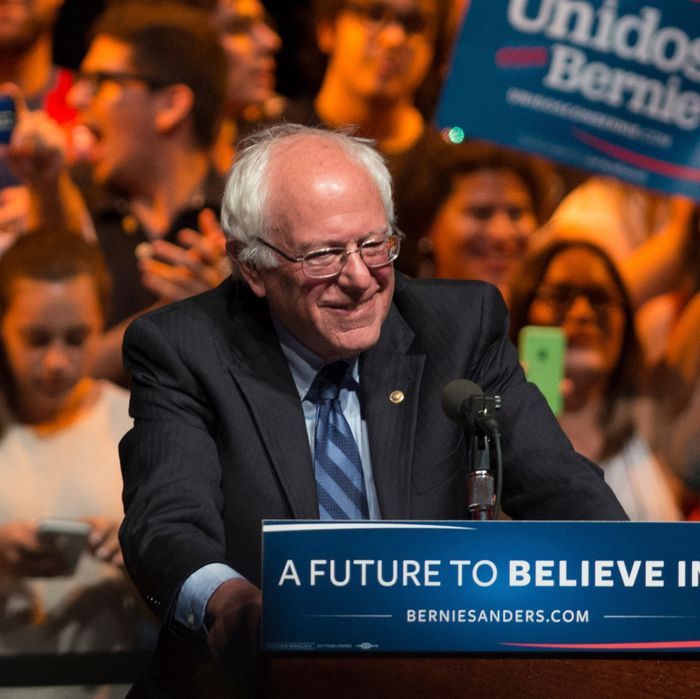 The "revolution" soldiers on.
Photo: David F. Gasser/CON
Good morning and welcome to Fresh Intelligence, our roundup of the stories, ideas, and memes you'll be talking about today. In this edition, Clinton and Sanders each win one of Tuesday's primaries, the Senate confirms the first openly gay military official, and Donald Trump says he'd meet with Kim Jong-un. Here's the rundown for Wednesday, May 18.
WEATHER
Weather-wise the country continues to be split down the middle, with storms and rain across much of the lower 50 states and clear, warm weather all over the North. New York City will be cloudy and cool, but dry. [USA Today]
FRONT PAGE
Sanders, Clinton Split Tuesday's Primaries
All in all, yesterday was a rough day for Hillary Clinton, who lost the Oregon primary to Bernie Sanders — no big surprise there — but also only managed to carry Kentucky by the slimmest of margins: 1,9000 votes, or less than half of a percentage point, according to the New York Times. Close or not, the Clinton victory in Kentucky did save her from the very bad optics of a Bernie-winning-streak as the primary in California and the Democratic convention in Philadelphia both loom.

EARLY AND OFTEN
Senate Confirms First Openly Gay Military Leader
Yesterday, the Senate confirmed Eric Fanning as the new Army secretary, making him the highest-ranking openly gay official in the Pentagon's history. The Obama-nominated Fanning's confirmation had been postponed since September, not because of his sexual orientation, but as a way for a Kansas senator to strong-arm the president into not transferring Guantánamo detainees to his state. The confirmation vote was unanimous.
Trump Would Meet With Outlandishly Coiffed Despot, But Would Kim Jong-un?
Donald Trump gave a wide-ranging interview to Reuters yesterday, showing anyone wondering if he would turn over a new, more "presidential" leaf that they needn't worry. Trump said he would happily speak with North Korean leader Kim Jong-un, renegotiate — "at a minimum" — the Paris climate accord, and dismantle the Dodd-Frank financial reforms. He also had harsh words for Silicon Valley and what he described as a tech "bubble." [Reuters]
House Committee Exposes Plot Holes in Michael Bay Film, Other Things
A House inquiry into Benghazi effectively threw out one of the most popular conservative criticisms of the government's handling of the tragedy when the panel's chair, South Carolina Republican Trey Gowdy, admitted on Fox News that he's now convinced reinforcements wouldn't have been able to reach the besieged diplomatic outpost, regardless of the federal government's response. Among other repercussions, the findings throw into question the historical accuracy of Michael Bay's 13 Hours: The Secret Soldiers of Benghazi, and if you can't trust Michael Bay, who can you trust? [NYT]
South Carolina's Restrictive Abortion Bill Heads to the Governor's Desk
Perhaps bristling at all the attention its neighbor to the north has been receiving, South Carolina decided to try its hand at some controversial legislation of its own. The state is now one step away from becoming the 13th state to ban abortions after 19 weeks; the bill was passed by state legislators yesterday and now only needs the governor's signature to become law. Governor Nikki Haley has said that she will sign the bill, but has also bragged — seriously — that she'll take the time to read it first. [Bloomberg]
THE STREET, THE VALLEY
This Newsletter Will Now Be Delivered 4 Hours Later
The White House is making moves to give millions of salaried workers access to overtime pay for the first time. The Labor Department will announce tomorrow that workers earning up to $47,476 a year who work more than 40 hours a week will receive time-and-a-half overtime pay. Here's to many more late nights! [NYT]
All Signs Point to Economic Rebound
After some disappointing economic news in the first quarter, all signs — a three-year-high consumer-prices increase; gasoline prices and rents both up; improved industrial production; and the housing-market recovery — seem to point to a major economic rebound in the second. Thanks a lot, Obama! No seriously, thank you. [Reuters]
Hard Times Have Valeant Considering Selling Drugs
It's been a while since we've written about struggling pharmaceutical company Valeant, but now the company is allegedly mulling selling off some of its assets to reduce its debt. Assets under consideration include a dermatology company, a drug to treat late-stage prostate cancer, and Isuprel and Nitropress — two drugs whose prices it infamously raised by 200 to 500 percent. [Bloomberg]
Gap Explores Amazon
Amazon might soon do what it did to books to clothes: Namely, sell them. At a shareholder meeting in San Francisco yesterday, Gap CEO Art Peck — the guy who made "normcore" a thing — told investors that he was considering relying on outside sellers such as Amazon to reach customers. [Bloomberg]
MEDIA BUBBLE
Feliz Navidad to Lovers of Drug-Tycoon Docudramas
Netflix is continuing its push to snag Spanish-speaking viewers after the huge success of its bilingual dramatic series — and the reason we didn't leave the house in September — Narcos. This time, the streaming service is partnering with Spanish-language network Univision to produce two new series, including one about Mexican drug-cartel leader and serial prison-escapee "El Chapo." In exchange, Univision will show reruns of Narcos on its broadcast-television channel — a first for Netflix. [CNet]
The Knight Foundation and Columbia University Team Up to Protect the First Amendment
The Knight Foundation and Columbia University announced plans yesterday to inaugurate the Knight First Amendment Institute at Columbia University. Each donated $30 million to the nonprofit, which will protect freedom of speech in today's rapidly changing digital landscape using "research, education, and litigation." [CJR]
Harsh Words — Like Disingenuous — Thrown Around in Public-Radio Controversy
WBAA, an Indiana public-radio station, is pulling broadcasts of "This American Life." The station's manager and National Public Radio board of directors member Mike Savage said the decision comes after "This American Life" began offering programming on the paid-subscription-radio service Pandora. Writing on LinkedIn, Savage said the move was "disingenuous at best." NPR's Ira Glass responded, saying he "respectfully disagrees." Ouch. [Current]
PHOTO OP
Trump Approaches Presidential-Level Awkwardness
Last night was Megyn Kelly's big television special with Donald Trump, and just look at these two totally comfortable professionals: so relaxed, so at ease.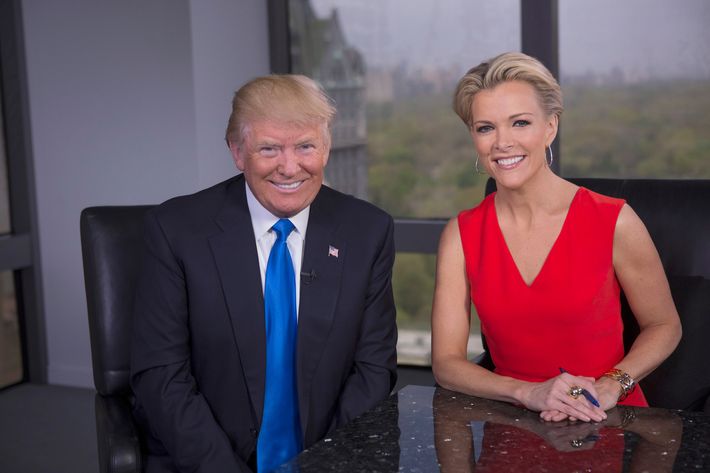 MORNING MEME
Somebody Please Explain to Blake Lively Why Everything About This Is Wrong
Sometimes, "ugh" just isn't enough. Still, ugh.
OTHER LOCAL NEWS
Lawyer Who Dressed As Superhero and Cracked Jokes From His Segway Disbarred, But Not for Those Reasons
Excuseman, the alter-ego of Chicago lawyer Jordan Margolis, has met his match. Margolis, who was famous for cracking corny jokes from the back of a selfie-stick-affixed Segway, is facing 36 felony charges springing from his alleged theft of more than a million dollars from his clients. The really sad thing is that this is such a job for Excuseman. [Above the Law]
Look at This Baby Alpaca Stuck in a Hole, Be Like This Baby Alpaca Stuck in a Hole
A baby alpaca on a farm in Menomonie, Wisconsin, went missing for more than a day before it was found with its little head just visible poking out of a hole. Do yourself a favor and check out the video of its rescue. While the mother alpaca is in quite a state, the baby is chilling. Sometimes these things just happen, he seems to say. No use getting all worked up about it. [Mashable]
HAPPENING TODAY
Zuckerberg to Placate Conservatives
Facebook's CEO will meet with conservatives today following reports that his site's trending topics section favors liberal news and buries stories that would be of interest to conservatives. And yes, in case you were wondering, Glenn Beck will be there. [Bloomberg]
Prepare to Get Futuristic
Google I/O 2016, the annual Google developers conference, will take place this year at an outdoor amphitheater in Mountain View, California. Prepare for many stories about virtual reality, AI, and futuristic new gadgets like Google Home, the company's answer to Amazon's Echo — a speaker that can tell you what time it is and stuff. [CNet]
Former Discredited Politician to Meet With Future Discredited Politician
It was only a matter of time before Trump's nonsensical foreign-policy ideas got the attention of Henry Kissinger. Trump is set to meet with the former secretary of State today, after weeks of what we can only imagine were positively giddy phone conversations. To give credit where it is due, Trump is showing a willingness to meet with someone with a foreign accent. [Raw Story]