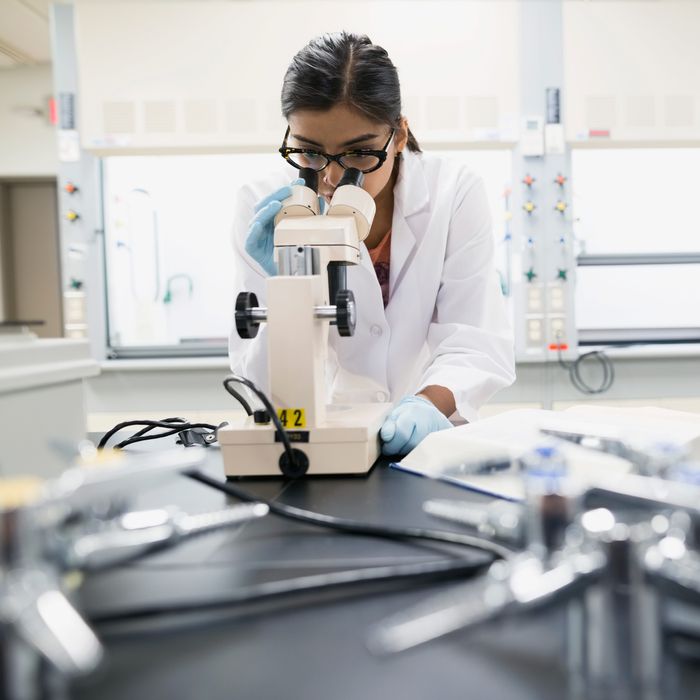 Everybody freak out.
Photo: Hero Images Inc./Getty Images
Good morning and welcome to Fresh Intelligence, our roundup of the stories, ideas, and memes you'll be talking about today. In this edition, an antibiotic-resistant strain of bacteria is discovered in Pennsylvania, Sanders may debate Trump in California, and Gawker is still reeling after a loss in Florida. Here's the rundown for Friday, May 27.
WEATHER
Today will be another rough one for the central United States with large hail, strong winds, heavy rains, and thunderstorms expected from the Plains States through Texas. Flash flood and tornado warnings are in effect. Thunderstorms are also expected in New York City along with temperatures in the low 80s. [Weather.com]
FRONT PAGE
New Antibiotic-Resistant Superbug Emerges
For the first time, researchers have found a person carrying a strain of bacteria immune to colistin, commonly referred to as the antibiotic of last resort. The "super" strain of E. coli was detected in a 49-year-old Pennsylvania woman's urine last month, and although the strain itself is no cause for panic, the potential significance of what it represents really cannot be overstated. If the colistin-resistant gene spreads to other types of bacteria that are already immune to other antibiotics, it could form a new strain of bacteria that cannot be treated with any antibiotics. Researchers are saying that this discovery could represent the beginning of the end for antibiotics as useful tools in fighting bacterial infections. Happy Friday! [WaPo]
EARLY AND OFTEN
What's the Opposite of Progress?
Donald Trump has unveiled his energy policy, and even for the born-again climate-change denier (who's still building a sea wall around his golf course for some reason), it seems a bit extreme. Speaking in North Dakota, Trump said he would increase the country's dependence on fossil fuels, undo environmental regulations, construct the Keystone oil pipeline, and nullify the historic Paris climate agreement — you know, basically a total reversal of everything anyone has ever done to save the planet. [NYT]
It's Official, But That Doesn't Make It Any More Believable
For a system Donald Trump repeatedly calls "rigged," it certainly came through for him in the end. The only nominee is now the official nominee; according to the Associated Press, with the decision of unclaimed delegates in North Dakota, Donald Trump has now surpassed the necessary 1,237 delegates to claim the nomination. Speaking in North Dakota, Donald Trump probably didn't mean to come off as chilling when he said: "I'm so honored by these people. They had such great sense." 

Bernie Sanders Goes With His Second Choice
Now that Hillary Clinton has turned him down, Sanders is potentially going ahead with plans to debate Donald Trump. Democrats, as you can well imagine, are pissed. Multiple television networks have said they would host the debate, and Trump agreed to participate if the network donated $10 million to "women's health issues," leading many to wonder whether he can name a single one. On hearing that Trump had accepted, Sanders tweeted, "Let's do it in the biggest stadium possible." [AP]
One Down, 844 to Go
A West Virginia superdelegate has decided to back Bernie Sanders — Elaine Harris said she was waiting to see how her constituency voted before aligning herself with a candidate. That puts Sanders's superdelegate count at 42, in shooting distance (if you are an extremely good shot) of Hillary Clinton's 540. Sanders is now just 844 delegates short of clinching the nomination — Clinton has 74 to go. [Politico]
THE STREET, THE VALLEY
Google and the $9 Billion Close Call
A jury ruled in favor of Google yesterday in a copyright battle with Oracle that could've seen Google forced to pay out up to $9 billion in damages. Oracle claimed that Google illegally used its Java platform in creating the Android and has said it will appeal the verdict. [Reuters]
Dollar Stores Rally — Is That a Good Sign or a Bad Sign for the Economy?
Dollar Tree and Dollar General both reported earnings yesterday that beat analyst estimates by a wide margin. On the news, shares in both companies jumped: Dollar Tree by 11 percent and Dollar General by more than four. [Bloomberg]
Customers Try to Do to Theranos What Theranos Did to Them: Bleed It Dry
Yesterday we reported that debunked blood-test startup Theranos was facing a consumer-fraud class-action lawsuit, and today it can add another to the pile. This lawsuit accuses the company of false advertising, not using the technology it purported to use, and having shoddy quality control. [The Verge]
Facebook and Microsoft Roll Deep
Facebook is partnering with Microsoft to install the highest-capacity undersea internet cable to date that will connect the tech powerhouses of Spain and Northern Virginia. Called MAREA, the cable will stretch for 4,100 miles and will be able to stream up to 160 terabits per second. [The Verge]

MEDIA BUBBLE
Hulk Hogan Has Gawker in Overhead Gutwrench Backbreaker Rack
Nick Denton has penned an open letter to Peter Thiel, the tech billionaire who, it has emerged, is secretly bankrolling lawsuits against Gawker. In the letter, Denton provides links to past stories that the company is facing lawsuits over and challenges Thiel to a public debate. At the same time, it has emerged that Gawker has reached out to a banker to explore what to do if its appeal fails and the $140 million verdict in the Thiel-backed suit brought by noted amateur rock bassist Hulk Hogan stands. [Bloomberg]
Twitter Molts Two More Executives
News has emerged that Twitter will lose two more executives. Jana Messerschmidt and Nathan Hubbard, the heads of business development and media and commerce, respectively, are both leaving their posts voluntarily. It has been a tough year for Twitter as the company struggles to retain executives and turn a profit. [Re/code]
Not a Good Sign: Viacom Director Can't Get Ahold of Majority Owner
Viacom's board is having trouble scheduling a meeting with the company's majority shareholder, the billionaire Sumner Redstone. Redstone, who turns 93 today, has had his mental competency questioned of late. He also recently fired longtime members of his seven-person trust and replaced them with his daughter and a family friend. [Bloomberg]
PHOTO OP
Now This Is How You Celebrate
Trump made it to 1,237, and he's here to party. C'mon Donald — you said it yourself.
MORNING MEME
Can You Use Dab in a Sentence Please?
Thank you to spelling-bee contestants for making dabbing cool again. Also, what is a nagelfluh?
OTHER LOCAL NEWS
Some Call Him the Gangster of Love
A Columbus, Ohio, man has turned himself into police after walking into an "adult" shop, grabbing as many dildos as he could carry, and fleeing while threatening anyone who tried to stop him. Our guess is he just wanted to throw one of those trendy sex-toy parties we read so much about. [NBC]
Florida Now Just One Big Hallucination
Today's bizarre news story comes to you from Key West, Florida, where someone illegally parked their life-size exact replica of The Flintstones car. Police were forced to tow the car, which was parked across the street from an indoor basketball court, and were eventually able to locate the driver, but so far haven't released who it was or what is going on in general. [Miami New Times]
HAPPENING TODAY
Obama Makes Historic Trip to Hiroshima
Barack Obama will make a historic visit to Hiroshima today, making him the first sitting president to visit the city since one of his predecessors blew it up. The president will lay a wreath at the peace memorial and try to bring attention to his nuclear-disarmament agenda while showing off how close the U.S. and Japan have become. [Reuters]
Trump to Meet With Farmers for What Might Be the First Time in His Life
Donald Trump will sit down with California's agricultural leaders in Fresno this morning where he will learn about the issues facing the country's largest agricultural producers and try to develop a policy that will appeal to the state's influential farmers. We're guessing it will be something like: drought? What drought? Use all the water you want! [CNN]
Yellen Ruins Bankers' Long Weekends
All eyes are on Janet Yellen, who is speaking today at an event in Massachusetts. Analysts and investors will be hanging on her every word for clues as to when the Federal Reserve will raise interest rates — those in the know say it could be as early as next week. [Bloomberg]