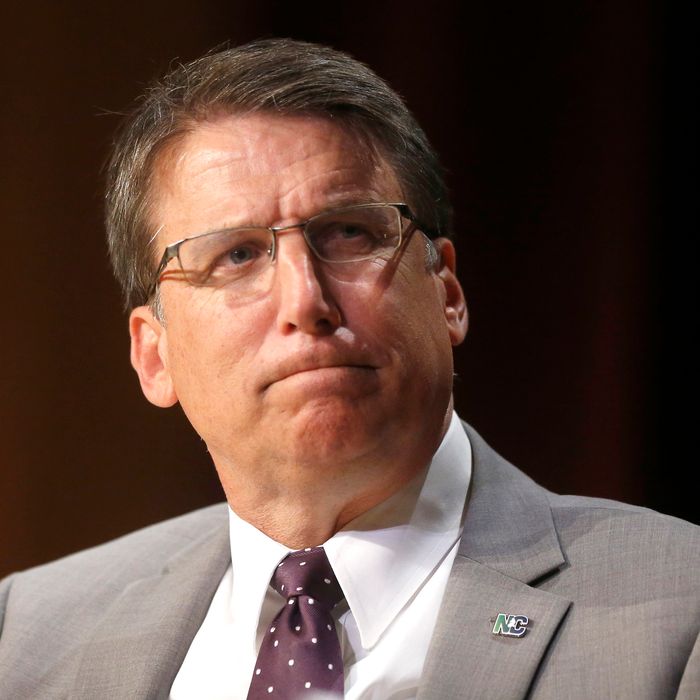 North Carolina governor Pat McCrory mid-quandary.
Photo: Ethan Hyman/2016 MCT
Good morning and welcome to Fresh Intelligence, our roundup of the stories, ideas, and memes you'll be talking about today. In this edition, the Department of Justice does not approve of North Carolina's bathroom bill, Donald Trump sets his eyes on Cleveland, and Barack Obama visits Flint. Here's the rundown for Thursday, May 5.
WEATHER
Clouds and rain will continue on both coasts including in New York, where showers and chilly winds show no signs of letting up. In the middle of the country, there should be clear skies and, for the most part, a break from yesterday's scorching temperatures. [USA Today]
FRONT PAGE
Feds Say North Carolina Bathroom Bill Violates Civil Rights Act
The Justice Department has sent a letter to North Carolina governor Pat McCrory notifying him that his state's "bathroom bill," which forces people to use the facilities that correspond to the gender on their birth certificates, violates the Civil Rights Act. The governor now has until Monday to prove that he will not enforce a bill he publicly supports and signed into law, or his state could lose millions in federal funding.
EARLY AND OFTEN
State That Made Weed Cool Moves to Make It Legal
California's legalization proponents have secured enough signatures on a petition to ensure that a measure legalizing recreational marijuana use for adults will appear on the November ballot. They needed to collect 365,880 signatures and managed to get 600,000. If the proposition — known by the catchy moniker "the Adult Use of Marijuana Act" — passes, the state will be following in the footsteps of Colorado, Washington, Oregon, and Alaska. [SFGate]
Trump Becomes Presumptive GOP Nominee As Lukewarm Endorsements Trickle In
Donald Trump is now one step closer to becoming the tangerine-coiffed leader of the free world. John Kasich, the little engine that ultimately could not, dropped out of the race yesterday leaving no one, barring any convention maneuvering, between Trump and the Republican nomination. On the news of his likely anointment, reluctant endorsements have trickled in from the likes of Mitch McConnell and South Carolina governor Nikki Haley — who would not like to be the vice-president, thank you very much. [WaPo]
Just When You Thought Things Couldn't Get More Bonkers: Clinton Might Testify in Emails Lawsuit
The news that Hillary Clinton was almost certainly dreading has arrived: A federal judge has ordered that the likely presidential nominee might have to testify in a lawsuit brought by the right-wing group Judicial Watch about the private server she used for her emails as secretary of State. Judicial Watch has also been granted permission to seek testimony from those close to Clinton including her confidante Huma Abedin.
Obama Puts the Lead in Leader
The president was in Flint, Michigan, yesterday where he addressed the town's lead-tainted water crisis and even drank filtered Flint tap water — twice. He told Flint residents that they should be angry, but that their children will be just fine with the right health care. He also said the tap water is safe to drink for everyone over six and not pregnant. Hooray? [NPR]
THE STREET, THE VALLEY
Tesla Vows to Build Half-a-Million Cars in 2018, But Won't Finish Model 3 on Time
Elon Musk, the CEO voted most likely to actually be from the future, unveiled extremely ambitious plans for his electronic-car company yesterday, saying he wanted to build 500,000 vehicles a year by 2018. Then, practically in the same breath, he said that the model currently in production will miss its production date. [CNet]
Walmart to Get Even More Charming
Walmart is bringing back its famous greeter program. The program has stalled in the last few years, but a recent study showed that greeters not only lend the stores a small-town feel but also deter shoplifters. So next time you head to Walmart, be ready to smile at a stranger. [Bloomberg]
Are All Cars Broken?
Another day, another announcement of massive automotive recalls. This time, it's 35-40 million cars from multiple makers that still use faulty Takata air bags and, separately, 4,800 trucks and SUVs from GM with shoddily welded suspensions that make them lose control at high speeds. Yikes. [CNet]
Fitbit Will Find New Ways to Tell Us How to Live Our Lives
Fitbit CEO James Park announced impressive first-quarter earnings yesterday that surpassed analyst expectations, but it's also clear from the announcement that his company is under pressure to diversify. Park confirmed rumors that wholly new and "exciting" Fitbit products will come on the market in time for the holidays. [The Verge]
MEDIA BUBBLE
Tribune to Gannett: Thanks But No Thanks
The board of Tribune Publishing has rejected an offer from Gannett to buy the company. Gannett had said it was willing to spend $815 million, but Tribune claimed the offer undervalued their assets, which include the Los Angeles Times and the Chicago Tribune. If that comes as a surprise to all you doomsayers claiming print is dead, take note: The Times is actually expanding and plans to open seven new bureaus internationally. [Bloomberg]
YouTube Hops on the Broadband-Wagon
Following recent nearly identical news from Hulu — and Dish, and Sony — YouTube has announced that it's getting into the cableless cable game with a new service called Unplugged that will allow cord-cutting consumers to stream cable channels online for a monthly subscription fee. The service is expected to launch in 2017 even though YouTube has yet to reach a single agreement with any of the content providers. [The Verge]
Disney Mulls a Somehow Baseball-Related Bet on Digital Streaming
Disney has said it's willing to part with up to $1 billion to acquire a third of BAM Tech. What is BAM Tech, you ask? BAM Tech is a video-technology company developed by Major League Baseball to stream online content, and it's now used by big-time streamers like HBO and ESPN. Going ahead with the acquisition would mean Disney has serious ideas for online streaming down the road. [Re/Code]
PHOTO OP
His World, Like His Smile, Turned Upside Down
Even though he nearly ruined sandwiches for us, it was hard not to feel for a clearly defeated John Kasich as he bowed out of the race yesterday leaving America to contend with Donald Trump.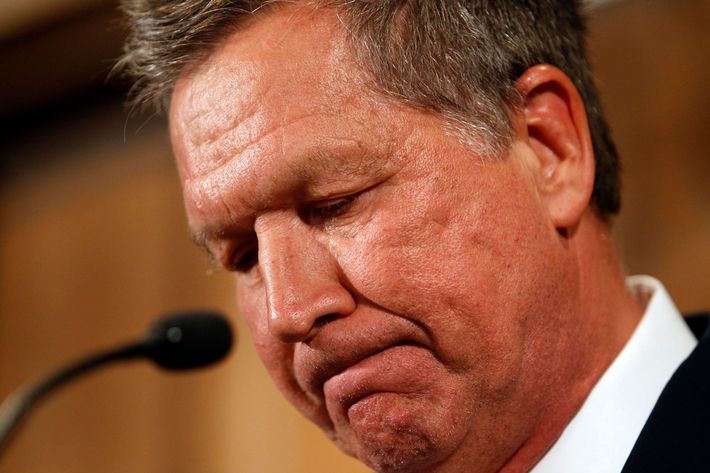 MORNING MEME
Chris Matthews Illustrates the Male Gaze
Thanks again to hot mics for bringing America the only unvarnished truth in every election cycle. This time it was Chris Matthews's turn to show the country what a sleaze he is.
OTHER LOCAL NEWS
Most San Francisco Thing Ever Has Happened
This will be hard to explain, so you might just want to check out the video, but a San Francisco man managed to propose to his girlfriend while they both posed for a "real life mural." She said yes, so the mural looked heartwarming, but we can't help wondering what it would've been like if she'd turned him down and taken the whole thing in a more Banksy direction. [Mashable]
Here It Is, the Perfect Metaphor for the Drug War
Police in Alliance, Ohio, are having trouble looking into an incarcerated drug dealer's cell phone because so many people keep calling and texting looking for drugs. In a last-ditch effort, police posted a note on Facebook asking users to stop calling the dealer, saying, "First of all, he is all out of drugs for tonight," and that they don't have to keep calling because the police will "come to you soon enough." [UPI]
HAPPENING TODAY
New York Mayor Announces Low-Income Housing Push
As part of a citywide push to create more low-income housing over the next decade, Mayor de Blasio will announce plans today to build 500 new housing units in Brooklyn and the Bronx on unused portions of existent housing-project property. [NYT]
California Teens Stock Up on Cigarettes
Today is the first day it's illegal in California for anyone under the age of 21 to purchase tobacco products, including cigarettes, vapes, and the least cool tobacco product of all: dip. In changing the law, California is following Hawaii's lead and the example of cities like Chicago and New York. [NYT]
Get Drunk and Mock the French: It's Cinco de Mayo!
Today is bring-your-blender-to-work day, otherwise known as Cinco de Mayo, or the holiday commemorating the victory of outnumbered Mexican forces over the French army. Mexicans don't really celebrate Cinco de Mayo, but Americans do by getting drunk for some reason. [Wikipedia]