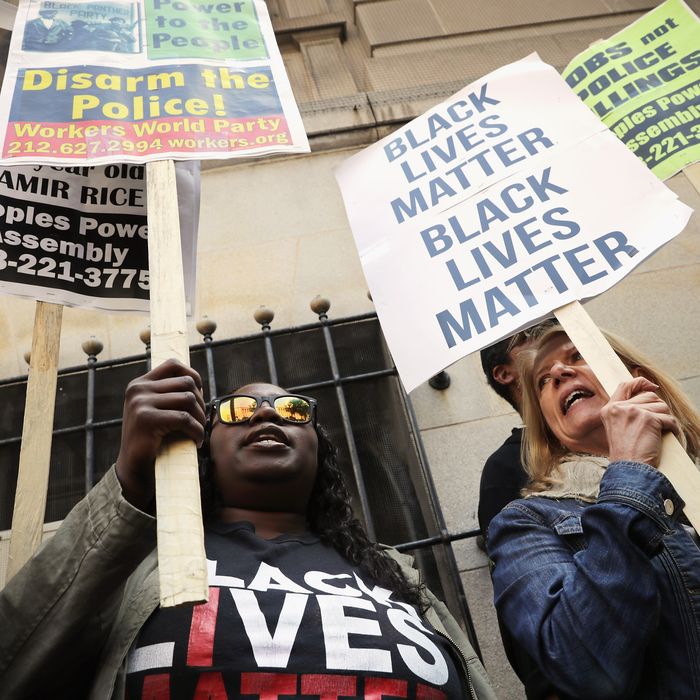 "No justice, no peace."
Photo: Chip Somodevilla/2016 Getty Images
Good morning and welcome to Fresh Intelligence, our roundup of the stories, ideas, and memes you'll be talking about today. In this edition, the policeman in Freddie Gray's arrest is acquitted, Hillary Clinton backpedals, and Bernie gets a say. Here's the rundown for Tuesday, May 24.
WEATHER
It won't be a very nice day today for many of the Plains states with severe thunderstorms, hail, and even tornadoes, especially in Oklahoma and western Nebraska. Aside from some rain in New England, the rest of the East Coast should dry out — except, of course, for New York City, where thunder, lightning, and rain won't cool off temperatures that should hover in the 70s. [USA Today]
FRONT PAGE
Officer Acquitted of All Charges in Freddie Gray Case
Edward Nero, a Baltimore police officer involved in the arrest of Freddie Gray — who died following a spinal injury he sustained in police custody — was acquitted yesterday of each of the four charges he was facing. The judge let him off on the grounds that he did not play a significant enough role in Gray's arrest, leaving the door open for prosecutions of other officers involved down the line. That eventuality will provide little solace to the demonstrators who gathered outside of the courthouse and protested emotionally after the verdict was read. [NYT]
EARLY AND OFTEN
Hillary Clinton Has Better Things to Do Than Appear on Fox News
Despite making a very public agreement with the Bernie Sanders campaign — and the whole country, if you're feeling sentimental about it — to take part in four televised debates including one in California, Hillary Clinton's camp is now saying her time is better spent "campaigning and meeting directly with voters" rather than participating in a fourth debate. In the words of a true parent, Sanders said he was "disappointed but not surprised" by her decision.
Sanders Gains Greater Say in Party Platform
In another sign of Bernie Sanders's growing clout, the Democratic party has agreed to give him a greater say in determining the party's platform. Sanders may now nominate five people to the 15-person committee that drafts the official platform at the convention. Clinton will get to name six people for the committee, and Democratic Party chair Debbie Wasserman Schultz — an outspoken Bernie opponent, just saying — will get four nominations. Sanders has also announced he will support Schultz's opponent's candidacy in Florida's congressional race, so everyone should be getting along just fine by July.
Time to Look in the Mirror, America: North Korea Rejects Donald Trump
Okay, America, maybe it's time for some self-reflection. Even North Korea — the Stalinist hermit nation whose despotic supreme leader's best friend is Dennis Rodman — balked at taking Donald Trump seriously, saying the presidential candidate's statements that he'd "have no problem" meeting with North Korean leadership had "no meaning, no sincerity," and were "propaganda" for the presidential election. Now we're in the position of agreeing with North Korea — thanks a lot, Donald.
TSA Head Takes Blame for Country's Misery
It looks like the country-wide, summer-long waiting game that is air travel has a definite loser: Kelly Hogan. The recent head of the U.S. Transportation Security Administration has been removed from his post following widespread complaints about long lines and barely contained chaos at America's airports. Sacrificial lamb Hogan plumped himself for the slaughter to the tune of more than $90,000 in bonuses as air travel became increasingly untenable. The TSA will also hire another 700 screeners to help alleviate airport congestion. [NPR]
THE STREET, THE VALLEY
Inevitable Sumner Redstone Fallout Falls Out
Since media tycoon Sumner Redstone's grasp on reality became a matter of public debate, all eyes have been on his company, Viacom, which is now going all Game of Thrones. Two longtime trust members, who were ousted last week by Redstone (although more likely by Redstone's daughter), have filed lawsuits claiming he lacked the mental competency to fire them; Redstone has also gotten the courts involved by asking them to approve his firing spree. [WSJ]
Bank of America Takes the Low Road
Bank of America is suing the U.S. Labor Department rather than pay the $964,000 the department says it owes the black people whom the bank refused to hire because of their race more than 20 years ago. [Bloomberg]
General Electric Bets Big on Post-Oil Saudi Arabia
At least on a corporate level the peas-in-a-pod arrangement between the U.S. and Saudi Arabia looks set to continue well into the post-fossil-fuel age. General Electric has announced it will partner with the kingdom in investing as much as $3 billion in Saudi non-oil industries to help the country diversify its economy; another $2 billion could follow. [Bloomberg]
Apple Changes Mind: Sometimes War Is a Game
Apple has had a rare change of heart over its often controversial and always confusing games policy. After refusing to carry Liyla and the Shadows of War — a game by Palestinian developer Rasheed Abueideh — because of its political themes, the company bowed to widespread disapproval (and also no doubt the growing acclaim for the game) yesterday. Liyla is now available in the App Store. [The Verge]
MEDIA BUBBLE
Billionaire Helps Tribune Rub Gannett's Face in It
After refusing USA Today publisher Gannett's repeated offers to buy Tribune Publishing, Tribune turned around and announced a windfall: a $70.5 million investment by Los Angeles billionaire Patrick Soon-Shiong — he of partially-owning-the-Lakers fame. Soon-Shiong is now Tribune's second-largest shareholder through his fund, Nant Capital. [Reuters]
Disney-Loving Netflix Users' Frustration Nearly at an End
The exclusive deal Disney reached with Netflix more than three years ago is coming online in September, meaning that soon Netflix will be the sole home for all Disney films and will carry them just after the Blu-Ray release date. Don't really care because you're not a big Disney fan? Remember: Disney now also owns Marvel, Pixar, and Lucasfilm. Nice get, Netflix. [The Verge]
Facebook Changes Trending Topics But Nobody Will Notice Because Puppy Cams
Following a meeting with notable conservatives, Facebook will change the way it puts together its Trending Topics by scrapping its top-ten list of major news sources, the 1,000 other sites it uses to judge stories' relevance, and the RSS feed that fed its algorithms. If that sounds boring, just ignore it because puppy cams are also coming to the social-media platform thanks to new rules that allow continuous 24-hour streaming. [The Verge]
PHOTO OP
It's Like America Is All Metaphors These Days
Good morning. Enjoy this picture from yesterday's NYPD–FDNY charity football game that, of course, descended into a bloody brawl. Still, a bloody brawl for charity.
MORNING MEME
The Bachelorette is back, and all memes point to a very good season. We might have to add a weekly Bachelorette meme section to the newsletter. Thoughts?
OTHER LOCAL NEWS
Reporter Does Sh** Job, Is Fired
A reporter for a Phoenix television station is out of a job after a resident spotted him — how to put this? — "doing his business" against her house with the help of a neighbor's morning paper. Unfortunately, she also recognized him from TV and called his employers to complain. When reached for comment, the reporter explained that he hadn't felt well that day and had been cooped up in the news van for hours. For her part, the neighbor said he could've just used her bathroom had he asked. [UPI]
In Alaska, Jailbreaks Are Social Affairs
An inmate at a minimum-security holding facility in Fairbanks, Alaska, managed to escape by just getting on his bike and riding away. No doubt missing the camaraderie of being "inside," the escapee returned a few hours later driving an SUV to pick up his other incarcerated friends. At the time of this writing, they all remain at large. [UPI]
HAPPENING TODAY
Nation Prepares for Peak Schadenfreude
The House Judiciary Committee could make history today when it begins to consider impeachment proceedings for the Internal Revenue Services commissioner John Koskinen. In what's seen as an example of Washington at its most partisan, Koskinen stands accused by House Republicans of lying under oath and defying a congressional subpoena. [NYT]
Texas Voter-ID Law Back in the Courts
Today, a federal-appeals court will start looking at Texas's controversial voter-ID law, which was ruled unconstitutional last year. The law requires voters to provide one of seven valid forms of ID, which supporters say can prevent voter fraud, but which the Justice Department says disenfranchises poor and minority voters. [NYT]
Bill Cosby's Criminal Trial Begins
The trial that Cosby and his lawyers hoped would never happen will come a step closer today outside of Philadelphia. The preliminary hearing will determine if Cosby should be tried on felony sexual-assault charges for allegedly drugging and molesting Andrea Constand in 2004. [USA Today]