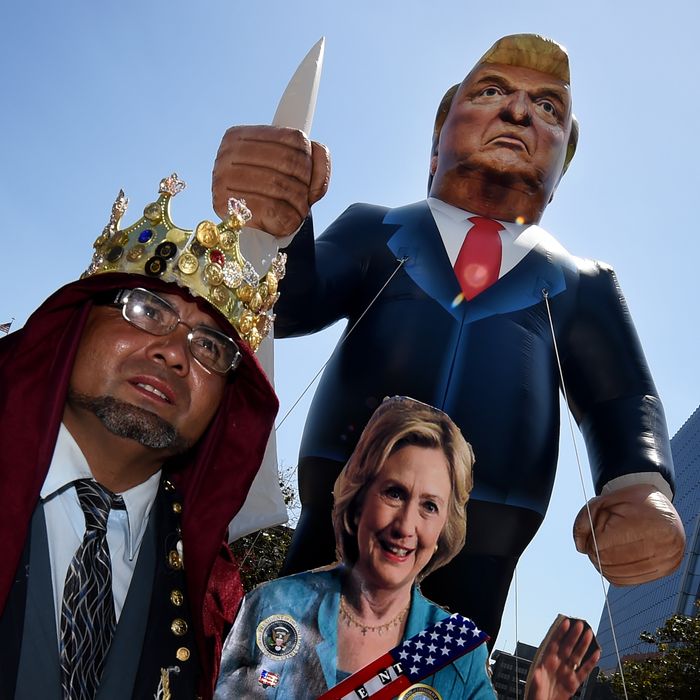 Effigies on parade.
Photo: Mark Ralston
Good morning and welcome to Fresh Intelligence, our roundup of the stories, ideas, and memes you'll be talking about today. In this edition, May Day protests in Seattle turn violent, Donald Trump still can't get over Hillary Clinton's gender, and the country's little girl is going to college. Here's the rundown for Monday, May 2.
WEATHER
After a weekend of lethal flooding — with at least six people killed in Texas — it looks like heavy rains will continue today across the South, with flash-flood warnings in effect in Texas, Louisiana, and Mississippi. It will also be rainy in New York City with temperatures in the low 60s. [Weather.com]
FRONT PAGE
May-Day Marches Turn Violent
Large-scale marches took place across the country in honor of May Day, the global holiday on May 1 intended to bring attention to labor and workers' rights. This year, the protests took on a different (and more desperate) tone thanks in large part to the divisiveness and radical rhetoric that has become commonplace in the current presidential campaign — Donald Trump was a new but pervasive target of protesters. The most violent protests took place in Seattle where demonstrators broke windows and threw Molotov cocktails, injuring five police officers and leading to at least nine arrests. [AP]
EARLY AND OFTEN
Card-Carrying Woman Ignores Bloviating Man
Donald Trump and Hillary Clinton have turned their attention away from the candidates in their own parties and toward each other. On Fox News Sunday, Trump suggested, yet again, that Clinton is only popular because she's a woman — because historically women have a much easier time of it than white-male billionaires — and Clinton responded on CNN by saying she prefers to ignore Trump when he gets like this and has spent her whole career ignoring men like the Donald, "Who sometimes get off the reservation in the way they behave." Wait, can she say that? [NYT]
Ted Cruz Can Add Indiana to List of Places Where He Is Unpopular
All eyes are on Indiana ahead of Tuesday's primary where a Trump victory could effectively seal his claim for the nomination and a poor showing for Ted Cruz would only encourage the growing clamor for him to drop out of the race. All the more reason that Cruz must be very upset with the latest polling data, which shows him losing to Trump by 15 points — and even losing to John Kasich. [NYT]
Bernie Begins to Realize Why Hillary Made All Those Wall Street Speeches
Bernie Sanders's rough patch continues. First, he had to let go of more than 200 staffers, and now, it has emerged that in April, Sanders only raised $25.8 million, which doesn't sound so bad, but actually represents a drop of more than 40 percent from the month before. Seeing as his individual donations usually only amount to around $25, the dip in fundraising also represents a significant decrease in total donors. [NYT]
Malia Obama Will Enjoy a Gap Year Before Heading to Harvard
The only political question it was actually pleasant to consider last week has been answered: Malia Obama is following in both of her parents' footsteps and going to Harvard — Barack and Michelle attended Harvard Law. She won't be starting until 2017 because she'll take a gap year — something we didn't really realize Americans did, but hope catches on here.
THE STREET, THE VALLEY
Warren Buffett: Don't Worry, Presidents Don't Really Matter
The 51st annual meeting of Berkshire Hathaway took place over the weekend where shareholders celebrated an 8.2 percent increase in net income and did whatever the opposite of celebrating is over a 12 percent decrease in operating profits. Warren Buffett also dropped some real talk, saying that no matter who won the presidency in November, it wouldn't really have any effect on the company. [Reuters]
Halliburton Calls Off $28 Billion Merger
American and European anti-trust regulators have put an end to what was going to be a massive $28 billion merger between Halliburton and one of its competitors, Baker Hughes. The move would have combined the second- and third-largest oil-service companies and taught Americans a new word: duopoly. [Reuters]
What Good Are Air Bags Anyway?
Following in the tire tracks of several other car companies of late, Nissan announced a massive recall yesterday. The company is recalling 4 million vehicles. More than 3 million have faulty sensors in the passenger seats, which may keep air bags from deploying in a crash, and more than 600,000 have an issue with seat belts. [Bloomberg]
The Bronx Will Now Know the Joy of Delivery Toilet Paper When It's Raining
Amazon has announced it will bring its rapid-delivery service to the Bronx. The Bronx had been the only New York borough not to enjoy same-day delivery, which contributed to accusations that the company unfairly excluded minority communities from some of its services. [Bloomberg]
MEDIA BUBBLE
Radiohead? What's a Radiohead?
Proving definitively that reverse psychology is a thing, Radiohead generated a huge amount of buzz today by thoroughly scrubbing their existence from the internet, including taking down their web page, social-media presence, and the band members' social-media presences. Now, if they just stopped releasing music, they could be the biggest band in the world.
Hulu to Launch Streaming-TV Service. What Year Is This?
Hulu has announced that it's developing a new subscription service that would stream popular television channels in real time. Hulu is owned by Disney and Fox, so their channels — ESPN, ABC, the Disney Channel, Fox, etc. — will be available on the service. Subscriptions will run about $40 a month, and we have a feeling cable companies are not thrilled. [WSJ]
Now You Can Use Snapchat to Shop at Target. Again, What Year Is This?
Snapchat launched its first interactive e-commerce advertisements yesterday. Now, if Snapchat users see something they like on one of the service's ads for Target or Lancome, they can just swipe up and buy it instantly. We're not sure why this disturbs us so much. [Ad Week]
PHOTO OP
World Notices Elephant in the Room
A historic and emotional evening in Providence last night: The very last show of the famous Ringling Bros. elephants, who are being retired under pressure from animal-rights groups, took place.
MORNING MEME
How did we not see this before? Now we can't un-see it. Repent!
OTHER LOCAL NEWS
No Need for a Llama
Police are still looking for the owners of an escaped alpaca caught running down a local road in Shirley, Massachusetts. Police called in animal-control professionals who lured the beast with a bag of Dunkin' Donuts before throwing a lasso around its fluffy neck and "wrangling" it — whatever that means. [UPI]
Lompoc Couple Pulls Off Easiest Caper in History
A couple of con artists in Lompoc, California, decided to skip a whole bunch of steps and just ask two women for their money with surprisingly lucrative results. The grifters, posing as psychics, told the women their cash was possessed by evil spirits and offered to take it home and perform a cash exorcism. The scam worked really, really well; in the end they made off with more than $240,000. [Cal Coast News]
HAPPENING TODAY
More Than 20 Detroit Schools Remain Closed Today
"Sick outs" — when large groups of faculty call out sick — planned by the Detroit Federation of Teachers will close 21 schools in the struggling city tomorrow. Detroit only has enough money to fund its employees through June 30, after which point teachers will no longer receive paychecks. The sick outs are meant to pressure the government into fully funding its schools. [Fox]