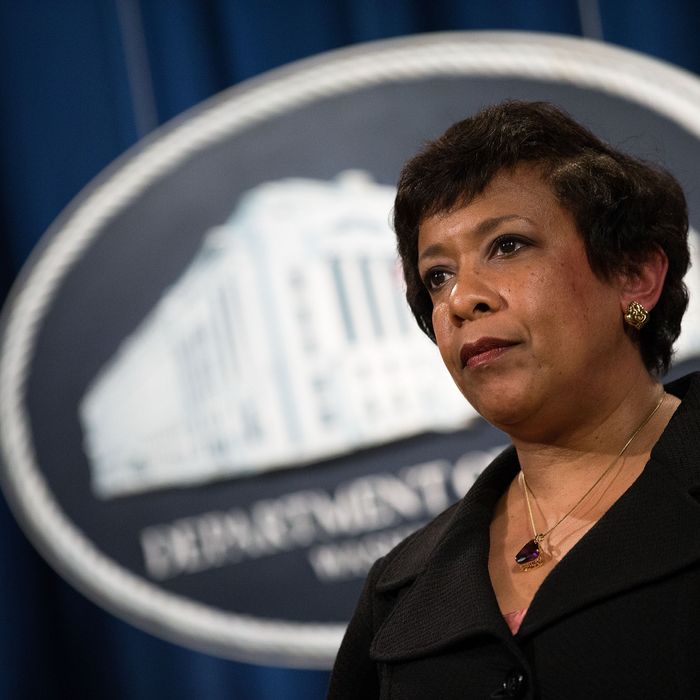 Attorney General Loretta Lynch announcing federal action on North Carolina.
Photo: Drew Angerer/2016 Getty Images
Good morning and welcome to Fresh Intelligence, our roundup of the stories, ideas, and memes you'll be talking about today. In this edition, North Carolina and the Justice Department sue each other, Trump is misunderstood, and the case against Sumner Redstone is dismissed. Here's the rundown for Tuesday, May 10.
WEATHER
Yesterday's rash of huge and deadly tornadoes in Oklahoma and Nebraska could continue into today with severe storms, hail, and even more tornadoes forecasted into the afternoon in the middle of the country. New York City can expect a cloudy day with maybe a few light showers and temperatures in the low 60s. [Weather.com]
FRONT PAGE
North Carolina Gets Litigious, Justice Department Follows Suit
Yesterday was North Carolina's deadline to stop enforcing its controversial "bathroom bill," which the Department of Justice found was discriminatory toward transgender people. Lest you think the issue will be quickly resolved, instead of meeting the deadline, North Carolina filed a lawsuit against the Justice Department accusing it of "blatant overreach." Attorney General Loretta Lynch responded by calling on a North Carolina federal district court to declare that the bill violates the Civil Rights Act. If North Carolina refuses to act, the Justice Department has said it can withhold billions of dollars of federal funding from the state. [Reuters]
EARLY AND OFTEN
Trump: I Didn't Mean Tax the Rich More, I Meant Tax Them Less
That didn't take long. After dominating yesterday's headlines with his call to tax the wealthy more, and even saying he was willing to pay more himself, Trump is back in the headlines saying that, of course, he was misunderstood: The rich should still receive tax breaks, but maybe smaller tax breaks than he originally planned. "I'm not talking about a tax increase. I'm talking about a tremendous tax decrease, OK?" OK. [Reuters]
Bigfoot Was Robbed
President Obama yesterday signed a law making the bison, everyone's favorite trendy burger meat, America's national mammal. There used to be tens of millions of bison across the country before settlers — who didn't know they would one day be the national mammal — shot so many of them that they almost went extinct. Today only tens of thousands of bison remain.
Trump to Christie: You're Hired
After acting as Trump's opponent, punching bag, and lobotomized minion, it looks like Chris Christie has gotten himself a real job. Trump recently appointed Christie to head his transition team: If Trump wins the White House, Christie will plan the administration, help manage Trump's move, and, we're guessing, install a bunch of gold toilets. [Reuters]
P.J. O'Rourke Endorses "Second-Worst Thing That Can Happen to This Country"
Humorist and outspoken libertarian P.J. O'Rourke shocked listening audiences when he announced he would support Hillary Clinton while appearing as a panelist on National Public Radio's Wait Wait … Don't Tell Me. He said he was endorsing Clinton along with her "lies" and "her empty promises" and described her as the "second-worst thing that can happen to this country. But she's way behind in second place." Quite the endorsement. [Politico]
THE STREET, THE VALLEY
Gap's Springtime Comeback More of a Springtime Setback
Gap, the struggling clothing company, had forecast what it called a "springtime comeback," but said comeback sadly failed to materialize. The company posted disappointing earnings yesterday, which sent its shares tumbling 15 percent. It was an especially tough year for Gap's budget spin-off, Old Navy. [Bloomberg]
Redstone Wins Court Case, Competency Still an Issue
A judge has ruled in favor of Sumner Redstone, throwing out the case brought by his ex-girlfriend and caretaker who claimed Redstone's inner circle manipulated him into firing and disinheriting her. Still, the case brought unwanted attention to the billionaire media tycoon's frailty, which could spark a power struggle at the companies he controls. Redstone owns 80 percent voting stakes in both Viacom and CBS. [NYT]
Mixed Signals: Feds Now Really Concerned About Mobile-Phone Security
The Federal Communications Commission and the Federal Trade Commission released separate statements yesterday saying they're beginning an inquiry into smartphone makers and wireless-service providers over concerns that companies' slowness to release software updates could leave phones vulnerable to security breaches. [Bloomberg]
In Reverse Mariel Boatlift, the U.S. Sends Cuba the Kardashians and T-Mobile
T-Mobile is making headway in Cuba. The wireless-service provider announced yesterday that it will team up with a Cuban wireless provider to cut costs of calls between the U.S. and Cuba by as much as 65 percent. Also, your T-Mobile device should now work on Castro's island just fine. [CNet]
MEDIA BUBBLE
Facebook Gets In On That Sweet Liberal-Media-Bias Action
Facebook is in a bit of hot water after a story broke on Gizmodo quoting journalists who used to work at the company saying they routinely suppressed conservative stories in favor of liberal-leaning stories for the site's trending-news section. Some employees, known as "news curators," also said they falsely inserted stories into the section on instructions for their superiors. So, guys, maybe don't get all your news from Facebook?
Las Vegas Review-Journal Hemorrhage Continues
A flood of journalists are leaving the Las Vegas Review-Journal after billionaire casino tycoon Sheldon Adelson purchased the paper late last year. Yesterday, Jennifer Robison, one of the journalists who uncovered the identity of the paper's secret new owner, just announced her departure; she was the last reporter involved in that story who remained at the paper. [NPR]
Huge News for Fans of Mockumentaries, Tim Robbins
Spotify is following the example of basically every other online company there is by expanding into original video content. The Swedish music-streaming service already boasts some clips from Comedy Central and the BBC, but it will now release its own programing such as a mockumentary series with Tim Robbins and something with Russell Simmons. [Variety]
PHOTO OP
Deadly Winds
Massive tornadoes ripped through the middle of the country yesterday, killing at least two people. This huge tornado was spotted in Oklahoma.
MORNING MEME
Happy Belated, David Attenborough
Beloved nature documentarian David Attenborough turned 90 on Sunday, and since then, adorable memes have kept flowing in. We love this little interaction with a frog, which we think captures the man and his inexhaustible capacity for wonder.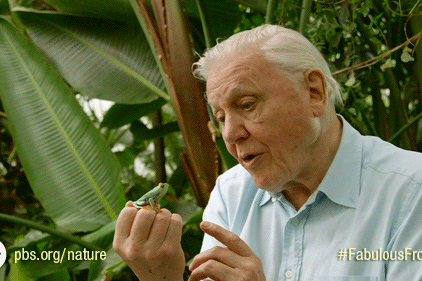 OTHER LOCAL NEWS
Holy Man Wears Same Shirt for Three Days
A — you guessed it — Florida man managed to shoot himself in the arm while cleaning his gun. This wouldn't be news but for the fact that he had no idea he'd shot himself until he decided to change his shirt three days later and discovered the bullet wound. Either this guy is a total badass, or the NRA is right and getting shot really isn't that big of a deal. [Daytona Beach News-Journal]
Kentucky Town's First "Running of the Goats" Ends in Adorable Chaos
Covington, Kentucky, inaugurated its first Running of the Goats, and boy did they run. A group of goats made a break for it, taking the community on a 24-hour goat chase through town that injured one goat-chaser and ended when the last couple of goats were found in a nearby wood. [UPI]
HAPPENING TODAY
NASA to Make Big Announcement, Almost Certainly Aliens
NASA has said it will announce the latest findings of its Kepler Space Telescope today at 1 p.m. The announcement is most likely that Kepler has found a new planet outside of our solar system, but according to the internet, it's definitely going to be aliens for real this time. [Techradar]
Hyperloop Technologies to Make Big Announcement, Almost Certainly Aliens
Hyperloop Technologies, the startup that makes components for Elon Musk's futuristic transportation scheme "the hyperloop," has said it will announce something big tomorrow. The media has been invited to a small-scale hyperloop "race track" north of Las Vegas for a demonstration and said announcement, again probably about aliens. [electrek]
Primaries in Nebraska and West Virginia While Candidates Eye California
Two primaries tomorrow in West Virginia and Nebraska haven't been getting much media attention thanks in part to the massive California primary looming just over the horizon. But the Democratic primary in West Virginia, at least, will be an important test of Bernie's momentum and Hillary's ability to rebuild her image in coal country. [AL.com]