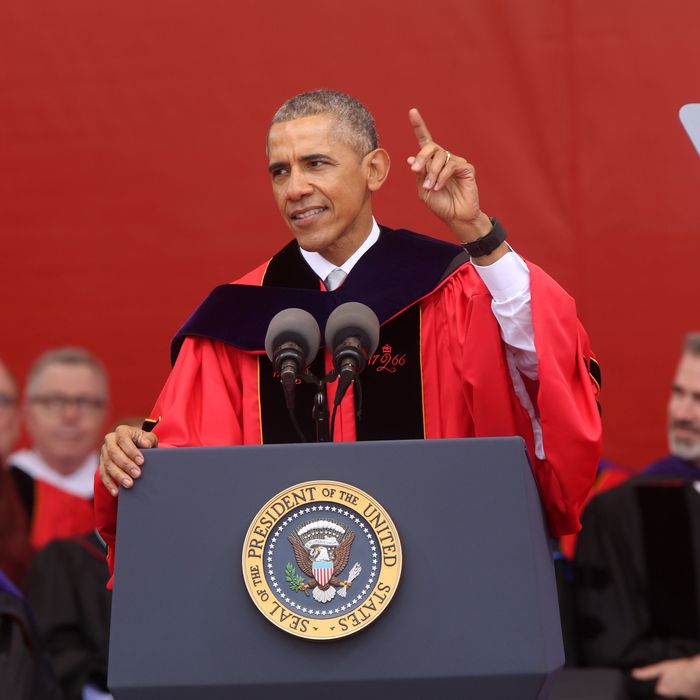 Listen up.
Photo: Steve Sands/2016 Steve Sands
Good morning and welcome to Fresh Intelligence, our roundup of the stories, ideas, and memes you'll be talking about today. In this edition, Obama throws some expert shade, Trump defends his treatment of women, and Mark Zuckerberg will meet with conservatives. Here's the rundown for Monday, May 16.
WEATHER
Monday will be cool and rainy across most of the Midwest, with severe weather in Louisiana, Arkansas, and parts of Mississippi. In New York, cloudy morning skies will give way to sunshine toward the afternoon, with highs in the upper 60s. [Weather.com]
FRONT PAGE
Obama Cements Legacy As Shade-Queen-in-Chief
President Obama's commencement speech at Rutgers University on Sunday was also a thinly veiled condemnation of presumptive GOP nominee Donald Trump. In it, Obama spoke out against Trump's "anti-intellectualism," his "disdain for facts," and his isolationist foreign policy. And, just in case we still didn't know who he was talking about, he threw in references to Trump's Mexican wall and "suggested" Muslim ban — but stopped just short of saying Trump's name out loud. The man is a master.
EARLY AND OFTEN
Nevada State Democratic Convention Turns Chaotic
Officials were forced to end Nevada's Democratic convention Saturday at the Paris Casino after casino staff said they could "no longer provide the necessary security for the event." Bernie Sanders supporters, upset over the delegate count as well as the convention's decision to adopt a set of temporary rules as permanent, threw objects (including chairs) and shouted "this is fixed" and "no confidence" at party leaders. Clinton ended up getting seven additional delegates, while Sanders got five. [WSJ]
Donald Trump Treats Women Pretty Much How You'd Expect
The New York Times interviewed more than 50 women who lived, worked, or interacted socially with Donald Trump, and the result is a "complex, at times contradictory portrait" of unwanted come-ons, inappropriate comments, and reliance on smart, ambitious female employees. Trump, being Trump, called the whole thing a "hit piece" and blamed the Clintons for its publication, while Republican National Committee chairman Reince Priebus said Trump would "have to answer for" his treatment of women — before changing the subject. [NYT]
Bill Clinton Gets a Job
Hillary Clinton has yet to clinch the Democratic nomination, but she already has big plans for her husband. During a campaign stop in Kentucky on Sunday, the Democratic front-runner said Bill would be "in charge of revitalizing the economy" if she's elected — "because you know, he knows how to do it." So sweet of her to give Bill something to keep him busy. [WaPo]
Trump Disowns "Liddle Marco"
Donald Trump would like to make it clear that he is not — repeat not — considering Marco Rubio as a vice-presidential candidate. After the Washington Post reported Rubio's name among a list of potential candidates, Trump tweeted that most of the list is wrong. And because Trump's tweets are always based in fact, we should totally believe him. Sarah Palin, meanwhile, is still on the short list. [CNN]
THE STREET, THE VALLEY
Google to Be Slapped Qith Antitrust Fine
According to Bloomberg Businessweek, the European Commission is planning to fine the world's largest internet search engine $3.4 billion — its steepest antitrust punishment to date — for "abusing its dominance" in online searches and for manipulating search results to harm rivals, especially in the realm of online shopping. The fine isn't official yet, but it's expected to be announced in June. [Bloomberg]

Another Day, Another Spike in Oil Prices
Oil prices jumped almost one percent early Monday after Goldman Sachs released a prediction saying oil supply had gone from being oversaturated to being in deficit much sooner than it had anticipated. Goldman's prediction is based on supply disruptions in Nigeria, Venezuela, the U.S., and China. [Reuters]
Amazon to Release New Private-Label Brands
In the coming weeks, online retail behemoth Amazon is set to release a line of new in-house products from private-label brands like Happy Belly, Wickedly Prime, and Mama Bear — the products will include nuts, spices, tea, coffee, baby food, and other household items. [WSJ]
Google to Pay People to Not Drive Its Cars
Google is hiring people to get behind the wheel of its self-driving cars — and just sit there. The "vehicle-safety specialists" will test how well the cars handle themselves on the open road, taking the wheel when necessary. [Jalopnik]
MEDIA BUBBLE
Mark Zuckerberg Has to Hang Out With Glenn Beck Now
After Facebook was accused of favoring liberal-leaning stories in its trending-topics bar, Mark Zuckerberg got an angry note from Republicans in the Senate demanding answers, and it seems he's willing to talk. On Sunday radio personality Glenn Beck announced — in a Facebook post, no less — that he and several other conservatives were invited to the company's Menlo Park headquarters to work things out with the CEO himself.
Warren Buffett Goes Vintage Shopping
Yet another heavyweight is courting Yahoo!, Inc. According to "people familiar with the matter," Berkshire Hathaway chairman Warren Buffett is exploring a bid for the company's internet assets — he's part of a "consortium" including Quicken Loans founder Dan Gilbert that's in its second round of bidding for Yahoo. [CNet]
The Wire Actor Arrested Over Alleged Bernie Sanders Beef
He plays a cop on TV, but on Sunday actor Wendell Pierce had a real run-in with law enforcement when he was arrested at a hotel in Atlanta, Georgia, on a simple battery charge. According to the Daily Beast, Pierce, a staunch Clinton supporter, got into a fight with two other guests when they told him they backed Bernie Sanders — now, that's commitment. [NBC]
PHOTO OP
This Explains the Lines
Passengers across the country have been complaining of abnormally long airport security lines — to the point that the Department of Homeland Security got involved. We're just saying this could be part of the problem.
MORNING MEME
Who said baseball isn't exciting?
OTHER LOCAL NEWS
Florida Woman Accessorizes
Beachgoers in Boca Raton, Florida, were shocked when a woman emerged from the water with a shark still attached to her arm. The two-foot nurse shark sunk its teeth into her right forearm and refused to let go, even after it died. Despite having a shark attached to her arm, the woman remained calm on the scene and was taken to a nearby hospital, where the shark was removed; she's now in stable condition. [Florida Sun-Sentinel]
Animals: They're Nothing Like Us
A father and son visiting Yellowstone National Park from another country were very concerned that one of the park's resident bison calves was cold and lost — so concerned, in fact, that they kidnapped it, stuck it in the back of their SUV, and drove it to a park ranger station. The ranger explained to the pair that the baby bison was just living out its little bison life, fined them, and told them to put the animal back where they'd found it. [East Idaho News]
HAPPENING TODAY
Democrats Campaign Hard in Kentucky 
Hillary Clinton is pushing hard for a win in Kentucky, especially after a string of losses to Bernie Sanders. Sanders also campaigned heavily over the weekend, and both Democratic camps say the Bluegrass State will be more competitive than Oregon, where Sanders is heavily favored to win Tuesday's contest. [WSJ]