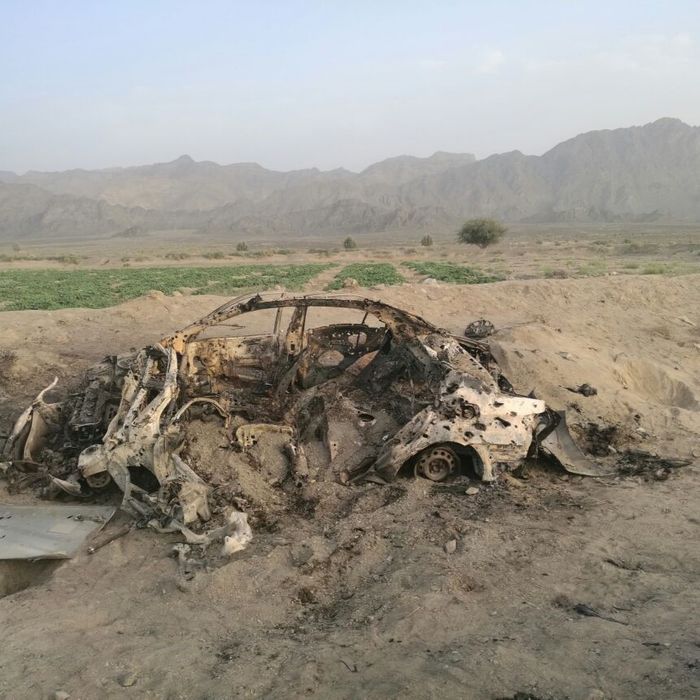 Mullah Akhtar Mohammad Mansour was allegedly traveling in this vehicle when he died.
Photo: Barkat Tareen/Anadolu Agency/Getty Images
Good morning and welcome to Fresh Intelligence, our roundup of the stories, ideas, and memes you'll be talking about today. In this edition, President Obama confirms the death of the Taliban's leader, Sanders supporters sue (again), and Trump second-guesses himself. Here's the rundown for Monday, May 23.
WEATHER
Expect a dreary Monday with showers across the Plains, the Northwest, and the Mid-Atlantic, and severe storms (including tornados and hail) possible from Minnesota all the way to Texas. Luckily, New York City will only see a few clouds, and temperatures should hit the low- to mid-70s. [USA Today]

FRONT PAGE
Obama Confirms Death of Taliban Leader in U.S. Airstrike
Early Monday morning, Obama confirmed reports that Mullah Akhtar Mohammad Mansour, the leader of the Afghan Taliban, was killed Saturday morning in a U.S. drone strike. In a statement, Obama called Mansour's death an "important milestone" in the effort to bring peace to Afghanistan. The strike was the first American drone attack in Balochistan, a province in southwestern Pakistan that's known to be the headquarters of the Afghan Taliban. Mansour's death represents the Taliban's second leadership crisis in a year. [NYT]
EARLY AND OFTEN
Sanders Supporters in California Sue
Sanders supporters in California are taking a cue from their candidate and refusing to go quietly. One of California's minority parties along with the Voting Rights Defense Project, which recruits voters for Sanders, filed a lawsuit against registrars of voters in two counties and Secretary of State Alex Padilla to extend the registration period until June 7: the date of the California primary. The suit claims registration is confusing for independent voters. Coincidentally, most independent voters support Sanders.
Washington State Backs Ghost of Candidate Past
It seems voters in the state of Washington didn't get the memo that Ted Cruz dropped out of the Republican race — over the weekend, the state's GOP convention awarded 40 of 41 elected delegates to Cruz rather than hand them over to Trump. Will it make any difference in the long run? Probably not. But it's the principle of the thing. [Seattle Times]
Bernie Sanders Makes Surprising Endorsement
It's no secret Bernie Sanders isn't Florida congresswoman and Democratic National Committee chair Debbie Wasserman Schultz's biggest fan — the two have traded fire on a number of occasions. But on Sunday, Sanders took his battle with the Establishment to new heights when he publicly endorsed Wasserman Schultz's opponent, Tim Canova, in his attempt to oust her from her congressional seat. Bern.
Trump Goes Back on Key 'Suggestion'
It appears the Trump campaign is backpedaling on one of its "suggestions," otherwise known as policy proposals. The Hill reports that the Republican front-runner's top foreign-policy adviser has begun to quietly reach out to Muslim and Middle Eastern Republicans and conservative activists. According to the aide, most "want to support Mr. Trump, but they're not clear about some of the statements he's made." What part of a Muslim ban is unclear? [The Hill]
THE STREET, THE VALLEY
Sumner Redstone Expands His Circle of Trust
Sumner Redstone, the 92-year-old media mogul who recently underwent a competency trail, is preparing to add two new people to the seven-person trust that will determine the fate of his businesses after he dies — he kicked two trustees out and will reportedly replace them with a lawyer and a family friend. [Reuters]
U.S. Lifts Weapons Embargo to Vietnam
President Obama landed in Vietnam early Monday morning where he announced the United States will lift an embargo on the sale of military weapons that's been in place since 1975. The move reflects warming relations between the U.S. and Vietnam and the Obama administration's growing concern with China's military power. [WaPo]
Bayer Surprises Monsanto With $62 Billion
Bayer, the German chemical and pharmaceutical company, surprised Monsanto, another chemical and agricultural behemoth, when it offered to buy the company for $62 billion in cash. In buying Monsanto, Bayer is seeking to become the world's biggest supplier of genetically modified seeds — no word yet on how Monsanto feels about all this. [Bloomberg]

Motorola Keeps the Mid-Aughts Dream Alive
Motorola posted a video to its YouTube account that seems to hint at a reboot of the ultimate mid-aughts cool-kid cellphone: the Motorola Razr. If the angsty high-school footage wasn't enough of a hint, the video is set to Boys Like Girls'$2 2006 hit, "The Great Escape." Our inner teen is freaking out. [CNet]
MEDIA BUBBLE
Michelle Fields Will Have to Deal With Trump Again
Michelle Fields, the Breitbart reporter who charged Trump campaign manager Corey Lewandowski with simple battery after he grabbed her arm at a campaign event, is heading to the Huffington Post where she'll continue to cover the presidential campaign. Fields quit her job at Breitbart after the highly conservative site sided with Trump over its own reporter in the spat. [CNN]
Tribune to Gannett: You Tried It
Tribune Publishing has decided to reject Gannett's latest $864 million takeover proposal, Reuters reports. According to anonymous sources, Tribune is willing to offer Gannett access to some of its confidential corporate information, but it considers Gannett's offer to be inadequate. It's unclear whether Gannett will come back with a higher offer. [Reuters]
Coloring Book Makes History
Chance the Rapper's new album is the first in history to debut on the Billboard 200 based solely on streaming numbers. Thanks to new tracking methods, the magazine can count how many times Coloring Book has been streamed and convert that number into equivalent album sales.
PHOTO OP
Monday, Basically
We're guessing Oklahoma City Thunder center Steven Adams has a bad case of the Mondays today, thanks to some merciless karate-kick action from Warriors forward Draymond Green during last night's game.
MORNING MEME
Failed Republican Presidential Candidate Has A Life, Okay?
Ohio governor John Kasich was spotted jamming out at a Memphis May Fire concert this weekend. Those earplugs would've been a great debate accessory. 
OTHER LOCAL NEWS
Another Reason Not to Go to Florida
Scientists have discovered three Nile crocodiles, a species native to Africa, in Florida's swamps. Unlike regular crocodiles, which are bad enough, this species grows up to 18 feet long, can weigh as much as a small car, and is much more likely to crave the taste of human flesh — between 2010 and 2014, Nile crocodiles were responsible for 480 attacks on people and 123 fatalities in Africa. Time to get a refund on those plane tickets. [CNN]
Nerds, Unite!
When a 9-year-old boy in Cleveland, Ohio, had his entire collection of Pokémon cards stolen, his parents did the logical thing and called the police to track them down. The officer in charge of the investigation not only hunted down the bully who'd taken the cards and got them back — he also gave the kid his own vintage collection. If you need any proof that pure joy exists in the world, click through and take a look at the expression on this kid's face. [KTLA]
HAPPENING TODAY
Obama Goes East
The president kicked off his weeklong trip to Vietnam and Japan yesterday, where he'll work to build stronger relationships with both countries, push for approval of the Trans-Pacific trade agreement, and become the first sitting U.S. president to visit Hiroshima. [NYDN]
Verdict to Be Announced in Freddie Gray Officer Trial
A judge in Baltimore, Maryland, is expected to hand down his verdict today in the case of Officer Edward Nero, who faces misconduct in office and reckless-endangerment charges. Nero arrested Gray in April of 2015; Gray later died in police custody. [Bloomberg]