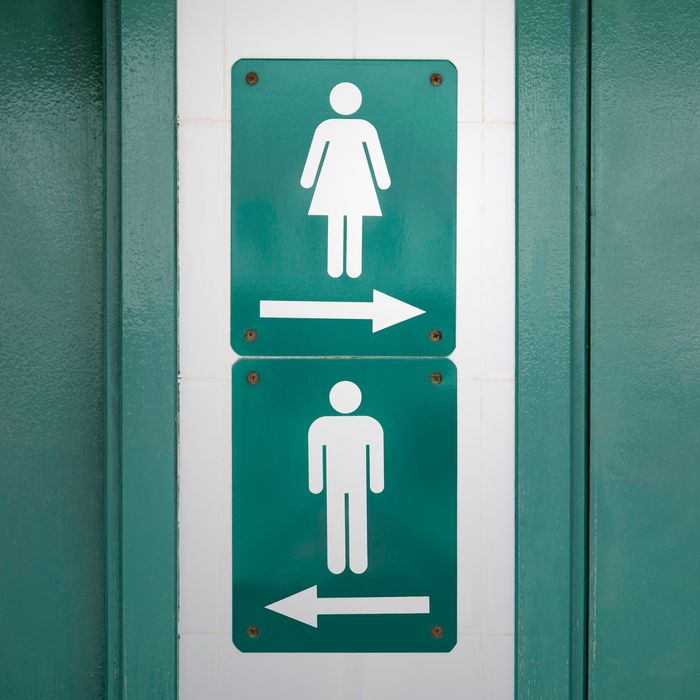 A sign of the times.
Photo: Mike Warren/Corbis
Good morning and welcome to Fresh Intelligence, our roundup of the stories, ideas, and memes you'll be talking about today. In this edition, the White House announces guidelines to prevent transgender discrimination, and Donald Trump goes a-wooing in Washington while his ex-butler calls for the president's murder. Here's the rundown for Friday, May 13.
WEATHER
Get ready for cold rain and chilly winds across the East Coast and in parts of the Midwest. The West should be warm and clear, while New York City will see its share of rain and temperatures in the mid-60s. [USA Today]
FRONT PAGE
White House Sets Guidelines Against Transgender Discrimination
On the heels of a Justice Department lawsuit and Attorney General Loretta Lynch's powerful speech to North Carolina and the transgender community, the Obama administration has announced it will send comprehensive guidelines to the nation's public schools saying they cannot discriminate against transgender students and explaining behaviors that constitute discrimination. The guidelines will obviously mention bathrooms, but will also cover other potential arenas for discrimination such as sports teams, on-campus housing, and student organizations. The directive, which is not legally binding, also makes clear that administrators cannot require students to provide any proof of their gender. [Buzzfeed]
EARLY AND OFTEN
Trump Goes to Washington
Donald Trump was in Washington, D.C., yesterday where he met with bigwigs in the Republican Establishment and tried to reassure them that he wouldn't destroy everything they've worked for. His most important meeting was with House Speaker Paul Ryan, and, for the most part, it seemed to go well. Ryan had nothing but positive things to say following their hour-long sit-down, although he did stop short of an endorsement. [NYT]
Presidential Candidate's Ex-Butler Threatened to Kill the Actual President
Just when you think this campaign season can't get any stranger, Donald Trump has now been forced to disavow his ex-butler — if you're wondering if he's the same butler from that mostly flattering New York Times color piece a while back, the answer is yes — after the butler's Facebook posts calling for the murder of the president started getting media attention. We're not going to repeat them here, but suffice to say he refers to the White House as the "White Mosque" and has no problem with lynching.
Ex–Secretary of State Says Giving Everyone Nukes Not the Best Idea
While Trump was elsewhere in D.C. approximating charm with Republican power-players, James Baker was explaining to a Senate committee precisely how Trump's policies — namely crippling NATO and encouraging Asia to get nuclear weapons — would make the world "far less stable." But what does he know? He was only the secretary of State. [Reuters]
Hastert Won't Appeal Jail Sentence
Dennis Hastert, the former House Speaker, self-appointed moral crusader, convicted fraudster, and confessed serial child molester has announced through his attorney that he will not appeal his conviction and 17-year jail sentence for illegally structured bank transactions. Hastert is in failing health and the prison stint might well prove a life sentence. Today is the deadline to file an appeal. [AP]
THE STREET, THE VALLEY
Chicken Sandwich Lays Golden Egg
Shake Shack shares were up yesterday following impressive profit and sales numbers. Analysts say (and anyone who's ever eaten one will agree) that the profits have Shake Shack's new chicken sandwich to thank — that and the chain's rapid expansion. [Bloomberg]

Tech Giants Team Up for Clean Energy
Facebook and Microsoft are teaming up with environmental groups to create the Renewable Energy Buyers Alliance, which will help to make 60 gigawatts of renewable energy available to businesses by 2025. As Bloomberg Businessweek points out, that's "enough to replace all the coal-fired power plants in the U.S. expected to retire in the next four years." [Bloomberg]
Theranos Scandal Claims Second Executive
The shortcomings of blood-test disrupter Theranos continue to come to light. Now the company's chief operating officer, Sunny Balwani — who could be banned from the blood-testing field for up to two years — has stepped down and will retire. [CNet]
Man Discovers Tesla's Self-Crashing Technology
A Tesla owner is claiming his parked Model S turned on and crashed into a trailer while he was inside a local business. Tesla has released a statement saying, basically, that the car is supposed to park itself while the driver is out of the car, but the driver is in charge of stopping it before it plows into any trailers. [CNet]
MEDIA BUBBLE
Facebook News Consumers Get What They Pay For
More documents have come to light in the ongoing controversy over Facebook's trending topics. Internal guidelines seem to show definitively that the stories are chosen by editors and not by algorithms; interestingly, Facebook moved away from using algorithms after people complained it didn't sufficiently push news of the unrest in Ferguson onto people's feeds. This all led to an awkward moment yesterday when the top Facebook trending topic was Facebook's bias in choosing trending topics. [The Guardian]
Cable Megamerger Progressing Nicely
We've recently been reporting on megamergers falling apart, but when it comes to Charter Communications and Time Warner Cable, it looks like those crazy kids are going to make it. The merger earned final regulatory approval in California yesterday, and the way is now clear for the two to create what will be the second-largest cable provider in the country. [Bloomberg]
Music-Licensing Agency Settles With the Justice Department
ASCAP — the American Society of Composers, Authors and Publishers — will pay the Justice Department $1.75 million after officials ruled it had been unlawfully restricting members from licensing their music to outside parties. Investigators found that beginning in 2008, ASCAP had negotiated exclusive deals in — and collected royalties on — "approximately 150 contracts." The organization didn't admit wrongdoing, but promised to drop the whole exclusive-deals thing. [NYT]
PHOTO OP
Behold the Everlasting Dignity of American Democracy
Trump really does hold a kind of magnetism for a certain type of person, doesn't he?
MORNING MEME
Is it too obvious to call this a metaphor?
OTHER LOCAL NEWS
Chili Cheapskate Goes to Extremes
A Mount Healthy, Ohio, woman really didn't want to pay her $20.30 bill at a local Gold Star Chili, so instead of paying she called 911 and reported a fake armed robbery. We assume her plan was to duck out in the confusion, and she might have gotten away with it had she not been the only patron in the restaurant when police arrived. [Fox]
Extremely Foul Play Suspected in Fish Death
Drunk shotgun-toting yahoos managed to kill one of the most endangered fish in the world when they "shot their way into" a gated pond in Death Valley National Park in Nevada for a bit of blacked-out swimming. The pupfish, of which there are only 116 — correction: 115 — live exclusively in that one small pond and in fact evolved there millennia ago. Luckily, the suspected fish felons were seen on underwater security cameras and left behind plenty of DNA evidence in the form of vomit and a pair of boxer shorts. [Buzzfeed]
HAPPENING TODAY
All Eyes on … J.C. Penney?
Recent disappointing numbers from megaretailers like Macy's, Nordstrom, and Kohl's have analysts and people who care about the economy in general spooked. They will be following the release of J.C. Penney's earnings report today with great interest. [NYT]
White House Proudly Micromanages
The Obama administration is rolling out a project today to study microbes. The National Microbiome Initiative will provide a forum for scientists who study all kinds of microscopic life and will add more than $120 million to the budget for the study of microbes to benefit human and environmental health. [AP]
Skip Work, It's Friday the 13th!
If you hadn't noticed, today is Friday the 13th, a day traditionally considered bad luck for some reason. On the plus side, there's no such thing, and in light of the holiday — are banks open on Friday the 13th? — there are sure to be some off-kilter promotions and lots of free scary movies on TV. Enjoy. [Time]