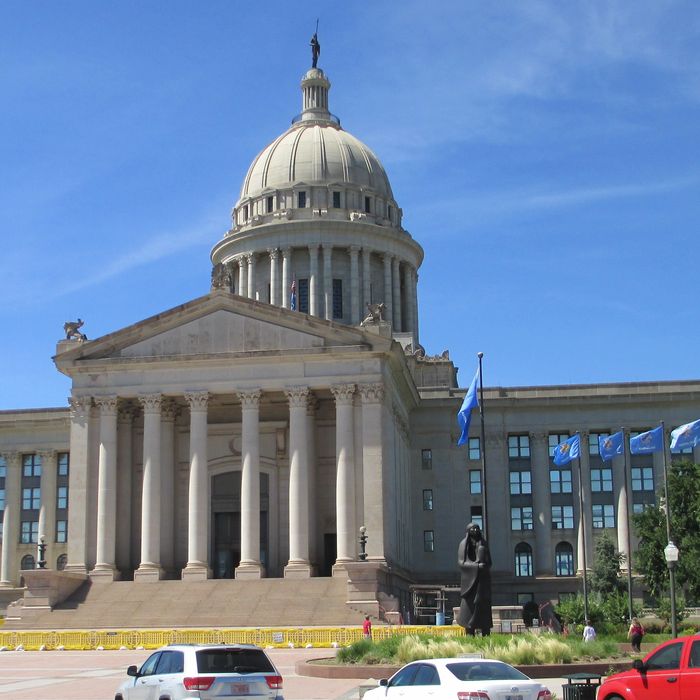 The Oklahoma capitol building.
Photo: Jordan McAlister#124946/All Rights Reserved
Good morning and welcome to Fresh Intelligence, our roundup of the stories, ideas, and memes you'll be talking about today. In this edition, Oklahoma moves to outlaw abortion, the DNC does the Sanders pander, and Morley Safer will be missed. Here's the rundown for Friday, May 20.
WEATHER
Rain and more rain will sweep across the deep South today, with some serious storms building along the Gulf Coast. More thunderstorms are expected in the Northwest and maybe even some snow — yes, it is May. New York City should be hot and dry with only the slightest cloud cover to blunt the sun. Enjoy! [USA Today]

FRONT PAGE
Oklahoma Moves to Make Performing Abortions a Felony, Prays for Trump Presidency
Oklahoma lawmakers passed a bill making performing abortions in the state a felony. If the governor signs the bill, it would be the first of its kind in the country, and at clear odds with federal law. The new law would certainly be overturned by a liberal Supreme Court, meaning the lawmakers who passed it are almost certainly betting on a Trump presidency. They also passed a law giving the Department of Health free reign to create a public educational campaign "for the purpose of achieving an abortion-free society."
EARLY AND OFTEN
DNC Throws Sanders a Bone, No Not the Nomination
The Democratic National Committee has agreed to offer Bernie Sanders seats on an influential convention-platform committee. The concession is seen as an attempt to blunt some of Sanders's anger going into the convention and placate him in the hopes he won't push for some of the more extreme and divisive changes to the party's platform, such as a national $15 minimum wage and — gasp — a softening of its attitude toward Palestine. [WaPo]
Self-Fulfilling Apocalypse: Trump Delegate Stockpiled Weapons, Produced Child Porn
Chris Bailey, a 30-year-old Maryland man, was indicted on Wednesday for hoarding hundreds of illegal weapons in a bunker hidden under his garage — we're talking machine guns and explosives along with every prepper's favorite ready-to-eat meals — illegally shipping explosives, and producing child pornography. The thing is, he's also an official Republican delegate for Donald Trump. [Reuters]
Competing Interests Reach Toxic Compromise
Lawmakers reached a compromise between chemical companies and environmentalists yesterday by creating an expansion to the current, woefully insufficient regulations for chemicals. The legislation will see states compelled to meet EPA standards and will require the EPA to test the thousands of chemicals that came into common use prior to regulations. Environmentalists might feel a little shortchanged: They wanted to compel the EPA to test 300 chemicals a year, but the new legislation will ask them to test 20 chemicals every seven years. [NYT]
Chaos Erupts on House Floor. What Is This, Canada?
Although the House of Representatives technically passed an $81 billion bill that will benefit veterans and boost military construction, the vote was marred by chaotic scenes on the House floor. Republicans managed to insert an amendment into the bill that would overturn an executive order by President Obama banning federal-government contractors from discrimination based on sexual orientation. Then, enough Republicans anonymously switched their votes at the last minute to force the amendment through, leaving Democrats to loudly chant "Shame! Shame!" as the measure passed. [Politico]
THE STREET, THE VALLEY
Walmart Bucks Trend
With so much news lately about America's struggling retail sector, Walmart went and surprised everyone by announcing first-quarter earnings that doubled analysts' estimates. As a result, Walmart shares rose more than at any time in the past seven years. [WSJ]
No Such Thing As Luck: Gambler Charged With Insider Trading
In a story that seemed ripped from a Cohen brothers movie, William "Billy" Walters — the one-time head of Dean Foods and a well-known presence in the Las Vegas gambling scene — was charged with conducting insider trading, pulling in more than $40 million. He also provided tips to pro golfer Phil Mickelson, who has agreed to pay back the millions he made thanks to Walters's intel. [Reuters]
Trump Boycotts Apple Invests Millions in Apple
Donald Trump loudly called for a boycott of Apple when the company refused to assist the FBI in hacking one of its phones, and he has repeatedly criticized it for manufacturing phones overseas. Now we know — thanks to yesterday's financial disclosure — that he also invested more than $2 million in the company. Curious. [CNet]

Valeant Defaults Again
Valeant, the pharmaceutical company you love to hate, has finally defaulted after still not filing its first-quarter earnings. Bondholders have said it will now have a 60-day grace period to file — you'll remember this is exactly what happened over the company's annual report in April. Valeant remains dogged by controversy and is the target of investigations by both Congress and the SEC. [Bloomberg]
MEDIA BUBBLE
Nation Mourns Morley Safer
Legendary journalist, pioneering war correspondent, and longest-serving 60 Minutes correspondent Morley Safer died yesterday in New York. His death comes just one week after he announced his retirement from the show, which he left in part because of his failing health. A special dedicated to Safer's life and work aired on Sunday. [CNN]
Village to Get Its Voice Back
Big changes at the Village Voice, the famous weekly paper that has fallen on increasingly hard times. Yesterday, news broke that the Voice had hired Adweek executive Suzan Gursoy as its publisher, with management assuring readers the hire would be the first step in a massive reboot of the paper in a bid to regain its former glory. [Politico Media]
Reporters Arrested for Doing Their Jobs See Charges Dropped for Promising Not to Sue
The two reporters — Wesley Lowery of the Washington Post and Ryan Reilly of the Huffington Post — who were arrested during the unrest in Ferguson in 2014 for calmly doing their jobs in a local McDonalds had the charges dismissed yesterday under the condition they don't sue the county for what was widely seen as an abuse of police power. [WaPo]
PHOTO OP
Take That, Knuckleheads!
Police Commissioner Bill Bratton spent yesterday giving residents of Red Hook, Brooklyn, some free monster-truck entertainment, bulldozing 69 illegal dirt bikes and eight confiscated ATVs. "We want to send out a very strong message to the nitwits and knuckleheads who insist on operating these illegal vehicles," he said — loud and clear, Bill!
MORNING MEME
Disney — All of It — Sings Adele
We really didn't expect to like this nearly as much as we did — it's always nice to see someone putting their talents to good use.
OTHER LOCAL NEWS
Naked Chimney Man Raises More Questions Than He Answers
Brad Sapp got spooked when he heard a disembodied voice telling him to "get out" while he was working at his Carroll, Iowa, recycling business. His concern grew the next day when the voice started yelling not to call the cops. Cops duly called, they soon discovered the source of the voice: a naked man hiding in the chimney. The man, who had clothes with him but was not wearing them, claimed that he was playing hide-and-seek with his cousin, which explained everything. [Des Moines Register]
San Diego Woman Nearly Traumatizes Baby Opossum
A San Diego woman got an adorable surprise when she discovered a baby opossum swimming in her toilet — yes, there's a picture. Unlike usual toilet visitors such as rats and alligators, officials don't think the opossum came up through the plumbing but rather came in through a broken window. That said, another opossum was allegedly found in a toilet across town, so something is up. [UPI]
HAPPENING TODAY
Prepare for Sweaty Co-workers
Today is National Bike to Work Day, so prepare for streets full of well-meaning people who haven't been on a bike in years careening around with abandon. [Bike League]
Weed Protestors Strike Somber Note in D.C.
The second large-scale legalization protest this year will take place today in the nation's capital. This time, activists are trying to highlight the seriousness of the issue by encouraging participants to dress in business clothes or their service uniforms, and of course, to leave the 50-foot inflatable joints at home. Buzzkill. [Washington City Paper]
This Weekend Apple Changes Everything, Slightly
A flagship Apple store launching in San Francisco on Saturday is being seen as the first test of a new style of retail for the company, eschewing the austerity of extant Apple stores in favor of warmer woods; distinct areas for shopping, learning, and troubleshooting; oh, and indoor trees. Indoor trees! What a world. [Bloomberg]