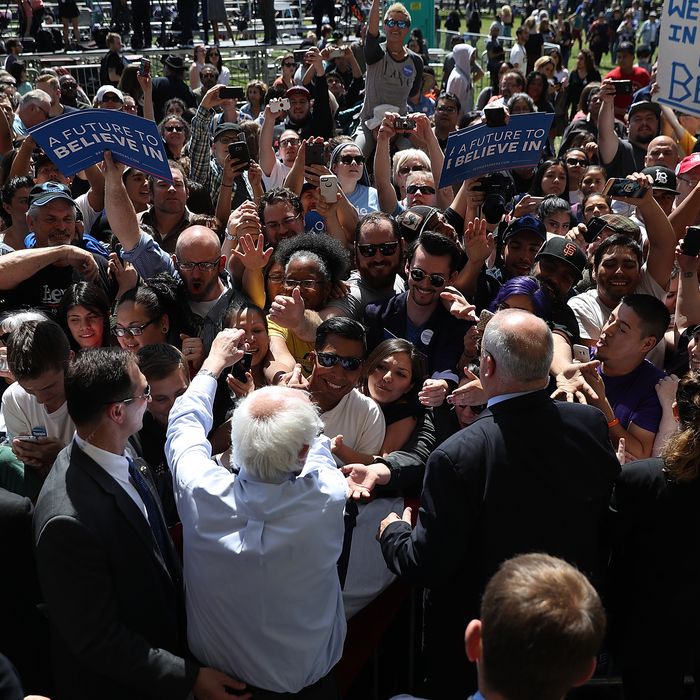 Sanders parts the "red" sea.
Photo: Justin Sullivan/2016 Getty Images
Good morning and welcome to Fresh Intelligence, our roundup of the stories, ideas, and memes you'll be talking about today. In this edition, Tuesday's primary results surprise no one, Trump does the opposite of distancing himself from white supremacy, and Uber drivers are placated with a guild. Here's the rundown for Wednesday, May 11.
WEATHER
Today will offer no relief for the middle states as severe storms continue to batter areas from Wisconsin to Texas with tornadoes possible along the way. Meanwhile most of the East Coast will see milder showers and gray skies, although New York should stay dry, if cloudy, with temperatures in the mid-70s. [Weather.com]
FRONT PAGE
What's the Opposite of an Upset?
Yesterday's primaries in Nebraska and West Virginia held few surprises. West Virginia went to Bernie Sanders — the Democratic candidate who did not promise to put coal miners out of jobs — and Donald Trump, while Trump won Nebraska's Republican primary handily. He also happens to be the only Republican still in the race, but who's counting? Trump's two victories Tuesday night could put him just 99 delegates shy of the 1,237 needed to become the Republican nominee.
EARLY AND OFTEN
Trump Campaign Includes White Supremacist on List of Delegates, Blames Computer Glitch
The Donald Trump campaign submitted William Johnson's name on a list of prospective delegates for California. The only problem is that Johnson is an infamous white supremacist and the head of the equally noxious American National super-pac. The campaign blamed a computer glitch for including the name, which it claimed had already been considered and rejected. Even if that's true, it's pretty scary on its own. [NYT]

Trump and Cruz Are Never Ever Getting Back Together
Ted Cruz gave his first interview since dropping out of the race yesterday to outspoken Cruz fan and radio personality Glenn Beck. During the interview, Cruz said that he was not supporting Donald Trump — calling people's wives ugly and accusing their dads of being a part of the Kennedy assassination can have that effect — and even hinted a bit mysteriously that he might rejoin the race, especially if he won in Nevada, which we now know he did not do. [NYT]

Obama Will Make Historic Hiroshima Visit, Declines to Make Historic Apology
President Obama will become the first sitting president to visit Hiroshima when he makes a trip to the site of the historic nuclear blast on May 27. Obama is expected to use the trip to emphasize his commitment to nuclear nonproliferation and the strength of the relationship between the U.S. and Japan. But the White House is making it very clear that he will not — will not — apologize for America dropping the bomb in the first place. [Reuters]
Trump Doesn't Realize He's Breaking Carson's Heart
Donald Trump responded to a tough question yesterday with yet another inscrutable answer: When asked about potential running mates, Trump said he already had a list of "five or six" people in mind. He also said he'll announce his VP pick at the convention, and that he is choosing potential mates with the help of Ben Carson, which is totally like one of those movies where someone's best friend secretly loves them but gives them advice about dating other people just to be close to them. [Politico]
THE STREET, THE VALLEY
Wall Street Tastes of Mouse Tears
Walt Disney, the darling of children and investors, disappointed the latter yesterday when it announced weaker revenue than expected. The fault seems to lie with Disney cash cow ESPN, where advertising and subscriptions were both down, and with the company's under-visited theme parks. [Reuters]
Feds Halt Another Megamerger
The federal government has effectively halted another megamerger, this time in the world of office supplies. Staples and Office Depot announced yesterday that they were calling off a merger after a federal judge granted the Federal Trade Commission's request for a preliminary injunction. [Reuters]
Good Enough for Renaissance Weavers, Good Enough for Uber Drivers
Uber is standing by its decision not to let its drivers unionize, but drivers in New York City will be allowed to join something called a guild — albeit a guild partially funded by Uber. The 35,000-strong Independent Drivers Guild won't give them the full protections or bargaining power of a union, but it should help drivers be heard in negotiations with their San Franciscan overlords. [Bloomberg]
Country Literally Going Down the Drain
Beginning May 23, Budweiser-lovers had better love the USA, too, because Anheuser-Busch will replace the brand name of its most iconic beer with the word "America" on all of its cans. The re-branding will last through election season. Who wants to shotgun some America? [CNN]
MEDIA BUBBLE
Senate Republicans Investigate Facebook
After Gizmodo released a story detailing how Facebook cherry-picks the stories that run in its Trending Topics section, favoring liberal stories and suppressing conservative ones, the GOP sprang into action. Now the U.S. Senate Commerce Committee has sent a letter to Zuckerberg himself looking for answers and saying staff involved in Trending Topics should be prepared to brief the committee. [Gizmodo]
ESPN, Verizon Settle Lawsuit: Illusion of Choice Must Remain Illusionary
ESPN and Verizon have settled a lawsuit stemming from Verizon Fios offering "skinny" cable bundles that allowed viewers to not include ESPN in their cable packages, which is just not the American way. The actual terms of the settlement are being kept confidential, but you can expect other disagreements like this to become increasingly common as cord-cutting becomes de rigueur. [The Verge]
Will YouTube Go the Way of the Independent Bookstore?
Not content to dominate pretty much every other market, Amazon has set its sights on YouTube by launching its own video-posting platform. Amazon announced yesterday that it will begin to open the site up to users, who will be paid advertising and royalties on a sliding scale based on how popular their content is — the same strategy Amazon uses for e-book publishers. [Bloomberg]
PHOTO OP
The VIP of MVPs
Stephen Curry became the first player in history to become an MVP unanimously yesterday. Even Jordan can't touch that.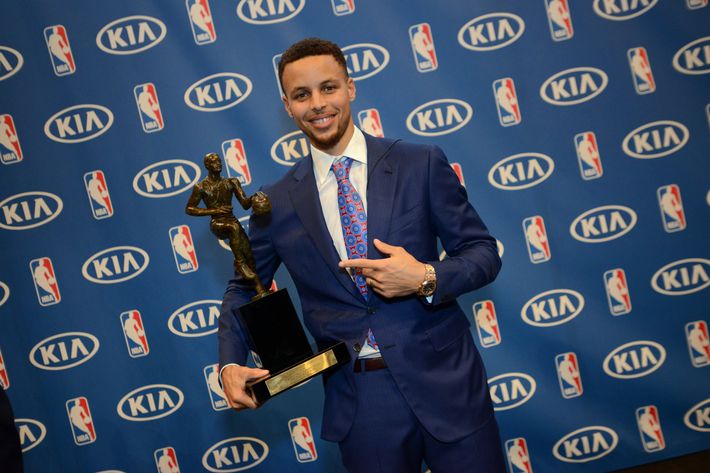 MORNING MEME
Ladies and gentlemen, the definitive best correction of all time.

OTHER LOCAL NEWS
Fun-Hating Man Pushed Too Far
Not for the last time, a bounce house nearly led to bloodshed when a 59-year-old Nowthen, Minnesota, man pulled a shotgun on two teens who accidentally tried to deliver a bounce house to his address. The teens blamed their mistake on a GPS error, while the man blamed his on alcohol. [CBS]
Missouri Man Exercises Right to Bear Arms
A St. Louis, Missouri, man who attacked a police officer at a car dealership with his own prosthetic arm over the weekend will be charged with assault. The assailant, angered over a rental car, grabbed the officer by the neck and began pummeling him over the head with his prosthesis. The most newsworthy part? The man was not shot. [St. Louis Post-Dispatch]
HAPPENING TODAY
Oh My God, It's a Literal Pipe Dream
Following yesterday's announcement, Hyperloop Technologies — Elon Musk's futuristic transportation company — will conduct a public test in the Nevada desert of one possible propulsion system for the Hyperloop. The system is based on magnetized tracks in a vacuum-sealed tube that can send pods traveling at speeds of more than 300 miles per hour, cutting the trip from San Francisco to L.A., for example, from seven hours down to 30 minutes. [Gizmodo]
Very Little, Very Late
The U.S. House of Representatives will begin talking about legislation to alleviate "Puerto Rico's growing debt and humanitarian crisis" today. All earlier attempts at addressing the crisis have failed, and Puerto Rico now owes $70 billion that it cannot pay. [Reuters]
Sextortion-Studies Findings Released
Sextortion, or the use of explicit pictures or videos to pressure victims into providing more explicit material or cash, is a booming criminal enterprise in the darker corners of the internet, and for the most part, the law has been caught off guard. Today the Brookings Institution will release the first two in-depth studies of the phenomenon. [NYT]