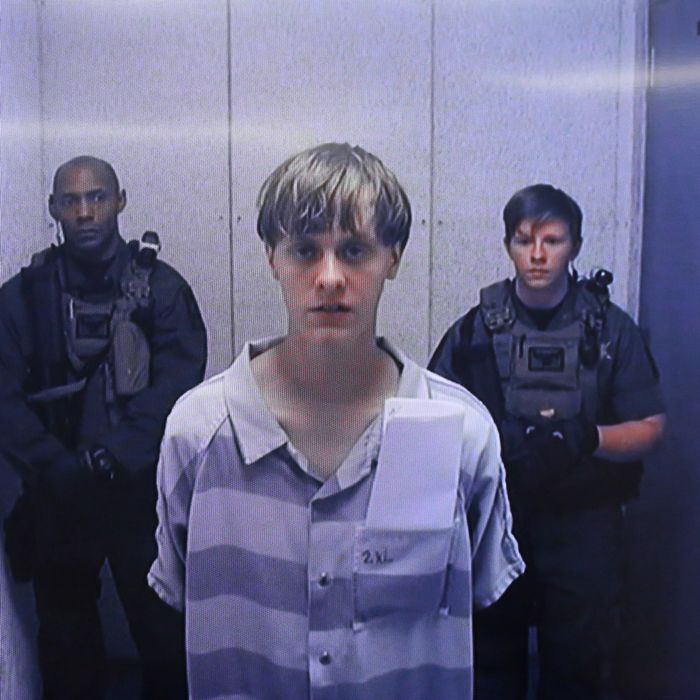 Dylann Roof will face the death penalty.
Photo: Grace Beahm-Pool/Getty Images/2015 Getty Images
Good morning and welcome to Fresh Intelligence, our roundup of the stories, ideas, and memes you'll be talking about today. In this edition, Dylann Roof will face the death penalty, Ferguson's city attorney steps down, and something has Stephen King shaking in his boots. Here's the rundown for Wednesday, May 25.
WEATHER
Serious storms continue to soak the central states today with more rain, more wind, more hail, and maybe even a few tornadoes — all the more reason not to take the beautiful, hot, and sunny weather in New York City today for granted. [USA Today]
FRONT PAGE
Death Penalty Sought for South Carolina Church Shooter
Federal prosecutors have announced they will seek the death penalty for Dylann Roof, the 21-year-old man who shot and killed nine unarmed African-Americans at a historic black church in Charleston, South Carolina, last year. According to the Justice Department, the decision was based on Roof's lack of remorse, racist motivation, and the fact that three of his victims were elderly. State prosecutors are also seeking the death penalty in their case against Roof; the announcement comes just a few weeks before the first anniversary of the slayings.
EARLY AND OFTEN
Ferguson City Attorney Steps Down
Stephanie Karr has resigned from her post as city attorney of Ferguson, Missouri, after a Justice Department report on the town's police found Ferguson's entire legal and policing systems were flawed and exploitative, and that Karr, in particular, would go after lawyers who challenged the often crippling fines and punishments meted out by her office. Protesters have been calling for Karr's resignation for weeks. [Reuters]
More Than 400 People His Supporters Have Never Heard of Come Out Against Trump
More than 400 writers have signed a petition against Donald Trump saying Trump, "appeals to the basest and most violent elements in society" and that he, "encourages aggression among his followers, shouts down opponents, intimidates dissenters, and denigrates women and minorities." The petition — shared on Lithub — ballooned to more than 1,000 signatures after celebrity writers like Stephen King, David Eggers, and Junot Díaz shared it on their social-media accounts. When Stephen King is scared, you know you have a problem. [NYT]
Another Kentucky-Obsessed Sanders
Bernie Sanders has officially asked for a re-canvas in Kentucky, the state he narrowly lost to Hillary Clinton last week. Clinton carried the state by the slimmest of margins: less than 2,000 votes. Regardless of who officially won or lost, Kentucky was technically a delegate tie for the two candidates, which is unlikely to change no matter the outcome of the re-canvasing. (And yes, we're intentionally not saying recount — Sanders would have to pay for a recount, but a re-canvasing just means they'll double-check the tallies at voting machines and absentee ballots.) [WaPo]
Bernie Sanders Makes His Most Powerful Enemy Yet
Bernie Sanders just does not give a … hoot. In what we would describe as the full-Bulworth portion of his campaign, Sanders addressed crowds in Anaheim, California — home of Disneyland — and decided to go after Disney by asking how many people in the crowd worked for Disney (many) and how many earned a living wage from the corporation (none). Not only is Disney pretty beloved, but the cryogenically frozen head of Walt Disney is the number-one Illuminati overlord — so be careful out there, Bernie. [Politico]
THE STREET, THE VALLEY
Monsanto Rejects Bayer Merger Offer
Monsanto has rejected a $62 billion buyout from German firm Bayer that would have made the new company the largest supplier of seeds and crop chemicals. On rejecting the deal, Monsanto made it clear it liked the idea of a merger, just — ahem — more money, please. So, we'll see where this goes. [Bloomberg]
Apple Doubles Down on Encryption, Welcomes Security Expert Back Into the Fold
A recent rehire of security expert and encrypted-communication-company developer Jon Callas should silence anyone who thought Apple was planning on backing down from its commitment to unbreakable encryption technology. Of course, that stance puts the company at odds with the federal government, which thinks encryption can unfairly protect criminals. [Reuters]
Shares Jump Over HP Reshuffling
A reorganization at technology old-guard Hewlett Packard has sent shares up more than 10 percent. HP announced yesterday it would spin off its IT services business and merge it with Computer Sciences Corporation, another major IT company, in a move worth $8.5 billion. We remember when HP used to make printers. [WSJ]
Car Companies Take Sides in Coming Car-Service Wars
Competition between ride-sharing services is heating up, and now car companies are choosing sides. It has just come to light that Volkswagen invested $300 million in Gett, an Israeli car-calling app that apparently manages to offer rides for as little as a dollar; the investment will help Gett expand across Europe and into New York City. Meanwhile, Toyota has announced a new partnership with Uber: It will invest in the company and offer special leases that car owners can pay off through working as Uber drivers. [CNet]
MEDIA BUBBLE
Big Changes Underway at Vice
Among layoffs that include foreign correspondents, the entire U.K. editorial team, and up to 15 people in the U.S., the biggest news out of Vice Media is a promotion. Josh Tyrangiel is now in charge of Vice's entire news division and has the mammoth task of unifying Vice's disparate news platforms. [Politico]
Hulk Hogan's Multimillion Dollar Sex-Tape-Secret-Racist-Rant Lawsuit Takes a Strange Turn
It's not paranoia if they really are out to get you. It looks like Gawker founder Nick Denton might have been onto something when he speculated that shadowy forces in Silicon Valley were behind Hulk Hogan's recent legal actions against the company. We now know that PayPal co-founder Peter Thiel, who has hated Gawker since the site tried to out him eight years ago, really has been footing the bill for Hogan's considerable legal fees. [CNet]
Twitter Chooses Being Solvent Over Being Like Twitter
Beleaguered tech company Twitter has been trying to shake things up in the quest to become profitable, and yesterday it announced its most fundamental change to date. It seems the rumors were true, and Twitter will in fact loosen the character-count restrictions for tweets so that GIFs, photos, links, and up to 50 user handles will no longer count against the permitted 140 characters. Users will also be able to retweet themselves, which is just what this generation was clamoring for all along. [CBS]
PHOTO OP
Albuquerque Burning
Protests outside a Trump rally in Albuquerque, New Mexico, turned violent last night. Protestors threw flaming projectiles and rocks at police, and officers fired smoke grenades, sprayed pepper spray, and used horses to disperse the crowd.
MORNING MEME
We Hope Chewbacca Mom's Wild Ride Never Ends
Chewbacca Mom for president — or for the next Bond.
OTHER LOCAL NEWS
Small-Town Hero Persecuted
Geoffrey Eltgroth is in trouble. The Cedar Park, Texas, man has been charged with criminal mischief after going through with a hilarious plan to change an electric road sign warning of "Construction Ahead" to read "Drive Crazy, Y'all." Eltgroth was able to guess the sign's username and password in order to change it; we're guessing "Guest" and "Password." [CBS]
Call the Fuzz! Juveniles Run Afoul of the Law
Oakland-based California Highway Patrol Officers are sharing a video of what they describe as their "slowest chase ever." When some baby geese wandered onto the freeway, a CHP SUV was dispatched to slowly guide the errant goslings back into the bay from whence they came. It's worth watching the video, but surely an SUV wasn't the best tool for this job? [UPI]
HAPPENING TODAY
Tensions High As Obama Meets With Abe Ahead of G7
President Obama will meet with Japanese prime minister Shinzō Abe today to discuss crime in and around U.S. military bases in Okinawa; last week, a U.S. citizen was arrested on the island on the suspicion of murdering a Japanese woman. They will also talk about global issues such as the economy and terrorism. [Reuters]
Now It's Philadelphia's Turn to Freak Out: Soda Tax Comes to the City of Brotherly Love
Philadelphia mayor Jim Kenney's proposed soda tax comes up for its first city-council vote today. The bizarrely divisive tax would see an additional three cents applied to every ounce of soda, with the proceeds going toward new schools and expanded pre-K education. Still, as New Yorkers well know, people hate it when you tax their soda. [The Note Book]

Racing Legend Goes Under the Knife
Shirley Muldowney, a towering figure in the world of drag racing, is going into surgery today; the five-hour procedure will remove her right lung, where a cancerous stage-two tumor was recently discovered. The 75-year-old released a statement saying: "I'm a fighter, always have been, and I'm going to fight this as best I can with everything I got." [NYT]