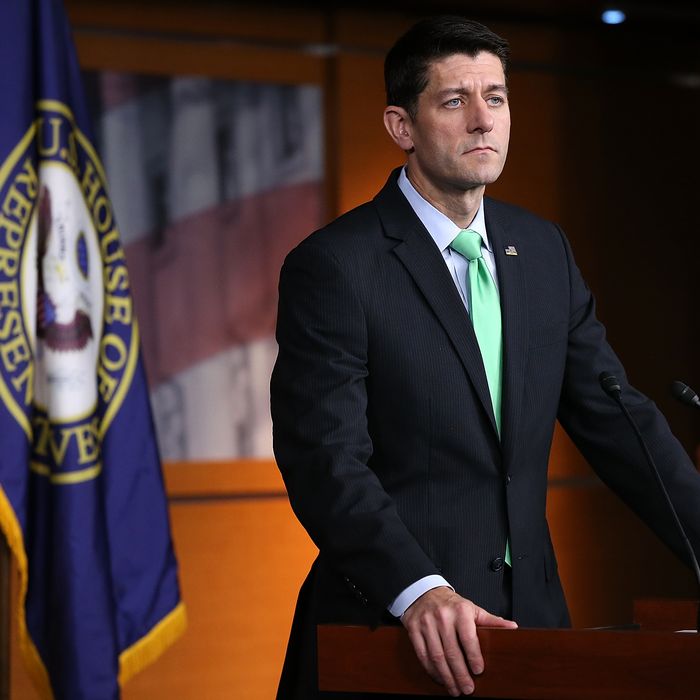 Paul Ryan will not bat for the orange team.
Photo: Win McNamee/2016 Getty Images
Good morning and welcome to Fresh Intelligence, our roundup of the stories, ideas, and memes you'll be talking about today. In this edition, Paul Ryan politely declines to endorse Donald Trump, the FBI interviews Hillary Clinton's inner circle, and the White House cracks down on tax dodgers. Here's the rundown for Friday, May 6.
WEATHER
It's still raining across swaths of both coasts — less than 90 percent of California is experiencing a drought for the first time in years — while the middle of the country remains mostly dry. Things will get more extreme over the weekend, with serious thunderstorms in Chicago, Cincinnati, and Kansas City. And New York? New York City will stay gray, wet, and chilly. [Weather.com]
FRONT PAGE
Paul Ryan Has a Few Suggestions for the Trump Campaign
Speaking on CNN yesterday, Speaker of the House Paul Ryan said he really wants to support Donald Trump, but he's just not there yet. Ryan is the highest-ranking elected Republican, and his opposition is being seen as symbolic of a deepening split in the party overall. Ryan did say that he would support Trump if he changed everything about himself, completely reworked his platform, and became something of a great unifier for conservative values — in this campaign season that actually almost counts as an endorsement.
EARLY AND OFTEN
Billionaire Casino Mogul Endorses Trump, What Does He See in Him?
Casino tycoon and right-wing puppet master Sheldon Adelson has endorsed Donald Trump for president with the ringing truism, "I'm a Republican, he's a Republican." Although he gained one puppet master, Trump lost one puppet: Mitt Romney announced he will not support Trump and is "dismayed at where we are now." [Politico]

Redactors Wanted: Trump Will Receive Classified Intelligence Briefings
Security agencies are grappling with the very real possibility that they might have to share classified intelligence briefings with Donald Trump, as is customary for presidential nominees. The White House said it will leave deciding what can safely be shared with Trump up to the agencies themselves, implying they may work up a kind of intelligence-briefing lite. [NYT]
FBI Interviews Clinton Aides in Email-Server Investigation
CNN reports that the FBI has interviewed several of Hillary Clinton's aides, including her close confidante Huma Abedin, in the ongoing investigation into her use of a private email server while she was secretary of State. Clinton herself has yet to be interviewed, although the Feds say she will be in coming weeks. Investigators have so far found no evidence of intentional criminal behavior.
Rick Perry Would Love to Be Vice-President If Only Somebody Would Ask Him
Guys, Rick Perry would totally love to be vice-president. Guys? Guys? Yesterday, Perry said he would help Trump however he could and, if tapped for the vice-presidency, "wouldn't say no." (Subtext: please, please, please, please.) When asked if he would be interested in running as a third-party candidate, Perry described the suggestion using a word many were surprised he knew: quixotic. [Politico]
THE STREET, THE VALLEY
A Terrible Cinco de Mayo for Tax Dodgers
In a bid to hamper tax dodgers, the White House is pushing through a ruling that would compel financial institutions to to confirm that the companies they serve are actually registered under real people, along with another piece of legislation that would require companies to report their owners' identities to the federal government. [Reuters]
Totally Not a Pyramid Scheme: Herbalife Nears FTC Agreement
Herbalife, the nutritional supplement development and marketing company, is on the comeback. Its stock jumped 15 percent after it announced it's close to settling with the FTC, which was investigating whether the company was a pyramid scheme. As part of the settlement, Herbalife might have to pay out around $200 million. [Bloomberg]
Activision Blizzard Zerg-Rushes Analyst Estimates
Video-game company Activision Blizzard nearly doubled analyst estimates with an adjusted revenue of $908 million. The surge was thanks in part to a boom in internet gaming and the company's acquisition of King Digital Entertainment, the maker of — oh, god no, please don't be — Candy Crush. [Bloomberg]
Lyft to Do to Lyft Drivers What Lyft Did to Taxi Drivers
Car-service app Lyft is partnering with GM to test a fleet of self-driving cars. The tests will take part on public roads and should commence by the end of the year. It looks like the debate over whether ride-sharing apps took taxi drivers' jobs will soon be moot in the most depressing way. [WSJ]
MEDIA BUBBLE
News Corp's Revenue Continues to Fall
News Corp, Rupert Murdoch's hugely influential media company, reported falling revenues for the fifth quarter in a row yesterday. This time, revenue dropped 7.3 percent, costing shareholders $149 million. It didn't help that the company had to pay out $280 million to resolve claims it unfairly monopolized promotions at more than 50,000 stores earlier in the year. [Reuters]
The Gray Lady Goes Blue Apron
The New York Times is getting into the food-delivery business. The company will partner with food-delivery service Chef'd to deliver ingredients from the paper's recipes to readers' homes. Did you know the Times also runs a travel business? They really know how to diversify over there. [Bloomberg]
Katie Couric Mulls Joining Yahoo Exodus
Katie Couric, who was hired by Yahoo as their new global news anchor three years ago, is thinking of stepping down despite scoring a new contract worth $10 million just last year. She allegedly feels the company did not promote her effectively and doesn't like the layout of their pages. They were willing to pay her $10 million, but they won't change the layout? Has she asked? [Business Insider]
PHOTO OP
We Live in the Future
SpaceX launched a rocket carrying a commercial satellite into orbit early this morning and will try to land it on an unmanned drone ship named "Of Course I Still Love You." Everything is bananas.
MORNING MEME
And the winner of the Donald Trump taco-bowl meme is … 
OTHER LOCAL NEWS
Behonkcé Was Robbed!
After a goose made a nest in Denver's City and County building in April, the mayor turned to Twitter to officially name her. Now the results are in, and among the many wonderful choices was by far our favorite: Behonkcé. But Goosey McGooseface won because, since The Office, we must copy every funny thing England does. [NBC]
We're Forgoing the Headline Here, Just Too Easy
A Florida man — there he is again! — was caught by pet-store employees (and, luckily for us, on camera) trying to abscond with what employees described as a "high-end python" by stuffing it down his pants. We bet he was just praying for someone to ask him if that was a snake in his pants, but in the end that person was the cops. [ABC]
HAPPENING TODAY
Redstone Hearing Kicks Off
The trial that will determine billionaire media mogul Sumner Redstone's mental capacity begins today, and it looks like it is going to be an ugly one, with testimony from many of the 92-year-old's closest friends, lovers, and caregivers — and someone who was all three. The findings could have serious repercussions for the companies in which Redstone has stakes, such as CBS. [Bloomberg]
Job Numbers Drop — But Hopefully Don't Drop — Today
The monthly job numbers come out today and will be closely watched by Wall Street and the Fed. Some signs have pointed to a slowdown in the U.S. economy of late, and analysts will be eager to see if the jobs report bears those out. [NYT]
America's Cup on the Hudson
If conditions allow, the Louis Vuitton America's Cup World Series, a high-profile sailing race, will take place in New York over the weekend on the Hudson River off Battery Park. If you want to check out the state-of-the-art boats in action, and they really are something to behold, there will be practice races during the day today. [NYT]