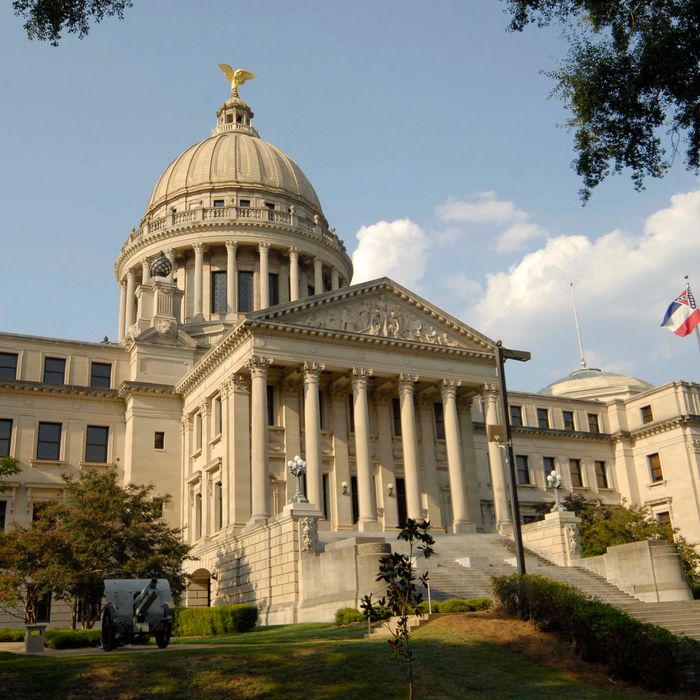 The Mississippi Capitol building.
Photo: Suzi Altman/Bloomberg
Good morning and welcome to Fresh Intelligence, our roundup of the stories, ideas, and memes you'll be talking about today. In this edition, Mississippi's same-sex adoption ban is dead; senators are, in fact, hardly working; and Ted Cruz has a spanking problem. Here's the rundown for Tuesday, May 3.
WEATHER
Rain will keep falling from the Gulf Coast clear across the Eastern Seaboard today, with the wettest weather reserved for the mid-Atlantic states and some serious thunderstorms in the South. While New York will be rainy and gray, most of the country from the central states to the West Coast should stay dry. [USA Today]
FRONT PAGE
Same-Sex Adoption Now Legal in All 50 States
Mississippi had until midnight last night to appeal a federal court ruling that found the state's laws forbidding gay couples from adopting children unconstitutional. The state chose not to pursue an appeal, meaning that as of today, for the first time, adoption for same-sex couples is legal in all 50 states. One of the plaintiffs in the case was Susan Hrostowski, an Episcopal priest who says she has been waiting 16 years to adopt her son. She and her wife, Kathryn Garner, brought the case along with the Campaign for Southern Equality, the Family Equality Council, and a group of other same-sex couples. [Buzzfeed]
EARLY AND OFTEN
Senate Weekend Longer Than Week
When it comes to paid leave, the U.S. Senate is a step ahead. According to Politico, this year, the Senate will spend just 124 days actually in session — less time in session than at any point in the past 60 years. Gawker points out that this amounts to a 2.9 day work week and that the body has not held a Friday vote in a year. [Politico]
Obama Speaks Directly to the American People
President Obama appeared on six separate local television stations yesterday where he made his case for the confirmation of Supreme Court nominee Merrick Garland. The president appeared on stations in Iowa, New Hampshire, Ohio, Arizona, Missouri, and Wisconsin. Wait, don't those states all have Republican Senate incumbents? What a coincidence. [Politico]
Threats to Shut Down the Coal Industry Fail to Endear Hillary Clinton to Miners
Hillary Clinton spent the day yesterday campaigning in West Virginia where she was dogged by protestors. Why wouldn't Hillary be popular in coal country? Maybe it has something to do with that time she said she would "put a lot of coal miners and coal companies out of business." Now that she's actually in the same room with coal miners, she explained that her comments had been taken out of context. [NYT]
Ted Cruz and Spanking: Now Officially a Thing
We're no public-relations expert, but if we were, we might tell Ted Cruz to lay off threatening to spank everyone. Yesterday, it was a young protestor's turn — when the rabble-rouser shouted, "You suck!" Cruz responded by saying, "You know, in my household, when a child behaves that way, they get a spanking." [Politico]
THE STREET, THE VALLEY
You May Now Add Talc to the List of Things That Can Kill You
Yesterday, a jury ordered Johnson & Johnson to pay $55 million to a woman who claims that the company's talcum powder caused her ovarian cancer, and in February, a jury awarded $72 million to the family of a woman who died of ovarian cancer. However, scientists say there's still no definitive evidence that talc causes cancer. [Reuters]
Sumner Redstone Must Testify in His Own Competency Trial
Sumner Redstone, the 92-year-old billionaire media mogul behind Viacom and CBS, will be deposed in a hearing to determine his mental capacity. The trial stems from his firing a former girlfriend as his caretaker, but it could have huge repercussions for companies in which he has voting stakes. [Bloomberg]
Solar Plane Captivates World Despite Taking 16 Hours to Fly From San Francisco to Phoenix
The solar-powered Solar Impulse 2 landed in Phoenix last night after a 16-hour flight from San Francisco as part of its trip around the world. Like everything futuristic and off-limits to all but the very rich, the plane was a huge hit in the Bay Area where it stayed for almost a week. [CNet]
Canadian Says What Everybody's Thinking
Barrie Kirk, the co-founder of a Canada-based consulting group that works with self-driving cars, is concerned that in the driverless future, passengers will occupy themselves with more adult activities. As fun as that sounds, Kirk says sexing passengers might pose a danger to other cars if they don't notice when they need to take over from the computer. [CNet]
MEDIA BUBBLE
Philandering Wrestler Now Wants World to Remember His Racism
It turns out $140 million was just a start. Retired wrestler Hulk Hogan was back in court yesterday to sue Gawker Media again, this time not for publishing his sex tape but for leaking a transcript from a different video in which Hogan uses racial slurs. The slurs were made on a taped conversation with Bubba "the Love Sponge" Clem, the man whose wife Hogan was sleeping with in said sex tape. [NYT]
In the Future, Newspapers Will Apparently Be Virtual-Reality Robot Cars
Get ready for Story[X] — that's the name the New York Times is giving its re-branded R&D lab. Story[X] will be joining more closely with both the newsroom and the marketing department under Kinsey Wilson, the Times' editor for innovation and strategy. Apparently the department will focus on things like "augmented reality, messaging apps, bots that work with the Amazon Echo, even connected cars." Remember when newspapers were freaking out over e-readers? [Politico Media]
Medium Editor to Helm Periscope
Evan Hansen, Medium's senior editor who previously held the editor-in-chief position at Wired, is moving on to Periscope, the real-time streaming-video mobile platform. What role an editor-in-chief will play at a company that's basically Twitter for first-person video streaming remains unclear. [Medium]
PHOTO OP
Head Held High
Eighty-one-year-old Paul Gatling was finally officially exonerated yesterday for a 1963 murder that he did not commit. He spent more than ten years in prison after he was pressured to plead guilty.
MORNING MEME
Vibes.
Vibes.

OTHER LOCAL NEWS
Florida Man Half-Asses Extremely Creepy Job
A man in Orange County, Florida, has been arrested for illegally dumping hundreds of dead goats, pieces of dead goats, and a few dead sheep thrown in for good measure. The man was working for a halal meat company when he decided to cut a few corners, plunging a Florida neighborhood into a still-lingering hell of rotting goat stench. [News13]
Those Kids Never Had a Chance: High-School French Teacher Does Not Speak French
Houston's Energy Institute High School is in the spotlight after it emerged that it had hired a French teacher who does not speak the language — except for "bonjour." The sad thing here is that the teacher didn't con the school. Instead, with his one year of high-school French, he was actually the most qualified candidate they could find. [Fox]
HAPPENING TODAY
The Circus Comes to Indiana
Today, all eyes are on Indiana, where a primary could prove decisive in determining the future presidential candidates. Trump is expecting a big win, which would increase the pressure on Ted Cruz to drop out, while a tight race between the Democratic contenders has analysts saying this could be Sanders's last, best chance to win the nomination. [WSJ]
Georgia's Schools Could Go From Cash-Strapped to Just Strapped
Georgia's governor, Nathan Deal, has a tough decision to make today as he mulls signing legislation that would allow people to carry guns in his state's public colleges. If he vetoes the bill — especially after vetoing a recent anti-LGBT bill — people may think he's some sort of liberal. [AJC]

Experts Agree Hamilton Just Might Get a Tony Nomination
The Tony Award nominations will be announced today, and much of the public expects Hamilton to pretty much sweep everything. Many believe the hip-hop bio-musical about Alexander Hamilton could break the record for 15 nominations. Other productions are nominated, too, but their names escape us. [CBS]