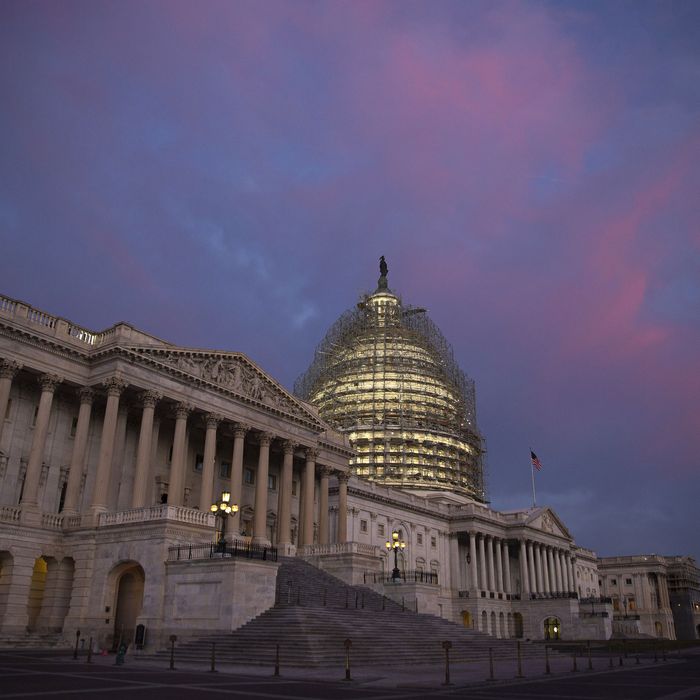 Capitol Hill is beautiful from a distance.
Photo: Drew Angerer/Bloomberg via Getty Images
Good morning and welcome to Fresh Intelligence, our roundup of the stories, ideas, and memes you'll be talking about today. In this edition, still more states sue the White House, Trump says "you're fired," and we're still talking about Hillary Clinton's emails. Here's the rundown for Thursday, May 26.
WEATHER
Extreme and potential deadly weather is set to continue through a swath of the central United States today, with strong winds, large hail, and tornadoes expected in Nebraska, Kansas, Oklahoma, and maybe even in parts of Texas and Colorado. New Yorkers can expect another lovely day with temperatures in the 80s, no rain, and a few scattered clouds. [Weather.com]
FRONT PAGE
11 States Sue White House Over Anti-Discrimination Guidelines
Eleven states filed a lawsuit in Texas yesterday against the Obama administration over a recent set of guidelines clarifying that federally funded institutions — namely public schools — should let transgender students use the facilities where they feel the most comfortable. The suit charges the administration with trying to rewrite the law and force schools to follow its executive order while the Obama administration says simply that, "There is no room in our schools for discrimination of any kind." Those totalitarian bastards.
EARLY AND OFTEN
Clinton Email Scandal Still a Thing
The State Department's inspector general presented a much-anticipated report to Congress today about Hillary Clinton's use of a private email server while she was serving as secretary of State. The report took Clinton to task saying she did not ask for permission to use her own server, and if she had, she would have been told not to. The Clinton camp responded to the report point by point, saying among other things that past secretaries of State have also used their personal email accounts to conduct business.
No Place for Experience: Trump Campaign Jettisons Veteran GOP Operative
Rick Wiley, Trump's recent hire for national political director and a seasoned GOP operative with decades of experience, reportedly clashed with longtime Trump loyalist Corey Lewandowski, who's best known for getting charged with battery after he manhandled a reporter. So, you guessed it, Wiley is packing his bags. The campaign is claiming Wiley's position was always intended to be temporary, but word on the street (the street is Politico) is that he was fired. [Politico]  
LGBT Measure Comes Back to Life, Passes the House
Last week's cries of "shame" have become whoops of joy as the House passed a measure enforcing an executive order that stopped the federal government from hiring contractors that discriminate against employees based on sexual orientation or gender identity. Last week, Republicans snuck legislation that would've nullified that order into an energy-department bill that passed by one vote. This time, the anti-discrimination amendment passed by 28 votes, with 43 Republicans supporting it. [The Hill]
South Carolina's Controversial Abortion Bill Becomes Law
While liberal outrage has been mostly focused on its neighbor to the north, South Carolina governor Nikki Haley has quietly signed one of the nation's most restrictive abortion bills into law. The law forbids women who are more than 20 weeks pregnant from getting abortions unless the mother's life is in danger or the baby would not survive outside the womb. South Carolina joins 13 other states with 20-month bans, even though Roe v. Wade said states could only legislate abortions after 24 weeks. But who's counting?
THE STREET, THE VALLEY
Crude Oil Hits Six-Month High
Brent crude — which would be a really good name for a bass player — hit $50 a barrel yesterday for the first time in more than six months; the hike came in response to decreasing domestic stockpiles of crude oil in the United States. Wildfires in Canada, terrorism in Nigeria, and chaos in Venezuela haven't hurt, either. [Bloomberg]
Google Joins All the Other Cool Kids Moving From the Bay Area to Detroit
Google has announced it will open a new center outside Detroit where it will expand development of self-driving cars. A spokesperson explained that the move made sense because the company's automotive partners were based in Detroit. What is it with Detroit and cars? [Bloomberg]
$20 Says You're Not Reading This on a Lumia
Microsoft's foray into smartphones continues to flounder just two years after it purchased Nokia — exhibit A: its failed Lumia model. The company announced yesterday that it would let go of up to 1,850 employees in its smartphone unit; most of the lost jobs will be in Finland, where Nokia was founded. [Reuters]
Two Years of Shoddy Blood Tests and All Theranos Got Was This Lousy Class-Action Suit
Another day, another story about Theranos, the startup that wanted to disrupt blood testing but ended up mired in controversy. Yesterday, the company was hit with a consumer-fraud class-action lawsuit from patients who said inaccurate tests led to potentially harmful treatments or missed existent conditions. [The Verge]
MEDIA BUBBLE
Peter Thiel Looking Smugger Than Usual Today
A court in Florida has upheld a jury verdict against Gawker Media for more than $140 million in favor of professional wrestler and Mr. Nanny himself, Hulk Hogan. The judge denied Gawker's motions to reverse or reduce the verdict. Her decision comes just a day after another Gawker platform, Gizmodo, discovered that Silicon Valley billionaire Peter Thiel was paying Hogan's legal fees. As a reminder: This is all over a clip of a sex tape featuring Hogan that Gawker posted in 2012. What a wild ride it's been. [PoliticoMedia]
New York Times to Offer Employees Buyouts
The New York Times announced yesterday that it would begin offering voluntary buyout packages to members of its newsroom and business departments at the end of the month. The job-culling is an integral part of the paper's plan to aggressively pursue digital expansion to reach its goal of doubling digital revenue by 2020. [NYT]
Pulitzer Prize–Winning Journalist Takes Top Job in Montana News
Kathy Best, the popular vice-president of news for the Seattle Times, is headed to Montana where she'll take on the job of editor for both the Missoulian and the Revalli Republic. Best is well-known for her dedication to investigative reporting; under her purview, the Seattle Times won three Pulitzer Prizes. [Missoulian]

PHOTO OP
Clinton Campaign Heats Up
These are the two gentlemen who distracted Hillary Clinton at her recent campaign stop in California. When security tried to escort them out, she intervened, telling them if they left their pants on they could stay. "Okay, where was I?" she asked. "I gotta admit, it is a little distracting standing up here looking at them."
MORNING MEME
Spoiler Alert!
We think the spoiler statute of limitations is over for this one, and man is it good. Maybe the best Game of Thrones meme ever?
OTHER LOCAL NEWS
Indiana Declares Fake War
Beech Grove, Indiana, residents had quite the scare Tuesday morning when they awoke to low-flying helicopters and the sound of falling bombs and gunshots. Residents' fear quickly gave way to frustration with the military, which really should've warned them it was conducting a training exercise in their town. Some of these tweets from Beech Grove residents are gold. [Fox]
Maine Mystery Probably Batman
A series of car break-ins in Lisbon, Maine, have come to a remarkably convenient and mysterious end. Responding to a report of another theft, officers arrived to discover two teens handcuffed together behind a local convenience store with a collection of stolen items. Police believe the thieves accidentally locked themselves together while playing with the handcuffs — which were also stolen — but surely there's more to this story. Our money is on a cloaked vigilante. [Portland Press Herald]
HAPPENING TODAY
Flint Fire Stations Get Out of the Water Business
Fire stations have been important sources of bottled water and water filters in Flint, Michigan, following the recent lead-tainted-water crisis there, but today, the last fire station will stop providing water supplies. Although this is no doubt a sign of the improving conditions in Flint, residents will still have access to bottled water, filter systems, and replacement filters at five community water-resource sites set up around the city. [MLive]
SpaceX Attempts First High-Speed Non-Water Landing
SpaceX will try to make history today by pulling off a high-velocity, solid-ground landing with a Falcon 9 rocket. The landing will take place after the rocket launches a communications satellite that will provide internet service to parts of Asia and Africa. SpaceX has previously landed a rocket at high velocity, but only on a drone ship in the Atlantic Ocean. [Inverse]
Celebrity Chefs Head to Capitol Hill
A consortium of celebrity chefs is headed to Washington, D.C., today where they will address the House Agriculture Committee about how to deal with the more than 70 billion pounds of food waste this country produces every year. Chefs, including Tom Colicchio, will push for labeling that will help decrease waste. [NYT]