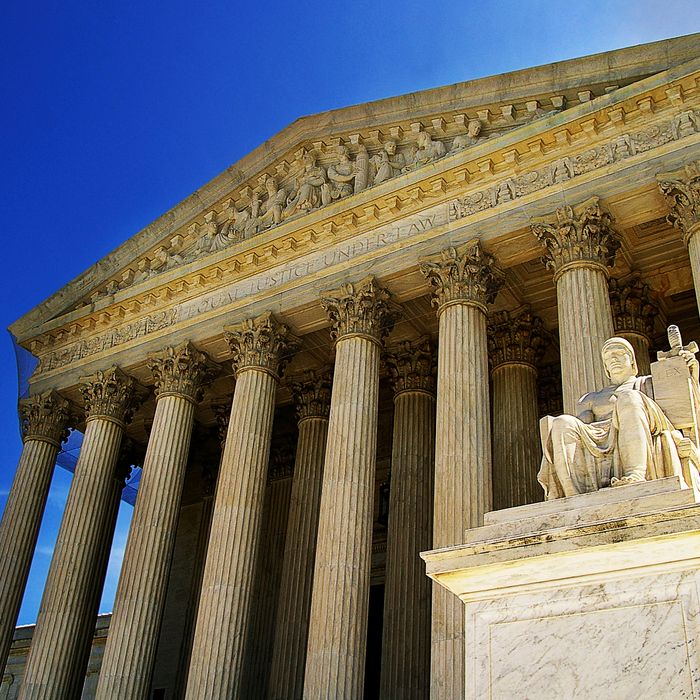 Way to get things done, guys.
Photo: zimmytws
Good morning and welcome to Fresh Intelligence, our roundup of the stories, ideas, and memes you'll be talking about today. In this edition, the Supreme Court puts off the contraception question, federal courts are still trying to desegregate Mississippi, and Donald Trump might actually be afraid of Spanish. Here's the rundown for Tuesday, May 17.
WEATHER
Residents of Northern Maine are in for record snowfalls today, but we bet the residents of Northern Maine can take it. Elsewhere, there is rain in Los Angeles, severe storms and potential flooding in Texas, and New York City could see a little rain with temperatures in the mid-60s. [USA Today]
FRONT PAGE
Paralyzed Court Fails to Please Anyone
The unusually disadvantaged eight-person Supreme Court reached a new height of impotence yesterday when it refused to rule on a closely watched landmark case regarding an employer's obligation to provide health-insurance coverage for contraception, throwing out all of the lower-court rulings — almost all favoring the Obama administration — and calling on the courts and parties involved to reach a compromise. Perhaps the court can just be abolished altogether and replaced with a sign to that effect?
EARLY AND OFTEN
It's 2016 and Look How Far We've Come: Federal Court Orders Mississippi Town to Desegregate Schools
The U.S. District Court for the Northern District of Mississippi has ordered that Cleveland, Mississippi, desegregate its schools by combining a historically white high school with a historically black high school. Perhaps the saddest thing about this story is that the situation in Cleveland is not a random occurrence but the result of a hard-fought 50-year battle the Mississippi Delta town has waged with the Justice Department to stay segregated.
Labor-Union Alliance With Billionaire Goes About As Well As Expected
What was meant to be a show of Democratic unity and a major push to defeat Donald Trump devolved into a fight between major unions and billionaire environmental activist Tom Steyer. Both parties attempted to rally voters and to create a multimillion-dollar fund for Democrats seeking election, but union leaders decided to boycott (they see Steyer as an enemy of job-creating industries), and the whole thing collapsed. Good try, folks. [NYT]
Obama Stands by Controversial Desire to Protect Vulnerable Children
The president's push to clarify the rights of transgender students has come under fire, but yesterday he doubled down on his stance, telling Buzzfeed he sees the issue as mainly about protecting the safety and dignity of "vulnerable" children. "I think it's part of our obligation as a society to make sure everybody is treated fairly, and our kids are all loved, and that they're protected and that their dignity is affirmed," he said. These days, sadly, those are fighting words. [NYT]
Trump's Plan to Appeal to Latinos Hits Early Snag
Trump is expected to kick off a push to be more presidential and appeal to Latinos, and while we're not exactly sure what qualifies as "presidential," a recent incident will certainly not help with the Latino vote. According to Buzzfeed, Marcos Stupenengo — a freelancer with TV Azteca — was waiting at Trump Tower for his scheduled interview with El Donald when he answered a phone call in Spanish. Upon hearing a language that 38 million Americans speak, Trump's staff told him the interview was cancelled. Trump will have to eat a lot of taco bowls to make this go away. [Buzzfeed]
THE STREET, THE VALLEY
Buffet Bets a Billion, Bolsters Business
It has emerged that being-rich expert Warren Buffet's Berkshire Hathaway has invested more than $1 billion in Apple, a departure for the usually tech-shy fund and a surprise to investors who are increasingly coming to feel that Apple's best days are behind it. Apple's stock was up 3.7 percent upon news of the investment. [Reuters]
Oil Markets Move: Find Out in Which Direction Below
We know we recently told you that oil prices would fall, but now it looks like they're at a six-month high. That said, the U.S. is moving to reestablish its stockpiles; there are plans to resume oil exports from a Libyan port; and there has been progress in oil production both in Venezuela and Nigeria. So, we'll keep you posted. [CNBC]
Big Changes at Twitter, Inside and Out
Twitter is shaking up its format in the face of declining popularity by removing links and pictures from its 140-character limit, a change that's a long time coming if you ask us. The company is also addressing more serious accusations that its management lacks diversity by adding BET CEO Debra Lee to its board. [CNet]
Apple-Pay-Killer App Kills Self Instead
CurrentC, the mobile-pay app that was supposed to kill Apple Pay, looks like it won't survive long enough to try. First, the app's launch was delayed — rarely a good sign — and now, its creator, MCX, is reportedly laying off 30 employees — never a good sign. All this follows a disappointing trial run of the app in Columbus, Ohio. MCX has announced it will focus on its other non-app business. [The Verge]
MEDIA BUBBLE
This Is Why Secretive Spy Organizations Shouldn't Have Newsletters
The Intercept is preparing to publish the entire archive of the NSA's internal newsletters that were first partially leaked by Edward Snowden himself; the platform has already published 150 articles drawn from the newsletter, which is called SIDtoday. The Intercept is encouraging other activists, journalists, and researchers to take full advantage of the archives. [The Intercept]
Facebook Live Bungles Presidential Appearance
A Buzzfeed interview with President Barack Obama yesterday that was seen as an important moment for Facebook's new Facebook Live platform did not go as expected. In fact, it froze so often that Buzzfeed directed its viewers to — gasp — go to YouTube to watch the interview. (YouTube is widely considered Facebook's largest rival in video streaming.) No big deal Facebook — it was only the leader of the free world. [Mashable]
Sasha Frere-Jones Fails to Pull Off the Old "Expense a Strip Club and Blame a Rapper" Trick
Sasha Frere-Jones, the influential music critic who left The New Yorker to briefly join Genius.com and ultimately take a sweet gig as critic-at-large at the Los Angeles Times is now looking for a job. It seems the Times job was very sweet indeed: Frere-Jones allegedly accepted free trips in exchange for coverage, produced less copy than his colleagues, and expensed $5,000 at a strip club — which he then claimed was for an interview with "a rapper." [The Wrap]
PHOTO OP
It Could Always Be Worse
For all you chilly and wet New Yorkers out there, remember: It could be much worse. Maine, you're in our prayers.
MORNING MEME
Lunch Pro Tips: Corn in Hand
This picture is somehow achingly sad, absolutely hilarious, and one of the most potent images of modern America we have ever seen, all at the same time.
OTHER LOCAL NEWS
Just When You Thought Airports Couldn't Get Worse, Clowns
Airport-security lines have always been tedious, but at San Diego International Airport, they're about to get terrifying as well. The airport is adding clowns to the already-volatile mix, bringing in the Fern Street Circus to give workshops and performances over the next eight months. Cheers to San Diego for so deftly combining both of our most crippling phobias. [NBC]
Drug Busts Happen on Twitter Now, Apparently
A teenager from South Dakota visiting Sarasota, Florida, took to Twitter  to ask, "WHOS IN SARASOTA FLORIDA AND HAS WEED." When she got a reply from the local police department — "If you'd like to stop by our HQs, our Narcotics Detectives would be more than happy to talk. #SayNoToDrugs" — the clearly awesome teen remained undaunted, tweeting back: "There needs to be more weed in Florida. That shit shouldn't even be illegal." [Newser]
HAPPENING TODAY
Chris Christie's Second-Biggest Embarrassment Back in the News
Remember "Bridgegate"? If not, prepare to get a reminder around noon when a list of the scandal's unindicted co-conspirators will be released. Bridgegate refers to the 2013 closure of a toll lane in Fort Lee that created massive gridlock and is believed to be the fault of a Christie appointee who wanted to punish Fort Lee's Mayor for not supporting Christie's gubernatorial campaign. [ABC]

Strikers to Join Verizon at the Bargaining Table
After meeting with U.S. Secretary of Labor Thomas Perez over the weekend, both Verizon and its union representatives have agreed to recommence negotiations today. Forty-thousand employees have been striking for the last 34 days over concerns that Verizon is planning to move more jobs overseas. [ABC]
Sanders Has High Hopes for Oregon, Kentucky
At the very least, today's Democratic primaries in Oregon and Kentucky should be interesting. Both states boast the demographics and populist political cultures that historically benefit Bernie Sanders, but both also have closed primary structures that are expected to favor Hillary Clinton. Anything could happen, folks. [Morning Consult]