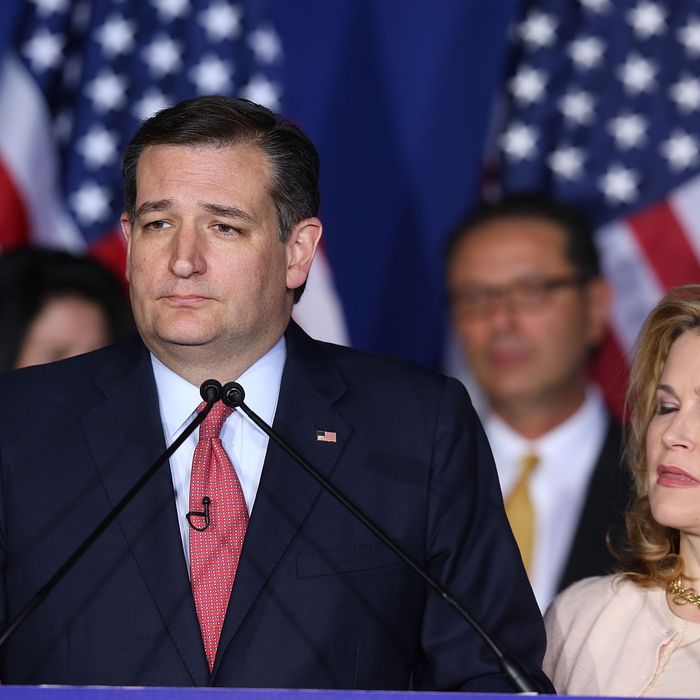 Cruz, crushed.
Photo: Joe Raedle/2016 Getty Images
Good morning and welcome to Fresh Intelligence, our roundup of the stories, ideas, and memes you'll be talking about today. In this edition, Cruz drops out, Trump steps up, and sandwich shops shut down. Here's the rundown for Wednesday, May 4.
WEATHER
Today the West Coast should get a taste of what the East Coast has been going through with gray skies, rain, and chilly temperatures. Not that the rains will let up in the east — yes, including in New York. On the other hand, the middle of the country will be sunny and hot.  [Weather.com]
FRONT PAGE
Fiorina Had the Time of Her Life and She Owes It All to Cruz
In the puppet show that this year's Republican campaign has become, Ted Cruz is out, and it's all but inevitable that Donald Trump will clinch the nomination. After losing Indiana to Donald Trump by more than 16 points, Cruz answered the prayers of everyone who has ever worked with him by announcing he was suspending his campaign. Then he demonstrated to the crowd how Carly Fiorina felt by elbowing his wife in the head.  
EARLY AND OFTEN
First Time This Sentence Has Been Written: Indiana Changes Everything
The results are in from Indiana's primaries yesterday, and they are momentous. Trump and Sanders won their respective primaries, both with about 52 percent of the vote. Trump beat both Cruz and Kasich handily, forcing Cruz to drop out of the race and Kasich to do nothing. On the Democratic side, the race looked too close to call until Bernie enjoyed a late-in-the game surge, taking the state just days after it seemed he was out of the running.
Hillary Clinton Confronts Corrupt Coal Baron
As we've reported, Hillary Clinton's trip to Appalachia has been marred by crowds of mostly Trump-supporting protestors who despise her for some reason — oh right, because she said she would put coal miners out of business. Yesterday, Clinton had enough and publicly called out one of the demonstrators: Donald L. Blankenship, a powerful coal boss who was recently sentenced to a year in prison after an explosion in one of his mines in 2010 killed 29 miners. Clinton said, "If Donald Trump wants the support of someone like that, he can have it." That's what we call a coal burn. [NYT]
Jindal's Reluctance Won't Make Any Difference When He Inevitably Votes for Trump
In a year of lukewarm endorsements, Bobby Jindal just offered Trump one of the lukewarmest. Jindal said he didn't really like Trump, didn't think he would make a very good president, and is likely to lose to Clinton anyway, but Jindal would vote for Trump if he won the nomination. Explaining his decision, Jindal gave Trump the most backhanded compliment possible, saying he's "better than Hillary Clinton." [Politico]
Former New York State Assembly Speaker Gets 12 Years
Ex–New York State Assembly Speaker Sheldon Silver was sentenced to 12 years behind bars yesterday for enriching himself to the tune of millions of dollars in bribes and kickbacks. Maybe he can bunk with his old friend and counterpart in the Senate, former Majority Leader Dean Skelos, who was also convicted of corruption in December. Silver is 72 and in failing health, so this conviction might well be his last. [Reuters]
THE STREET, THE VALLEY
$81 Million Could Buy a Lot of Decoupage iPhone Cases
Etsy has come a long way. The one-time haven for everyone with a wood-burning kit who could draw an old-time-y bicycle just posted a quarterly revenue of of $81.8 million, beating analyst estimates by more than $6.5 million. After the news, Etsy's stock shot up 19 percent. [WSJ]
Lemonade Joke!
Beyoncé has taken her recent obsession with juice to its natural conclusion. The singer has invested in World Waters, a three-year-old startup known for its special sports drink made from "watermelon juice processed at high pressure." The investment will fit in nicely with Beyoncé's health-conscious portfolio, which includes her athletic clothing line and something called a "vegan-diet kit." [Bloomberg]
Hundreds of Towns Across America Mourn That Smell, You Know the One
Following its second year of falling revenues, Subway is closing hundreds of sandwich shops across America and considerably slowing the pace of opening new ones. This hilarious sentence from Bloomberg Businessweek perfectly explains its decline: "Subway has struggled to keep pace with more modern rivals, which cater to millennials with items such as quinoa salads and Greek yogurt."
Is Yoky Matsuoka the Real-Life Miles Bennett Dyson?
Apple has hired Yoky Matsuoka, the robotics expert and Google X lab co-founder, to develop the company's health products under COO Jeff Williams. Also, 'health' is apparently now the code word for Apple's human-domination department. [The Verge]
MEDIA BUBBLE
Disney Throws Its Channels Behind Vice Media
In a new deal, Vice Media will begin producing web and television content to appear on ESPN, and ESPN will air some of Vice's sports-oriented programming; Vice will return the favor by showing documentaries from ESPN. ESPN is owned by Disney, which coincidentally owns $400 million of Vice Media. [Bloomberg]
Tampa Bay Times Vanquishes Tampa Tribune
The historic rivalry between Tampa's largest papers has come to an end in dramatic fashion. The Times, owned by Poynter, purchased the Tribune yesterday before promptly folding it. In a forthright, if chilly, defense of his actions, Times chair and CEO Paul Tash said, "There are very few cities that are able to sustain more than one daily newspaper, and the Tampa Bay region is not among them." [Poynter]
Paywalls Totally Work, Kind Of
The New York Times released its first-quarter financials yesterday, and the report provided interesting insights into the health of the news industry as it moves increasingly online. The biggest takeaway is that readers really do matter; the Times now depends on subscriptions paid by readers for 57 percent of its revenue, up from 38 percent just six years ago. Still, overall revenue for the paper has barely budged in that time. [Politico Media]
PHOTO OP
The Bluegrass Is Berning
While the other candidates were busy giving victory speeches or dropping out of the race, Bernie Sanders was in Kentucky doing what he does best: hosting a packed rally and gesticulating wildly.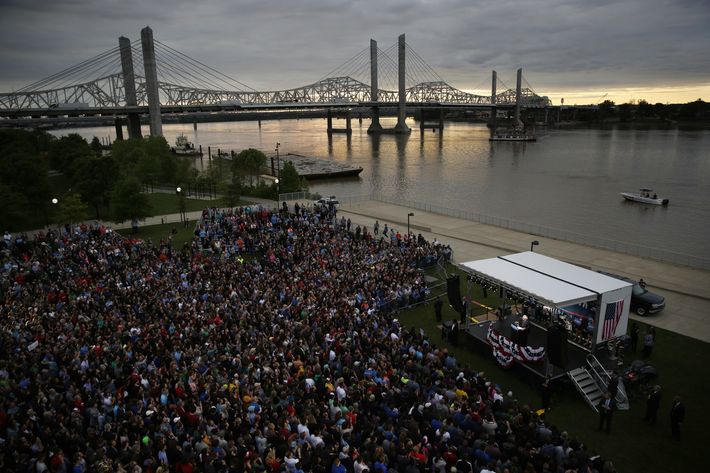 MORNING MEME
We're just going to leave this here.
OTHER LOCAL NEWS
Blood Lost (and Found)
A 68-year-old man from Stoughton, Wisconsin, was driving down the road when he noticed an abandoned box labeled "Human Blood." He, of course, promptly signaled to a passing police car and — and we're quoting from the police report here — "Yelled he had just found a 'big box of blood, human blood.'" From the police report again: "The good news is it was not struck by a car or truck and was undamaged: good to go." What a relief. [UPI]
Curious Gator Turns Tables on Local  Jehovah's Witnesses
Take the time to check out this incredible picture out of Moncks Corner, South Carolina. This lost gator became stuck in someone's yard and was photographed what looks like trying to ring the doorbell. Anyone else remember Land Shark? This is totally Land Shark. [UPI]
HAPPENING TODAY
Embattled Governor Will Deign to Meet the Leader of the Free World
President Obama will meet with Michigan governor Rick Snyder today just days after Snyder said his schedule was too busy to make time for the president. The two will also attend an event with the Democratic mayor of Flint, Karen Weaver; Flint is home to the recent tainted-water scandal. This won't be awkward at all. [Politico]
Detroit's Kids Head Back to School
Speaking of Michigan, a mass "sick out" will come to an end today after two days of teachers calling in sick to school to protest the school system's lack of funding. Teachers agreed to return after city officials assured them that they would, in fact, get paid for their work. How they will get paid is not entirely clear, as the whole school system should run out of money in June. [Raw Story]
What Do Floyd Mayweather and Cher Have in Common?
Showtime Sports has said it will hold an exciting surprise announcement at 1 p.m. today, and all signs point to boxer Floyd Mayweather — the serial abuser and the world's highest-paid athlete — coming out of retirement. Those signs include Mayweather's recent filing to trademark a bunch of phrases with "50" in them — he retired undefeated just before fighting his 50th bout. [SB Nation]