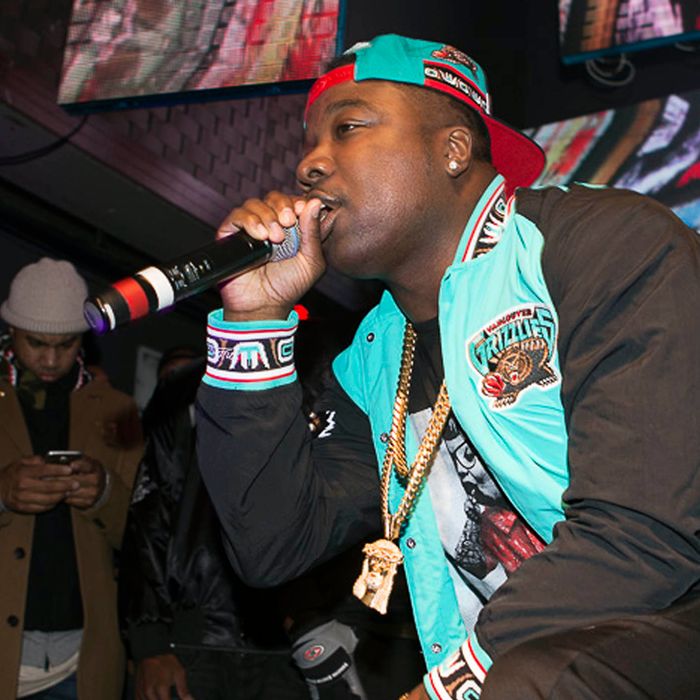 Troy Ave in happier, less incarcerated days.
Photo: Johnny Nunez/Getty Images
Good morning and welcome to Fresh Intelligence, our roundup of the stories, ideas, and memes you'll be talking about today. In this edition, Troy Ave has been charged with attempted murder, Trump is in legal trouble of his own, and Chicago dodges a fiduciary bullet. Here's the rundown for Tuesday, May 31.
WEATHER
Today should be a hot one pretty much nationwide, with the high winds and storms in the central states providing more trouble than relief. In New York City, expect temperatures in the mid-80s with a slight chance of showers. [AccuWeather]
FRONT PAGE
Troy Ave Charged With Attempted Murder
Troy Ave was officially charged with attempted murder and criminal possession of a weapon in Manhattan last night. The rapper, who appeared in court in a wheelchair, was injured in a shooting that occurred backstage before a T.I. concert at Irving Plaza last week. His bodyguard was killed. The details of what happened are still unclear, but Ave, whose real name is Roland Collins, was recorded by a security camera limping and firing a gun in one of the club's VIP rooms. He is being held without bail. [NYT]
EARLY AND OFTEN
Candidate's Actions Might in Fact Have Consequences
Donald Trump learned what happens when you call a judge presiding over a case involving one of your companies "hostile," a "hater," and — gasp — "a Mexican:" namely that said judge might release a raft of documents relating to your spurious university, which is precisely what U.S. District Judge Gonzalo Curiel did when he decided to unseal documents describing Trump University's interactions with students and the media. As Reuters points out, defaming an active judge during an ongoing trial and inciting a violent mob against him could be more than just a seriously jerk thing to do; it might also be illegal, putting Trump at risk of contempt of court.
Chicago Wins Partial Pension Respite
The Democratically controlled Illinois legislature has overridden a veto by the state's Republican governor, passing legislation that will allow the city of Chicago a respite in paying city-service pensions. Had the veto stood, an earlier law would've seen the city's payments balloon from $290.4 million to $834 million; with the override, the city will somehow only have to pay $619 million. Chicago is now aiming to have firefighters' and police officers' pensions 90 percent funded by 2055. Tight ship, Rahm! [Chicago Tribune]
Clinton Extends California Trip to Avoid Visiting New Jersey
She may put on a brave face, but Hillary Clinton's travel schedule sure seems to imply that the ex–secretary of State is spooked by Bernie Sanders's success in California. Clinton is canceling plans this week to campaign in New Jersey, and instead will focus on a five-day-long campaign blitz in California with events scheduled every day from Thursday through June 7, when the primary will take place. [WaPo]
Snowden Still Waiting on His Thank-You Note
Former Attorney General Eric Holder, speaking on a podcast, said that Edward Snowden at least partially performed a "public service" when he exposed the extent of the NSA's domestic-surveillance program by sparking a national debate about the issue. His words have real ramifications, as Snowden has said he will return to the U.S. if he is guaranteed a fair trial. For a point of comparison, Hillary Clinton has said Snowden is not a whistleblower and should return and face trial as a thief, and Donald Trump described him as a "terrible traitor" and strongly implied he should be killed. And we wonder why Snowden has decided to stay in Russia.
THE STREET, THE VALLEY
Verizon Deal Reminds America Unions Are Still a Thing
In a headline ripped from the 1950s, a union has emerged victorious after a prolonged battle with a major corporation. Verizon reached a tentative deal with union leaders yesterday, conceding to their demands to add 1,400 more domestic jobs and raise pay by as much as 10 percent. The 40,000-member union has been on strike for almost seven weeks. [Reuters]
Looming Rate Hike Has Markets Spooked
Most money people are in agreement that the Fed's long-threatened interest-rate hike is coming, and considerably sooner than many would have liked. As a result, markets were all over the map with gold in a slump, bonds continuing their downward trajectory, and trading volume off by nearly half — all eyes are on this week's job numbers. [Bloomberg]
Boeing Gets Defensive
Big news for Chicago-based aeronautics company Boeing: It just announced a deal worth nearly $3 billion from the U.K. Ministry of Defense. The deal is good for 50 new Apache helicopters and includes their servicing. Boeing beat out Italian Leonardo-Finmeccanica for the contract. [Reuters]
We Just Learned What Computex Is and It Looks Really Bonkers
Computex is the most important computer-developer showcase we've never heard of. Yesterday, day one of the event in Taipei, Taiwan, was dominated by envelope-pushing Taiwanese computer company ASUS, which premiered a laptop thinner than the MacBook Air; a smartphone more sleek than the iPhone; an adorable personal-assistant robot with puppy-dog eyes; and, for some reason, a water-cooled laptop that would almost certainly not sit comfortably on your lap. [Engadget]
MEDIA BUBBLE
Hulk Hogan Started a Trend and It's Not the Do-Rag
The well-publicized suit brought by Hulk Hogan against Gawker — over the site's publication of a tape in which Hogan has sex with his friend's wife and its possession of a recording of Hogan making racist comments — is only the tip of the iceberg. The New York Times reports that the media company is facing five defamation lawsuits in addition to Hogan's suit, including one from the Daily Mail. As our old journalism professor would have said, they must be doing something right. [NYT]
Things Not About to Get Less Ugly at Viacom
The situation continues to deteriorate over at Viacom, with the media company's directors saying they've been unable to get in touch with the 92-year-old majority shareholder Sumner Redstone. Now, those same directors have said, in an open letter released yesterday, that they will fight any further moves by Redstone to remove more board members. Redstone is believed by many to be mentally incapacitated and acting as a rubber stamp for his family members who are consolidating control over his companies. [Bloomberg]
Katie Couric Admits Fault, Stops Massive Right-Wing Conspiracy in Its Tracks
Something that passes for a controversy has erupted over Katie Couric's documentary on gun violence, Under the Gun. Gun-rights activists have claimed that the film was edited to make it appear that pro-gun people hesitated to answer a question about background checks. Now, Couric has responded saying, in effect, that they're right: The editing was misleading, and she regrets it. She also linked to a transcript of the scene that shows what really happened. [Hollywood Reporter]
PHOTO OP
Bernie Certainly Knows How to Get California's Vote
Very, very good optics, sir.
MORNING MEME
Thunder Loss Ripe for Meme-ification
For some reason, basketball fans seem more meme-proficient that any other group — can I get a crying Jordan? — and last night's game inspired some of their best work. Here's just one example.
OTHER LOCAL NEWS
Florida Out-Floridas Itself
Police in Southwest Ranches, Florida — just outside Fort Lauderdale — stumbled on a scene yesterday that was as gruesome as it was immediately iconic: two alligators feasting on a dead body that had been there for "some time." If Florida was a house on Game of Thrones, something like that would be its sigil. [AP]
Texas Man Breaks Law, Punishes Long-Suffering Underpaid Civil Servants
A Frisco, Texas, man was so irate at having to pay a $212 speeding ticket that he filled a bucket with 21,200 pennies and and poured it all over the counter and floor of the local courthouse, leaving a group of people who almost certainly did nothing wrong to spend the next three hours cleaning up his mess and counting his change. The video, of course, went viral, and the man has said it "felt really great." [NYDN]
HAPPENING TODAY
Camera Crews Rush to Capture Donald Trump Keeping His Word
Donald Trump will give a televised press conference at Trump Tower today. What's the big news? It looks like Donald Trump will actually go through with a promise, dispensing money with which donors entrusted him during the veterans' fundraiser he held in January in lieu of attending the Republican debate. [WaPo]
A Good Night for Spotters of Terrible Omens
If Donald Trump keeping a promise isn't enough, now it looks like Mars will come the closest it's been to Earth in more than ten years — basically a stone's throw away at 47 million miles. If you miss it tonight, you should still be able to see it quite clearly over the next two weeks. It'll be the red one. [Mirror]
Tired of Criticism, Bernie Sanders Heads to Santa Cruz
Bernie Sanders will be coming to Santa Cruz today, where the well-known young, white, hippie enclave is expected to give him a warm welcome. Come to think of it, Santa Cruz would make a nice new capital if he's elected. [Santa Cruz Sentinel]