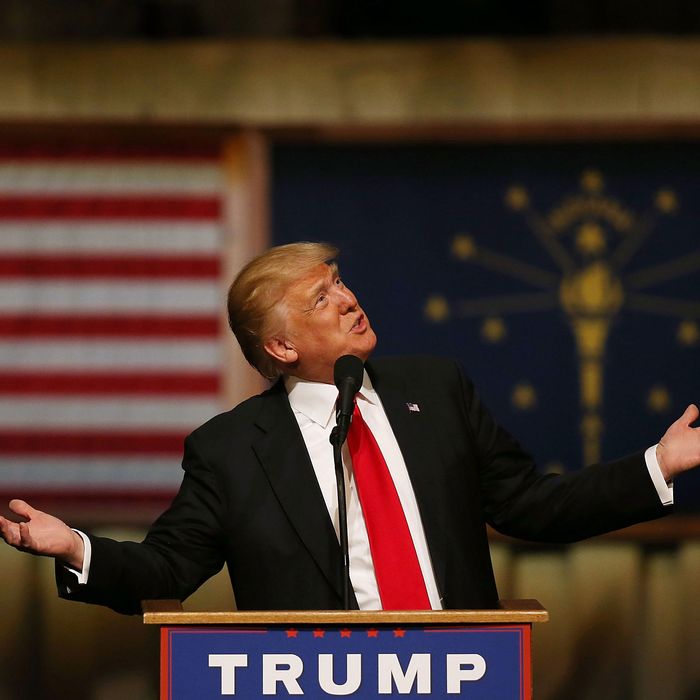 Behold, the Trump Supreme Court.
Photo: Joe Raedle/Getty Images
Good morning and welcome to Fresh Intelligence, our roundup of the stories, ideas, and memes you'll be talking about today. In this edition, Trump releases his Supreme Court picks, calls Bill Clinton a rapist, and reveals some financials — no, not his taxes. Here's the rundown for Thursday, May 19.
WEATHER
The South is set to get soaked today with big storms in Texas and Louisiana, and heavy rains expected through Florida. But spring will finally come to the Midwest and Great Lakes with warm weather and sunny skies. In New York City, expect temperatures in the 70s with lots of clouds and maybe even a little rain. [USA Today]

FRONT PAGE
Donald Trump Courts Conservatives
In another in a long line of unprecedented moves, Donald Trump released a list yesterday of 11 potential Supreme Court judges that he would consider nominating if he became president. The list — all white and mostly male — serves as something of a who's who of the most right-leaning jurists currently serving in state and federal courts: a monochromatic rainbow of pro-lifers and literal constitutionalists with soft spots for the Ten Commandments. Conservatives so far are very pleased with his picks, although many don't believe he would actually go through with nominating one. Trump has said previously that he would nominate his sister — who is in fact a judge — to the bench.
EARLY AND OFTEN
Trump Shines Light on Bill Clinton's Past Rape Accusations
Speaking on Hannity yesterday, Donald Trump brought up — with some helpful prodding from Hannity — Bill Clinton's past accusations of sexual harassment and assault: Paula Jones accused Bill Clinton of exposing himself to her in 1991; Kathleen Willey says Bill Clinton groped her in 1993; and Juanita Broaddrick says Bill Clinton sexually assaulted and raped her in 1978. Trump is attempting to use her husband's conduct to weaken Hillary Clinton's support amongst women.
Trump Financial Disclosure Confuses Everyone
Donald Trump released a 104-page financial disclosure form yesterday — no, not his taxes, which are none of your business, okay? — but while it clearly shows that Mr. Trump is very rich, in many ways the report raised more questions than it answered. Donald claims to be worth $10 billion, but the disclosure says he made $615 million last year and holds assets valued at at least $1.5 billion — not bad, but not quite $10 billion. The report also claims Trump holds 564 separate positions, which somehow leaves him plenty of time to run for president. [NYT]
Sanders Accepts Fox-Debate Invite, Clinton Can't Believe This Is Still Happening
The Sanders camp has accepted an invitation from Fox News to take part in a Democratic debate in California. The date has not yet been decided — we do know it won't be on a Friday or Saturday night — but the mediators will include Megyn Kelly, Chris Wallace, and Bret Baier. A California debate was agreed upon by Clinton and Sanders months ago, but we have a feeling Clinton never thought it would actually come to this. She has not responded to Fox's invitation. [Politico]
Paul Ryan Reaches Compromise With Obama Administration — Yes, You Read That Correctly
House Speaker Paul Ryan has come a long way since shutting down the government over a budget disagreement. Ryan managed to work out a compromise — albeit an extremely tentative compromise with lots still to sort out — with the Treasury Department yesterday, paving the road for a rescue package to help Puerto Rico out of its worsening debt crisis. Paul "The Compromiser" Ryan has a nice ring to it.

THE STREET, THE VALLEY
How About "No"?
It's not news that marketing on Twitter doesn't always go smoothly, but surely someone must have realized that Android's Twitter campaign asking users to name their favorite "n-word" could only end in disaster. The best word was going to be chosen as the name of Android's "Android N" operating system, but things did not quite go according to plan. And yes, 4chan got involved. [Reuters]
Madoff Victims Could Actually Get Some Money Back
The $4 billion scheme set up by the government to repay victims of Bernie Madoff's financial fraud might actually start paying out. The Justice Department hasn't said when the payments will finally go out or what their value will be, but it has recommended approval of 25,000 recipients. Madoff took more than $17.5 billion from the thousands of people he misled. [Bloomberg]
The Fed-Interest Hike We've Said Is Coming for Months Is Coming
The Federal Reserve will raise interest rates for real this time, probably. According to the minutes from its April policy meeting released yesterday, members agreed that if there were signs of strong economic growth — which there have been — rates could go up in June. [Reuters]
Humans Are Lazy, Paranoid, and Bored: Google's Big Announcements at I/O
Google's annual developer conference is underway, and the big announcements keep coming: There's Google Home, a competitor to Amazon's Echo; a new virtual-reality platform; a new Android operating system; and apps to compete with both Facebook's WhatsApp — including WhatsApp's end-to-end encryption, which the government will just love — and Apple's FaceTime. [The Verge]
MEDIA BUBBLE
Dreams Do Come True: Time Warner Cable Is Dead
The Charter Communications takeover of Time Warner Cable is complete, and Time Warner is no more. Along with a smaller company called Bright House Networks, Charter is rolling out a new, much larger cable company called Spectrum. Spectrum is now the second-largest broadband provider in the country behind Comcast. [LA Times]
Public, Prepare to Get Edited
The New York Times' hunt for a new public editor is over; Elizabeth Spayd will take over the role this summer. Spayd come to the Times from the the Columbia Journalism Review where she was the editor and publisher, and prior to that she worked as managing editor at the Washington Post. [NYT CO]
Newsroom Layoffs Continue As Companies Outsource
Tribune Publishing, which owns the Los Angeles Times, Baltimore Sun, and Chicago Tribune, is laying off up to 200 employees. The layoffs come as Tribune moves its IT work to Tata Consultancy Services in India. Miami Herald owner McClatchy did the same thing just last week, firing as many as 150 people in the IT department and moving IT services to another firm in India. [Computerworld]
PHOTO OP
Jailbirds
Animal-rights activists are up in arms over "Fly by Night," a Brooklyn-based performance piece by Duke Riley in which 2,000 pigeons with lights attached to their legs take to the night sky. Protestors say the art is cruel to pigeons.
MORNING MEME
Joe Likes Ice Cream and We Like Joe
Joe Biden is just like us, but also better in every way. "I eat more ice cream than three other people you'd like to be with, all at once," he said yesterday — put that on the front of the Joe Biden Library. Also, please check out the gallery of Biden eating ice cream over at Gawker.
OTHER LOCAL NEWS
Sometimes Canada Just Isn't Far Enough
Even when America seems absolutely hopeless, it's hard not to love Americans. Just read the first sentence in this obituary of a 68-year-old woman in Richmond, Virginia: "Faced with the prospect of voting for either Donald Trump or Hillary Clinton, Mary Anne Noland of Richmond chose, instead, to pass into the eternal love of God." [CNN]
Burglar Tries Unusual Technique
A Cleveland, Ohio, man asked his 72-year-old neighbor if he could use her cell phone, and the neighbor fell for it! Then the man took off all his clothes, ran into the neighbor's house to sit on her couch, and — you guessed it — ran off with two of her canes. The ol' naked-cane lift — we should've seen it coming. [Cleveland.com]
HAPPENING TODAY
Trump to Be Reunited With His Favorite Robot
Donald Trump is in Lawrenceville, New Jersey, today where he will appear with Governor Chris Christie. With Trump's permission, Christie might even speak. [Reuters]
Final Arguments in Trial of Freddie Gray's Arresting Officer
The closing arguments are expected today in the trial of Edward Nero, the police officer who arrested Freddie Gray. Gray died in Baltimore following a spinal injury he sustained in police custody last year. [Baltimore Sun]