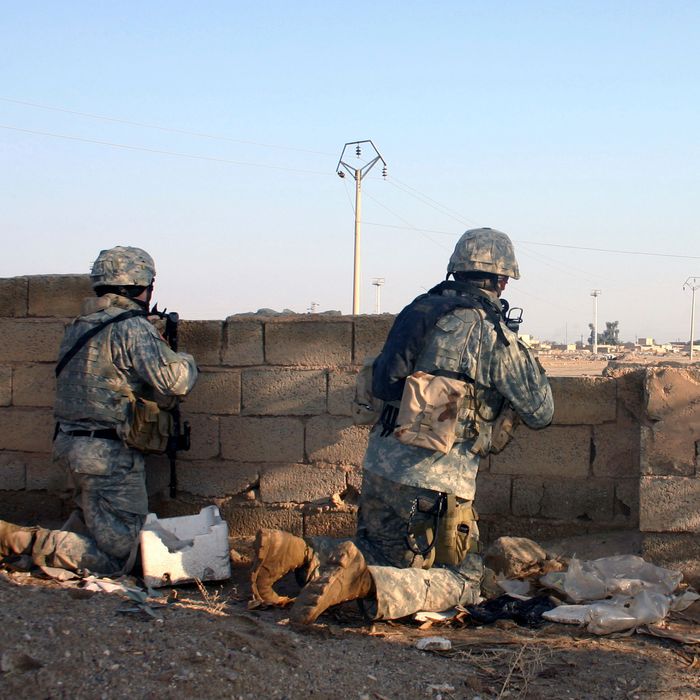 U.S. troops stationed in Iraq.
Photo: Rockfinder/(c) Rockfinder
Good morning and welcome to Fresh Intelligence, our roundup of the stories, ideas, and memes you'll be talking about today. In this edition, more American troops head to the Middle East, Trump wants to tax the rich, and ride-sharing services stall in Austin. Here's the rundown for Monday, May 9.
WEATHER
It'll be a tough couple of days weather-wise for much of the country, with severe storms bringing hail, possible flooding, and maybe even tornadoes to the Plains States, Midwest, and South. In New York City, the rain should let up today, and temperatures will jump to the low 70s. [Weather.com]
FRONT PAGE
U.S. Deploys Troops to Syria and Iraq
According to the Washington Post, U.S. officials say wars in Syria and Iraq are about to enter a new stage defined by more violence and a heavier American troop presence. Already there are plans for a sizable ramp-up: 450 special-forces troops will be sent to Syria and Iraq, hundreds of Marines will head to the front line in Iraq, and attack helicopters and jet bombers will join the fight as well. The growing troop numbers are an indicator of what will be a tough fight against ISIS in some of its most entrenched territory, such as its capitals in Raqqa and Mosul. [WaPo]
EARLY AND OFTEN
Trump Puts His Populist Money Where His Populist Mouth Is
Republican nomination nearly in hand, Donald Trump has begun his inevitable veer leftwards saying that he supports a higher tax on the wealthy, that he personally would be willing to pay more, and that he supports a higher minimum wage, although he thinks raising it is the job of the states and not the federal government. What a truly confusing time to be an American. [Reuters]
McCain Believes Trump Capable of Apologizing
John McCain, speaking on CNN yesterday, scolded Republican leaders for not lining up behind Donald Trump and ignoring the will of the voters. Still, McCain said he would not be willing to campaign for or fully endorse Trump until he apologized to veterans — Trump famously pretty much accused McCain of cowardice for being injured, kidnapped, and held as a prisoner of war in Vietnam for six years. [CNN]
Trump Goes After Paul Ryan …
As if the Republican convention wasn't already going to be awkward enough, presumptive GOP nominee Donald Trump — will that ever not feel weird to read? — is threatening to unseat Paul Ryan from his illustrious but wholly ceremonial role as convention chairman. We believe this is what Trump refers to as unifying. [NYT]
… And Sarah Palin Backs Him Up
It's also Paul Ryan season for avid hunter Sarah Palin, who demonstrated just how much she has Trump's back when she announced yesterday she would support the speaker of the House's challenger in the Wisconsin primary. What she actually said is that Ryan will soon be "Cantored," which is a reference to former House Majority Leader Eric Cantor, who lost his seat in 2014. [USA Today]
THE STREET, THE VALLEY
Wildfires and Saudi Maneuvering Send Oil Up
The price of oil is starting to go up just in time for summer, thanks in large part to huge and debilitating forest fires in the oil-producing region of Canada and to the appointment in Saudi Arabia of a new, more progressive energy minister. [Reuters]
Amazon Addresses Race Bias
A recent move to offer same-day shipping to the Bronx is just part of Amazon's push to address accusations that the company's services unfairly benefit rich white people. Amazon has pledged it will extend services to underprivileged people in 27 cities, and from this point on, it will only roll out new services to cities where it can serve every zip code equally. [The Verge]
Karma, As They Say …
Fans of personal-action-camera company GoPro — who, judging by recent earnings reports, are relatively few — will have to wait a little longer for the company's new and much-anticipated drone. Karma, a drone aimed at professional photographers, will now be delayed until the holidays. [Gizmodo]
Uber, Lyft Cease Operations in Austin Under Threat of Background Checks
Voters in Austin, Texas, yesterday failed to pass a proposition that would stop a local law requiring all Uber and Lyft drivers to be fingerprinted and receive background checks by the city. As a result, the ride-sharing companies are making good on their threats to cease all operations in the Texas capital starting today. [CBS]
MEDIA BUBBLE
Cheddar About to Earn Its Name
Cheddar, the online video platform specializing in business news and described as the "CNBC for Millennials" by its ex-Buzzfeed executive founder, is moving behind a paywall. For the first time today, the service will require a $6.99-a-month subscription fee and will be powered by Vimeo. [WSJ]
Apple to Tidal: Two Can Play at This Game
These days it's increasingly rare for people to actually buy music, which makes Drake's and iTunes' recent coup somewhat remarkable. For the five days that Drake's latest album, Views — you know, the one with all the memes — was only available on iTunes, it sold more than a million copies. [WSJ]
Twitter Distances Itself From the U.S. Government, Promises It's Still Cool
Twitter has told U.S. intelligence agencies that they must stop using Dataminr, a service that filters through millions of tweets looking for signs of political unrest or terror attacks and alerts people mere moments after they've happened. The move comes as Twitter is trying to distance itself from the intelligence community — what seems to be a Silicon Valley trend these days.
PHOTO OP
San Francisco on Strike
The Frisco Five hunger strike against police brutality, named for the five people who refused food for 17 days, ended over the weekend, but organizers are calling for a general strike in the city today.
MORNING MEME
Guess Who Just Learned What Dat Boi Is
Dat boi as Kramer may be one of our favorite pop-culture mash-ups of all time. Will Seinfeld ever not be relevant?
OTHER LOCAL NEWS
Surprise Lives Up to Its Name
Residents of a retirement home in Surprise, Arizona, had a startling day over the weekend when an airplane crashed into their yard just a few feet from their homes. The pilot skillfully avoided buildings and people before crash-landing; he and a passenger were both injured but are expected to survive. [AZ Family]
This Story Would Have Been So Much Better on Easter
A Florida man was, we assume, pretty surprised when the dead alligator he found in Orlando came miraculously to life, biting his hand and breaking it. Maybe we shouldn't say it was a miracle, but it would be irresponsible to rule it out. [News 6]
HAPPENING TODAY
Here's Something Convenient to Blame Your Mood On
If you have a solar filter and a pair of binoculars handy, you might want to stare at the sun today. Starting at 7:12 a.m. and continuing for seven hours, Mercury will be crossing the sun and will be visible — as a tiny black dot, but still — to the naked eye. Please do not stare at the sun through binoculars without a solar filter. [Vox]
Verdict Expected Today in Redstone Trial
The judge in the trial that will determine 92-year-old media mogul Sumner Redstone's mental competency has said that he will announce his verdict today. If Redstone is found to be mentally incompetent, it could lead to a power struggle for control of his $40 billion media empire. [News 4]
North Carolina Deadline Is Here, Will Be Ignored
North Carolina governor Pat McCrory will respond to the Justice Department but will not meet its deadline — 5 p.m. today — to prove he won't enforce his state's anti-transgender "bathroom bill." Missing the deadline could leave his state open to losing billions of dollars in federal funding. [NYT]