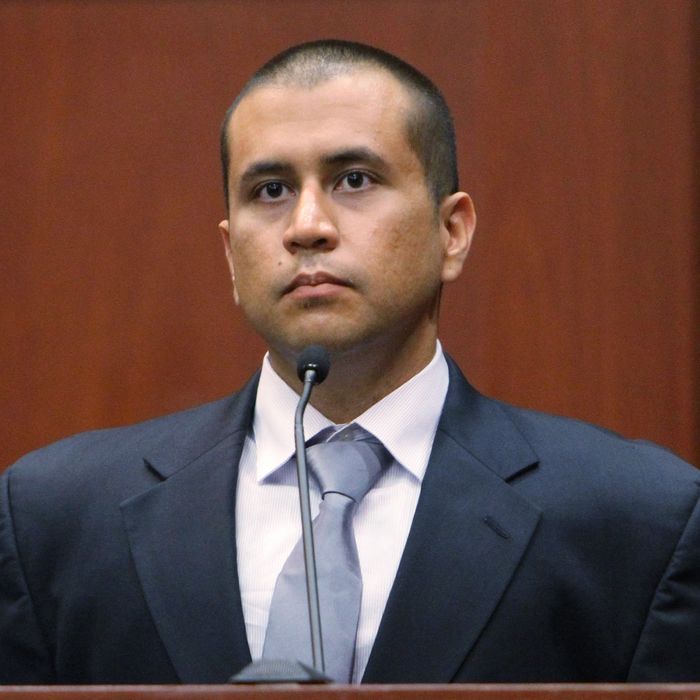 Zimmerman in court.
Photo: Pool/2012 Getty Images
Good morning and welcome to Fresh Intelligence, our roundup of the stories, ideas, and memes you'll be talking about today. In this edition, George Zimmerman will auction off the gun he used to kill Trayvon Martin, Trump has his eyes on Newt Gingrich, and Instagram gets a new logo. Here's the rundown for Thursday, May 12.
WEATHER
Clear skies and cool, mild temperatures across the two coasts today belie the storms raging around the Great Lakes and Ohio Valley. New York will be especially nice with sun and temperatures in the low 70s. [USA Today]
FRONT
George Zimmerman Will Auction Off the Gun He Used to Kill Trayvon Martin
George Zimmerman really doesn't care what you think of him. In an interview last night, the shooter of unarmed 17-year-old Trayvon Martin said that he will auction off the gun with which he — again — shot and killed an unarmed child, and he will use the proceeds to "fight Black Lives Matter violence against Law Enforcement officers" and, of course, Hillary Clinton. In the auction listing, Zimmerman referred to the gun as a "piece of American history," railed against the president, whom he called "B. Hussein Obama," and reminded the audience that he was a "free American."
EARLY AND OFTEN
Sanders Campaign Weathers California Shake-up
Bernie Sanders replaced the director of his campaign in California less than a month before the make-or-break primaries there. Sanders replaced Michael Ceraso, who was pushing for digital advertising and grassroots campaigning, with veteran campaign director Robert Becker, who reportedly favors traditional television advertisements. [NYT]
Trump Says Muslim Ban Just a Suggestion — an Ugly, Hateful Suggestion
Speaking on Fox News yesterday, Donald Trump seemed to backpedal on his call for a wholesale ban on Muslims from entering the country, saying it was "just a suggestion until we find out what's going on." The Muslim ban has been one of the most divisive policy ideas of Trump's campaign — in fact, it has been one of his only concrete policy ideas. [Politico]
Democratic Smugness Misplaced
He'll never be president, they said. Clinton will win in a landslide, they said. Well, they might want to check out the latest Reuters/Ipsos opinion poll released yesterday, which found that Donald Trump and Hillary Clinton are neck-and-neck in the race for the White House. Trump responded to the poll by saying he was "very happy to see these numbers." [Reuters]
Trump Mulls Historic Two-Bobblehead Ticket
Sources have confirmed to Bloomberg Businessweek that Donald Trump is considering Newt Gingrich as his running mate. The moon-obsessed government-shutdown pioneer and prolific Amazon reviewer will be familiar to fans of '90s political cartoons. When asked for comment, Gingrich gushed: "I wouldn't turn it down automatically." [Bloomberg]
THE STREET, THE VALLEY
California Lyft Drivers Settle for $27 Million
The courts are compelling ride-sharing company Lyft to more than double the award California drivers won in a class-action lawsuit. Instead of $12.25 million the company must shell out $27 million, which is still only a fraction of the $156 million drivers would have saved on things like gas, car maintenance, and benefits if they'd been classified as employees in the first place. [Reuters]
Instagram Gets a New Logo
The internet, to borrow the words of the New York Times, is "freaking out" over Instagram's new icon. The company eschewed its old picture of a camera for a new picture of a camera, now with a rainbow in the background. How dare they. [NYT]
Well That Didn't Last Long: Oil Prices Falling Again
A recent rise in oil prices — blamed on massive fires in Canada, the appointment of a new energy official in Saudi Arabia, and a fall in U.S. inventories — is already being reversed as Canadian oil production comes back on line. [Reuters]
Probe Exonerates Volkswagen Execs, Too Bad They Already Quit
An ongoing internal probe at Volkswagen by law firm Jones Day found that both the company's former executives and current leadership are blameless in the recent emissions scandal. The firm said the half-million cars that were illegally modified to misrepresent their emissions are the fault of a single "rogue engineer." [CNN]

MEDIA BUBBLE
Apple's Music-Selling Service to Continue Selling Music
Apple has responded to reports that it will stop selling music in the next few years by saying, basically, nope. To recap: Apple will continue to sell music downloads. That settles that. [Re/code]
Television Ruined
Morley Safer, the longest-serving 60 Minutes correspondent and beloved voice of dinner time at our mom's house, will retire by the end of the week. Safer, who has been at CBS for more than 50 years, will be honored with an hour-long special on the network this Sunday. Time to stock up on tissues.
Ripple? More Like Rip-off
It turns out local-news services didn't appreciate news startup Ripple copying their stories and posting them on its site without crediting the reporters — a practice that was all the more galling following news that the company managed to raise $4 million from interested parties in the tech industry. Ripple CEO Razmig Hovaghimian has since apologized, saying the stories were published because of a computer error. [Re/code]
PHOTO OP
Wave of the Future
This big blur might just be the future of transportation. The first test of the hyperloop went off without a hitch yesterday, sending a sled down a track at 100 miles per hour, which is one-third of the hoped-for speed of the completed hyperloop system. All told, hyperloop could transport people from San Francisco to L.A. in just 30 minutes.
MEME OF THE DAY
Another Job Well Done, Internet
We didn't really understand all the upset surrounding Instagram's new icon until we saw this tweet.
OTHER LOCAL NEWS
Food Rats Still Trending
Warning: This link contains an extremely gross picture of a mouse pickled in Dr. Pepper. John Graves of Katy, Texas, shared a bit of Dr. Pepper with his 3-year-old grandson before putting the bottle back in the fridge; it was only the next day that he spotted the dead rat floating in it. Unfortunately, the pair had already enjoyed more than half the soda before noticing the bloated rodent. [Mashable]
Goose Lassie!
Cincinnati police sergeant James Givens was taken aback when an adult goose knocked on his cruiser's door with her beak. He was even more surprised when he followed the distressed goose and found a baby goose tangled in the string of a Mother's Day balloon. The police were able to untangle the little feather ball, and goose and gosling went about their goosey day. [CBS]
HAPPENING TODAY
White House to Regulate Methane
The Environmental Protection Agency will announce first-of-their-kind regulations on methane today. The new measures will compel oil and gas companies to look for methane leaks, and if they find them, plug them. That sounds reasonable. [Bloomberg]
Ryan to Meet Trump in His Natural Environment: An Awkward Meeting
Resolution could be in sight in the fraught relationship between Donald Trump and House Speaker Paul Ryan. The two are meeting today so Trump can try to convince Ryan to endorse him and Ryan can look for proof of Trump's conservative credentials. [CNBC]
Online Auction Pioneers to Merge
Paddle8 and Auctionata, the two online auction houses that independently tried to shake up the art-selling model, are joining forces and will announce a merger today. Taken together the two sold works with a total value of $140 million last year. [NYT]