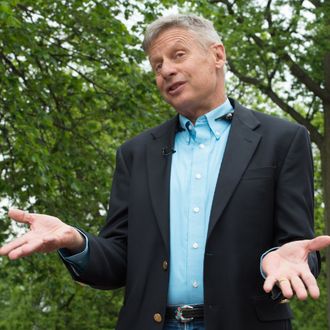 Hoping for a spoiler alert.
Photo: AFP/AFP/Getty Images
Former New Mexico governor Gary Johnson will once again be the Libertarian Party's presidential nominee, following voting at the party's convention in Florida on Sunday. Though Johnson faced five rivals, had to defend his 1 percent showing in 2012 general election, and could not secure the nomination until a round of negotiations preceding a second ballot, he came away with 55.8 percent of the vote in the end. Then again, as the Washington Post reports, Johnson was also loudly booed in a Saturday night debate at the convention for saying he would have voted for the 1964 Civil Rights Act and was in support of driver's licenses. Johnson also angered some in his party when he went ahead and selected former Massachusetts governor and fellow former-Republican Bill Weld as his running mate, which bolstered claims among some at the convention that Johnson's was just a "Republican-lite" ticket, rather than a tried-and-true Libertarian one. At the Libertarian magazine Reason, Matt Welch characterizes the Johnson nomination as "a decisive rout for pragmatism over purity."
That mindset may make sense, however. As the New York Times notes, Libertarians are feeling bullish about their chances this year, seeing the likely Trump vs. Clinton race as an opportunity to attract new supporters and elevate themselves into a viable party, rather than just a fringe, Ayn Rand–adoring also-ran — albeit one with the third-most registered voters, if you don't count independents. In fact, some in the party believe they might be able to win an entire state or at least have a Ralph Nader-like influence on the outcome, as some polls have indicated as many as 47 percent of voters would consider a third-party candidate if Trump and Clinton became the nominees, and two other polls this spring showed Johnson with a support level around ten percent.