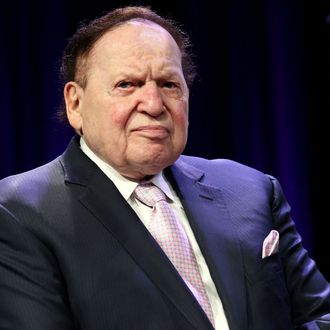 Adelson gave at least $98 million to support Republicans in 2012.
Photo: Steve Mack/Getty Images
Casino magnate and conservative megadonor Sheldon Adelson has told Donald Trump that he's willing to break the bank to help the presumptive Republican nominee win the White House, according to the New York Times. That support could apparently surpass $100 million — more than the billionaire has contributed to any previous campaign — and Adelson is also reportedly ready to ratchet back his contributions to GOP congressional campaigns to make more money available to Trump-focused efforts. The pledge came via a private meeting last week between Trump and Adelson, who publicly endorsed Trump on Friday after having supported Ted Cruz in the primaries. The Times adds that the Adelson money would be a significant boon to the Trump campaign, which has only recently begun setting up a general-election donor network, and in light of the fact that other wealthy conservative donors like the Koch brothers have indicated that they will probably be sitting out this presidential race — largely because of Trump being the nominee.
Due to campaign-finance restrictions, the vast majority of Adelson's money will of course need to be contributed to Trump-supporting Super PACs, though he and his associates apparently haven't figured out which ones yet, and it's worth noting that Trump himself had frequently criticized his GOP primary opponents for relying on such money. Indeed Trump has often boasted about how he was self-funding his campaign and thus wasn't beholden to special interest groups or wealthy donors like, well, Sheldon Adelson:
Though Trump has been the primary source of funding for his campaign up to this point, he has also accepted plenty of donations, and earlier this month acknowledged that he would not be self-funding his general election campaign — instead relying on both his own money as well as a more typical campaign's network of donors and what Trump told the Wall Street Journal would be a "world-class finance organization."