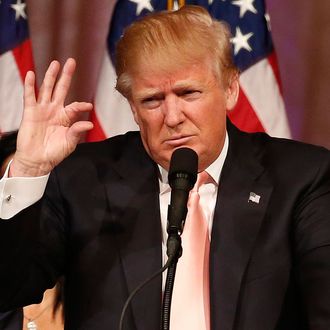 Trump's odds of winning Florida in a general election are looking teeny-tiny.
Photo: Rhona Wise/AFP/Getty Images
The Washington Post's Chris Cillizza put together one of those electoral-college projections Monday that should make any Republican's blood run cold:
It shows that a Democratic ticket carrying Florida plus those states every Democrat has carried since 1992 would have 271 electoral votes and the White House. That means Democrats could spot Republicans nearly all of the "battleground states" we are used to talking about — New Hampshire, Virginia, North Carolina, Ohio, Iowa, Colorado, Nevada, New Mexico — and they'd still win with Florida and the states Bill Clinton and Barack Obama won twice and Al Gore and John Kerry won in their one opportunity.    
But a Republican carrying all those "purple" states would surely win Florida, too, right? You might think so, but emerging data from the Sunshine State indicates the GOP could be in a deep, deep hole there in the increasingly likely case that Donald Trump is the nominee. 
One of the arguments for Trump has been that the Latino voters he uniquely repels aren't generally located in battleground states, and where they are, there are extenuating circumstances. In Florida, those circumstances are that a majority of Latino voters (an estimated 14 percent of the statewide general-election vote) are either Puerto Rican or Cuban-American, two communities not particularly affected by Trump's toxic immigration views. 
That may not matter. A new survey conducted by the business group the Associated Industries of Florida shows Hillary Clinton 13 points up on Trump in Florida, with this sobering internal:
"In this critical swing state, it is clear to us that Republicans continue to suffer substantial brand damage amongst all segments of the ascending electorate (younger voters, Hispanics & No Major Party voters) and this presidential campaign has clearly exacerbated these attitudes," Ryan Tyson, a Republican who serves as the group's vice president of political operations, wrote in a memo to his members.

One of the most astounding — and depressing — results for Republicans like Tyson was the percentage of likely Hispanic Florida voters who have a negative impression of Trump: 87 percent. Only 10 percent viewed him favorably.

"No, that's not a typo," Tyson wrote in the memo.
Separate research conducted among Cuban-Americans in South Florida shows similar findings:
Donald Trump is the catalyst who could force a decisive break between Miami-Dade County's influential Cuban-American voters and the Republican Party, a new poll has found.

Local Cuban Americans dislike Trump so much — and are increasingly so accepting of renewed U.S.-Cuba ties pushed by Democratic President Barack Obama — that Trump's likely presidential nomination might accentuate the voters' political shift away from the GOP, according to the survey shared with the Miami Herald and conducted by Dario Moreno, a Coral Gables pollster and a Florida International University associate politics professor.
The survey showed this intensely Republican demographic barely preferring Trump to Hillary Clinton with a significant number saying they wouldn't vote.
Meanwhile, the voting strength of Puerto Ricans (especially numerous in the Orlando area), who while less partisan are often the pro-Democratic counterweight to Cuban-Americans among Florida Latinos, is being augmented daily by heavy new migration (an estimated 1,000 families a week) from the economically troubled island. And as Eric Levitz explains this morning, the Democratic-leaning proclivities of these voters could gain a new and intense impetus if the Republican-controlled Congress fails to enact debt-relief legislation for Puerto Rico, or bends to conservative pressure to make the relief blatantly punitive.  
The darkening prospects for Republicans among Florida Latinos isn't the only reason Trump would struggle against Clinton in this state; he has the same problems in Florida among young voters, women, and well-educated swing voters that he does everywhere else. But the bottom line is that if a Trump-led GOP begins the general election with no rational chance of winning Florida's 29 electoral votes, all of the fantasies of a Trump surge in the Rust Belt may not matter all that much. And let's not forget they are at this point mere fantasies: The larger meaning of Cillizza's map is that even if Republicans somehow manage to carry Florida, they need to do better than the last two Republican nominees in the remaining battleground states. Democrats simply have a larger electoral-college base.