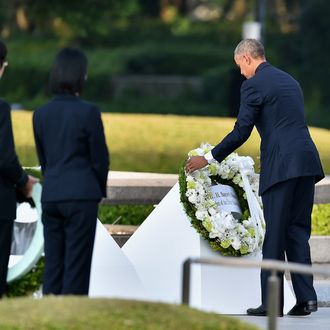 President Barack Obama lays a wreath at the Hiroshima Peace Memorial Park.
Photo: Atsushi Tomura/Getty Images
More than 70 years after the United States dropped an atomic bomb on Hiroshima, President Obama became the first sitting American commander-in-chief to visit the Japanese city. On Friday, the president laid a wreath at the city's Peace Memorial Park, shook hands with survivors of the attack, and called on mankind to bring its moral progress up to speed with its technological prowess.
"Technological progress without an equivalent progress in human institutions can doom us," Obama said. "The scientific revolution that led to the splitting of an atom requires a moral revolution as well."
Specifically, the president implored his audience to recognize the fundamental equality of all human life.
>