Photo: Al Drago/CQ-Roll Call
Outside the Republican National Committee headquarters Thursday morning, protesters held signs and played bagpipes, while camera crews trained their lenses on idling black cars waiting to shuttle the party's future nominee to and from a meeting with the Speaker of the House and other party higher-ups. For the past week, reporters — myself included — had chased every GOP lawmaker they saw, no matter how inconsequential, down hallways with their recording devices, asking for comments about the intra-party summit. On MSNBC, there was a countdown clock ahead of the meeting, and Morning Joe used a bumper clip from Mad Max Beyond Thunderdome in which frenzied spectators chant "Two men enter, one man leaves!" By this morning, the mood on Capitol Hill was something like what one would expect in the audience ahead of a WWE Smackdown main event. 
But when House Speaker Paul Ryan stepped to a podium in the basement of the Capitol to give reporters what they'd been waiting for, the message was boilerplate and — the media's frenzied hopes aside — predictable: "I think it was a very encouraging meeting," he said. "I do believe that we are planting the seeds to get unified." Ryan wasn't quite ready to offer an endorsement — the whole buildup had started a week earlier when he told CNN that he wasn't ready to get behind Trump — but said it was a strong beginning to a "process" of bringing conservative factions together to defeat Hillary Clinton in the fall. In other words, the drama is mostly over for now, and perhaps for a long time: Ryan and nearly all of his Republican colleagues in Congress will likely eventually endorse the billionaire populist.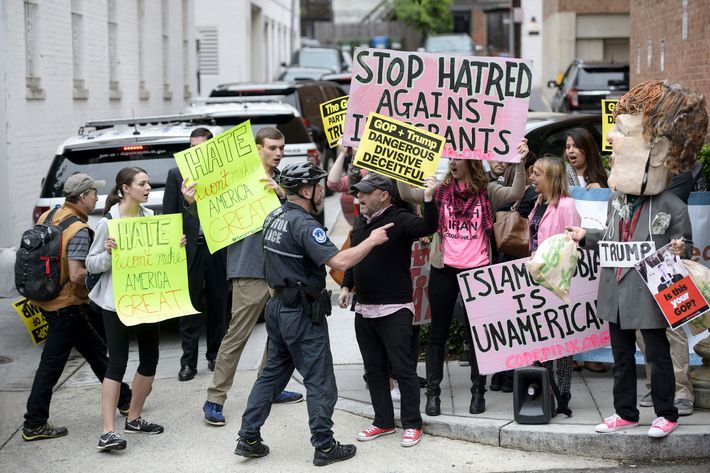 In the broader arc of the campaign, today will probably stand as the formal beginning of the "process" of Ryan and his fellow Republicans on the Hill publicly warming up to Trump. The lawmakers I spoke to this week used that word a lot, and many already seem to have completed their personal processes. "We've felt from the beginning that people ought to just chill and let things evolve," Tennessee senator Bob Corker told me, peering over the tortoiseshell reading glasses that are always perilously perched on the end of his nose, as he waited for the underground subway that shuttles senators to and from votes. "I think they realize he's going to be the nominee. I've seen a big adjustment in what y'all have been quoting."
Corker's right. Look at the stories coming out of the Hill the last few days, and you'll notice that, although the headlines say lawmakers are horrified about their new nominee, the actual quotes about Trump are starting to sound more positive. Corker, who chairs the Senate Foreign Relations Committee, got out ahead of most of his colleagues last week in offering to advise Trump on his foreign-policy platform, sparking rumors that he's positioning himself to be Trump's secretary of State.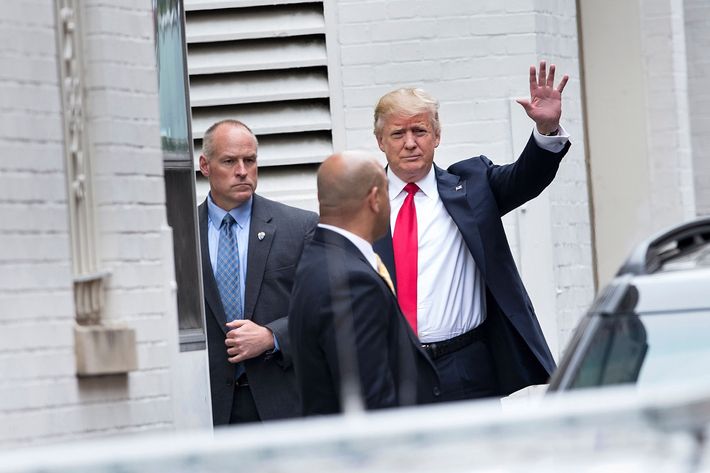 What Corker almost certainly realizes — like many of his colleagues — is that getting behind Trump is the least risky and most expedient thing a Republican lawmaker can do at this point. Unless they're representing a swing state in the Senate (there are very few House swing districts anymore, thanks to gerrymandering), it just doesn't make sense to go against the guy 40 percent of Republican primary voters chose to be their nominee. "Most of us already have been saying all along — as I have — that we're going to get behind him now that he's the presumptive nominee, although we still have some questions," Representative John Fleming, a Louisiana congressman and member of the Freedom Caucus, told me after a meeting of House Republicans Wednesday morning. Fleming said his colleagues "have to go through the same process I'm going through," of making sure he and Trump are on the same page politically, but he sounded sanguine about his colleagues eventually coming around. "Even people who are very unhappy with him say that even on his worst day he's ten times better than Hillary Clinton. So you could be simply anti-Clinton and you're automatically gonna be pro-Trump as a result of that. It's a process where we all have to be comfortable with someone who a few weeks ago we had no idea was going to be our nominee."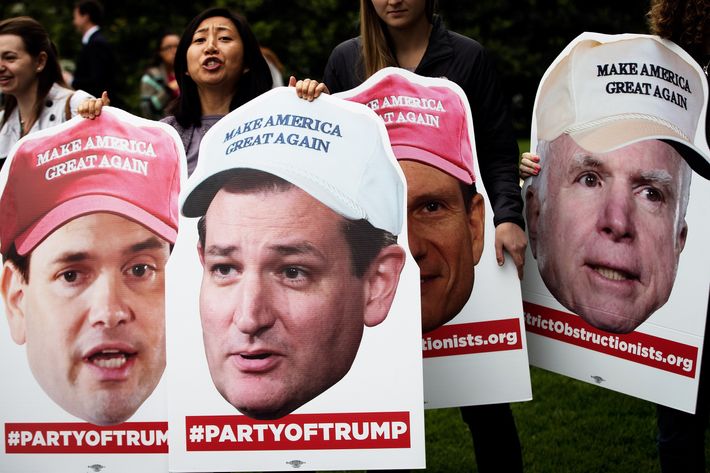 After talking to Fleming, I ran into Representative Raúl Labrador, a Puerto Rican–born lawmaker who represents a rural-conservative district in Idaho and is another Freedom Caucus member known for his willingness to speak candidly about politics. "I'm supporting the nominee of my party. I'm not enthusiastic about it," he says, "but he can get us enthusiastic if he comes and talks to us. He needs House conservatives in particular to rally around him because these are the people who are going to go to the districts he needs to win overwhelmingly so he can win."
Labrador was not a fan of Ryan's decision last week to speak out against the nominee. "Personally, I thought it was a mistake," he says. "I think he needs to figure out a way to bring the party together … It's both of their responsibility — Trump needs to grow up, and Ryan needs to figure out a way to bring the party together. It's ridiculous — some of the statements that Trump makes are absolutely childish and ridiculous — and I know it's hard to tell a 69-year-old man to grow up, but he needs to figure out a way to win without being childish." At this point, Labrador sounds like he's just thinking aloud. But as he's talking, a bunch of reporters crowd around him, shining a bright TV light in his face. "Some of it is funny," he says. "And some of it is fine. But at some point he's got to really figure out how he's going to start becoming presidential. And then I think he will get a lot of people behind him."