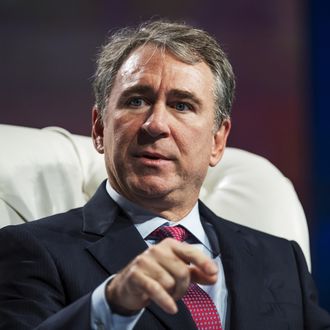 Kenneth Griffin, founder and chief executive officer of Citadel LLC.
Photo: David Paul Morris/Bloomberg via Getty Images
Chicago billionaire Ken Griffin last week landed at the top of the hedge-fund pay heap for 2015, earning a stunning $1.7 billion during a year when markets were flat and most hedge funds fizzled. What's more, it's the second year in a row that the CEO of the $25 billion Citadel hedge fund has nabbed the top spot.
So how has he done it? In a word, leverage.
The 47-year-old mogul has become better known in New York for his lavish spending than for his borrowing: He bought a $250 million Central Park condo complex and spent $500 million in a private sale for paintings by Jackson Pollock and Willem de Kooning just months after ending a bitter divorce fight over a prenup that would leave his ex-wife with a paltry $50 million of his now-$7.6 billion net worth. The couple settled out of court last October for an unknown amount.
Both personally and professionally, Griffin's take-no-prisoners ability to come out ahead is renowned. He has managed an amazing comeback since Citadel was so pummeled during the 2008 financial crisis that its survival was in question. But for the Chicago hedge fund, the years 2008 and 2015 have one thing in common: lots of leverage.
Borrowed money is a heady elixir that fuels returns on market upswings and just as cruelly creates losses during a downturn. You don't have to be a hedge-fund manager to understand how it works either. Many homeowners learned the hard lessons of leverage during the housing crash, which left them with little or no equity in their homes when prices fell and they still had huge mortgages to pay off.
Ever since massive leverage toppled Long-Term Capital Management in 1998, which almost took down the financial system, its use and abuse has been a worry for hedge-fund investors and regulators alike. In 2008,  weeks.
"We made a fundamental mistake," Griffin said about how he and Citadel first reacted to the crisis in 2008, calling it a "march towards the abyss" in an interview Wednesday at the annual hedge-fund confab in Las Vegas run by SkyBridge Capital, which invests in hedge funds. "I'm the CEO; I'm the one who should be looking out for risk," he admitted.
Of course, no one seems to notice when times are good, and by last year Citadel was back to its pre-crash ways. The firm was levered about seven times its capital, based on reports to the Securities and Exchange Commission that showed it had $176 billion — a 24 percent increase over the prior year — in what's called "regulatory assets under management." That number includes borrowings and is considered a rough proxy for leverage. Citadel, whose main funds rose about 14 percent last year, was second in the RAUM ranking in 2015, which was based on year-end 2014 numbers. (Last year, it cut leverage by 15%, to end 2015 at $149 billion.) Yet, ranked by investor capital, it is only the 13th-largest U.S. hedge fund.
Griffin's Citadel may be more dependent on borrowed money than many others, but he isn't the only hedgie last year to use ample leverage to boost returns. Like him, this year many of the people at the top of Institutional Investor's Alpha Rich List, its annual ranking of the top-paid hedge-fund managers, run quantitative or so-called market-neutral funds that are typically among the most levered of hedge funds. In fact, Izzy Englander raked in $1.15 billion, after his Millennium Management's funds gained 12.5 percent. Millennium perennially ranks atop the SEC's leverage ranking, and at the end of March had $208 billion in regulatory assets, compared with $34 billion in investor capital that make it the fifth-largest U.S. hedge fund — and levered six to one. Others on the Rich List that rank high on the SEC leverage ranking include Ray Dalio of Bridgewater Associates and David Shaw of D. E. Shaw.
But what goes up must (or at least often does) come down, and levered assets go down even more. Not surprisingly, this year's market turmoil has been particularly tough on both Citadel and Millennium. Citadel's main funds fell 6.5 percent through March, and Millennium was off 4 percent during the quarter.
"It's a winner-take-all world," Griffin told SkyBridge's Anthony Scaramucci, the impresario of the Las Vegas event, known as SALT, who was interviewing him Wednesday. "It's important for me to be No. 1." Sadly for Griffin, that's going to be tougher to pull off this year.
Correction: This post originally stated that Citadel's second-place RAUM ranking was based on 2015 numbers. It was based on yearend 2014 numbers.