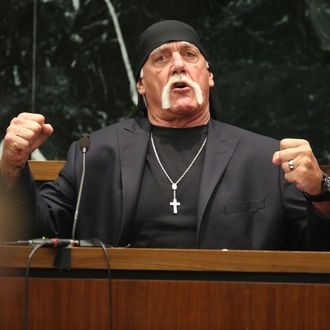 Hulk Hogan testifies in court in March during his trial against Gawker.
Photo: John Pendygraft/Tampa Bay Times via Getty Images
Hulk Hogan won a $140 million judgment in his lawsuit against Gawker for running an excerpt from a surreptitiously recorded video of the former wrestler having sex with Heather Clem, the wife of his friend Bubba the Love Sponge. But while Gawker appeals that decision, Hogan (whose real name is Terry Bollea) is suing the media company again, this time for an undisclosed sum for allegedly leaking sealed court documents to the National Enquirer that quoted Hogan making racist remarks. 
The remarks in question were made in 2007 during a different filmed sexual encounter between Hogan and Clem. After the comments — made about Hogan's daughter's black boyfriend — became public, Hogan was fired by the WWE. The suit, filed in Pinellas County Circuit Court, accuses Gawker of using Hogan's statements "to destroy him publicly and as leverage to try to force Plaintiff to settle or drop" his lawsuit. These are the comments in question, from the Post report on the suit:
"I mean, I'd rather if she was going to f–k some n—-r, I'd rather have her marry an 8-foot-tall n—-r worth a hundred million dollars! Like a basketball player! I guess we're all a little racist. F—ing n—-r," Hogan said, according to a transcript of the recording.
The transcript of that conversation was under seal in the then-pending sex-tape suit, and Hogan accuses Gawker of leaking that transcript to the National Enquirer. The suit claims that when the tabloid published the story in July, "Gawker had been threatening to release publicly for months."
Gawker denied the allegations in a statement People:
This is getting ridiculous. Hulk Hogan is a litigious celebrity abusing the court system to control his public image and media coverage.

It was absurd enough that Hulk Hogan claimed $100 million for emotional distress and economic damage for a story that he'd already made public. Now, Hulk Hogan is blaming Gawker for racist remarks he made on another sex tape, which Gawker never had.

As we've said before and are happy to say again: Gawker did not leak the information. It's time for Hulk Hogan to take responsibility for his own words, because the only person who got Hulk Hogan fired from the WWE is Hulk Hogan.
There's one other weird detail in the court filing. Hogan is also suing a talent agent, two disc jockeys, a radio company, and a lawyer, saying they conspired to send media outlets the sex tape. The FBI investigated the matter, and a summary of a recorded sting operation is included with the suit and contains the following line: "Davidson [the lawyer who's among those Hogan is suing] says he heard Bubba and Heather met Petraeus at a swingers party and it is rumored they have video." Emphasis ours. The name "Petraeus" isn't mentioned at any other point in the documents, but given the scandal involving a certain former CIA director with that name, make of that line what you will.