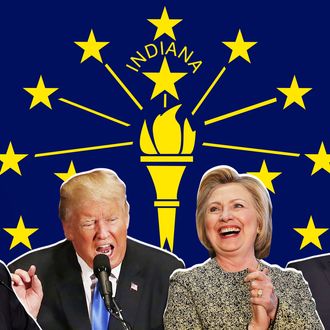 Probably another good day for Trump and Clinton, and a potential disaster for Cruz.
Photo-Illustration: Daily Intelligencer; Photos: Getty Images
Indiana has been looming on the Republican presidential-nominating-contest calendar for a while now as a potential "stop Trump" state, thanks to its relatively high-income and highly educated conservative demographics and its winner-take-most delegate-allocation system. A good, solid ten-point win for Ted Cruz over Trump might sweep up a big majority of the state's 57 delegates and keep the Donald on a losing trajectory all the way into June. That was certainly supposed to be the Texan's big payoff from his "deal" to divide up three states with John Kasich: Indiana was to be all Ted's. 
Alas, it's not looking so sunny for Cruz in the land of the Hoosiers. Late polls are showing Trump pushing out to a double-digit lead even though Kasich's numbers are declining enough to give Cruz a chance — if Cruz's own numbers weren't declining, too. There seems to be a national dip in support for the Texan that none of his recent gambits — the "deal," the Fiorina veep choice, the attacks on Trump as friendly to transgendered folk in search of restroom facilities — has arrested. And Indiana, where Trump's thunderbolts about manufacturing jobs being stolen by Mexicans have actually struck a chord, is turning out to be yet another good state for the Donald. Aside from the general climate, it's an open-primary state where Trump's accustomed levels of support from independents will come into play. FiveThirtyEight sets the odds of him winning at 83 percent.
Cruz actually could do pretty well in the statewide vote in Indiana and still get clobbered on delegates, partly because over half (30 of 57) go to the statewide winner, and partly because his best performing areas are concentrated in a single congressional district, which awards just three delegates like the other eight do. Nobody's going to give Cruz a lot of credit for coming close in the statewide vote if he's losing the delegates 54-3 or 51-6. 
For Trump, that kind of win would put him fewer than 200 delegates away from pay dirt, with 51-delegate winner-take-all New Jersey, which everyone expects him to win, and 172-delegate winner-take-most California, where he's led every poll this year, still ahead. 
The Democratic results aren't likely to produce that kind of drama, but a win for Hillary Clinton would add to her steadily increasing lead (currently standing at 327) over Bernie Sanders in pledged delegates. She's up by 6.8 percent in the RealClearPolitics polling averages, and FiveThirtyEight rates her odds of winning at 91 percent. As always with Democratic primaries, margins are what counts since the delegates will be allocated proportionately (27 statewide and 56 by congressional district).
Indiana's demographics are actually pretty good for Bernie Sanders, with only 17 percent of the primary electorate being African-American in 2008, the same percentage as under-30s; 23 percent of 2008 voters were also independents. If he were to pull a Michigan-style upset, it would represent a reversal of Hillary Clinton's narrow win in 2008. It might also reflect its futility: Clinton's win in 2008 was offset by Obama's in North Carolina the same day, which led a lot of observers to conclude that the race was over.  
The state is also holding down-ballot primaries tomorrow. The marquee contest is the Republican nomination to succeed retiring Senator Dan Coats, featuring two conservative members of Indiana's House delegation. Todd Young is heavily favored over his slightly more tea-partyish colleague Marlin Stutzman. Ex-representative Baron Hill is unopposed for the Democratic nomination.