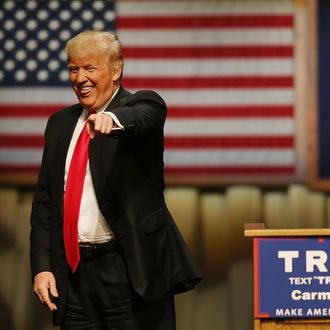 Cue widespread panic.
Photo: Joe Raedle/2016 Getty Images
About 30 seconds after polls closed in Indiana, multiple outlets declared Donald Trump the winner of that state's Republican primary. With all precincts reporting, Trump finished ahead of Ted Cruz by about 17 points and ahead of John Kasich by more than 40, according to the Upshot. Trump, being Trump, took the news well.
Minutes later, Cruz took Trump's advice, but Kasich's campaign released a statement saying he would remain in the race in the hopes of "winning the nomination at an open convention."
On the Democratic side, Hillary Clinton pulled ahead early on, but Bernie Sanders was ultimately declared the winner. With almost all precincts reporting, he finished ahead of Clinton by about five points, according to the Upshot. The victory seems to have given the Vermont senator a renewed sense of purpose. "The Clinton campaign thinks it's over," he told the Associated Press. "They're wrong."