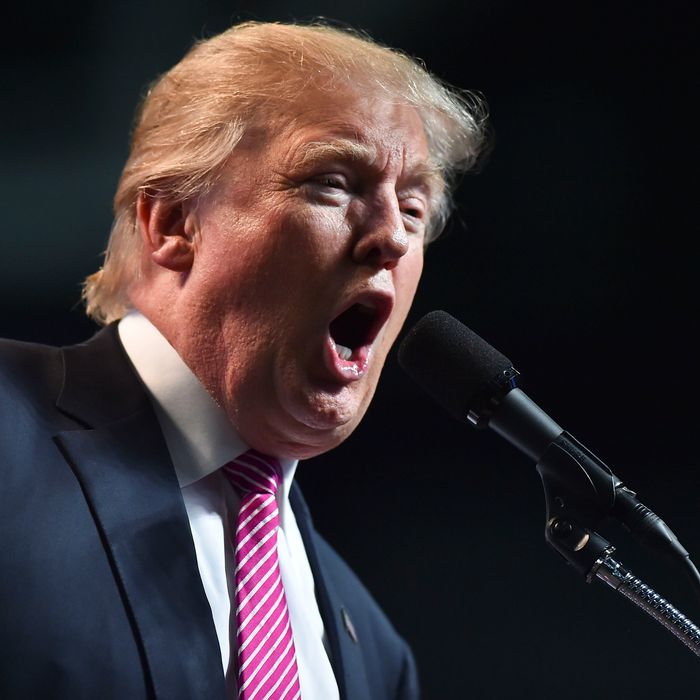 Shouting "Crooked Hillary" until it sticks.
Photo: Ricky Carioti/The Washington Post/Getty
To the long list of ways in which Donald Trump is showing he doesn't need to spend money like a traditional presidential candidate you can add this: He's not paying for opposition research. Normally, presidential campaigns (or their aligned super-pacs) spend millions employing teams of operatives tasked with digging into their rivals' records to unearth dirt that can be deployed on the stump or in television attack ads. The pro-Clinton super-pac American Bridge founded by David Brock, for example, has raised $13.5 million for oppo research, according to the Center for Responsive Politics. All Trump needs to do is read a couple of right-wing books that are doing a lot of the work for him. "He doesn't need to spend the money," longtime confidant Roger Stone says.
In fact, Stone is the author of one of the titles Trump is consulting as he creates his "Crooked Hillary" caricature: The Clintons' War on Women. Written in the style of agitprop, the controversial book details alleged incidents in which Stone claims Hillary sought to discredit women who accused Bill of unwanted sexual advances. (It's worth noting that Stone also says in the book that the Clintons are "plausibly responsible" for dozens of murders.) True or not, Trump happily promotes the line of attack — the women, not the murders (at least not yet) — on the stump. In Oregon last week, he described Clinton as "an unbelievably nasty, mean enabler" of her husband's affairs. "What she did to a lot of those women is disgraceful," he said.
The other text Trump is consulting is Clinton Cash, Peter Schweizer's takedown of the Clinton Foundation. In interviews, Trump has called the book "amazing" and has repeated its claims that the Clintons traded on access to them. "They made speeches for a lot of money and then things happened," Trump told Breitbart News Thursday. The Trump campaign has received briefing memos highlighting each book's allegations, and he's even plugged them on the stump.
Taken together, the books reveal how Trump aims to attack Clinton in the general election. First, he plans to neutralize her appeal to women by going after Bill's sex life. "You know what a showman he is," Stone says. "You can imagine him at a rally saying, Juanita Broaddrick" — who in the late '90s accused Bill of raping her two decades earlier — "you're in the audience, stand up!"
The more surprising tactic is Trump's plan to go after blue-collar Democrats and Bernie supporters by portraying Hillary as greedy and corrupt. The thinking is that voters on both the right and the left will be roused by Schweizer's critique that the Clintons have used their public service to enrich themselves. "Donating to a charity connected to a politician is bribery every bit as much as if you put money in their pocket," Schweizer says. "I think this is a key vulnerability for her." 

In the weeks ahead, Trump will be promoting the film adaptation of Clinton Cash, produced and directed by Brietbart executive chairman Stephen Bannon. Set to an ominous score, with close-ups of the Clintons shaking hands with foreign dictators and bloodstained dollar bills floating on the screen, the movie is anything but subtle (think of it as a 60-minute attack ad in the style of a Michael Bay blockbuster). The movie's rollout has been planned to target disaffected Democrats. MSNBC producers received an advance screening, and Bannon says he plans to show the film to environmental and labor groups. "We feel the people who need to see this the most are progressives and liberals," he said Thursday night at a screening in midtown. "There are multiple different plans to carpet bomb this."
Trump signaled in an interview with Breitbart that he'll be an enthusiastic promoter of the movie. "If Steve [Bannon] is involved, it will be good."