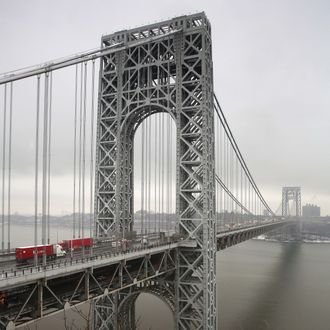 The George Washington Bridge.
Photo: John Moore/Getty Images
While two former Chris Christie allies await trial for their involvement in the Bridgegate scandal, a federal judge has ruled that the names of other individuals who were aware of the politically motivated scheme to shut down lanes of the George Washington Bridge must be released. The names of those people, who haven't been charged, had been provided under seal to defense attorneys in the case, but had been kept secret from the public by federal prosecutors. A consortium of news organizations went to court to force the disclosure of the names.
NJ.com reports that U.S. District Judge Susan Wigenton ruled that the public has a right to know who else was involved in the scheme and its subsequent cover-up. In her decision, Wigenton said that while privacy for third parties was important in criminal cases, "this court is satisfied that the privacy interests of uncharged third parties are insufficiently compelling to outweigh the public's right of access." Wrote Wigenton:
There is very little that is private about the lane closures or the lives of the people allegedly connected to them. Further, individuals thus far identified as being involved in the lane closings have been public employees and/or elected and appointed officials.
Federal prosecutors have said the lane closures were designed to deliberately cause a traffic jam in Fort Lee, New Jersey — allegedly to punish its Democratic mayor, Mark Sokolich, who didn't back Republican Governor Chris Christie in his bid for reelection. William Baroni, the former Port Authority deputy executive director, and Bridget Anne Kelly, Christie's former deputy chief of staff, were both charged last year with conspiracy and fraud, and are awaiting trial. David Wildstein, another former Port Authority official, has pleaded guilty and is cooperating with federal prosecutors. Christie, who has said he was unaware of the lane-shutdown plan, has not been charged.
No timetable was set for the release of the names of the co-conspirators, but we'll soon have a better sense of exactly how many people it takes to orchestrate a New Jersey traffic jam.