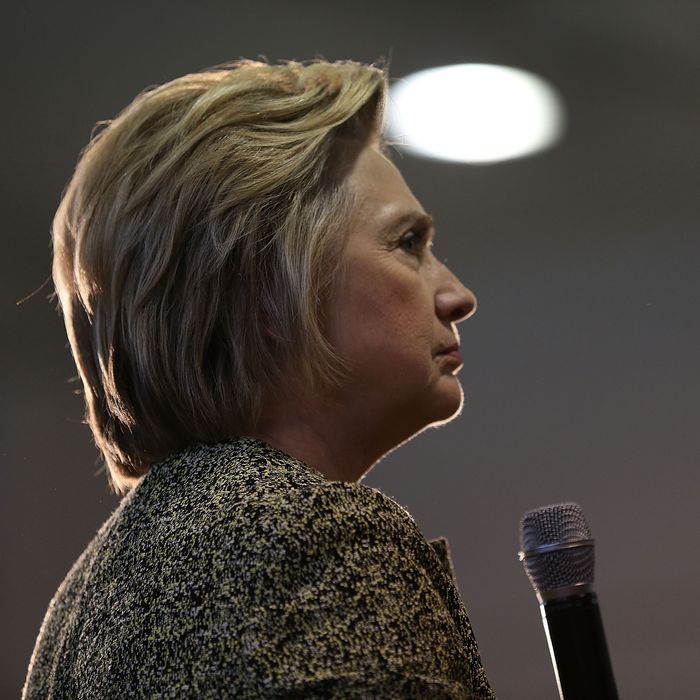 Should've gone with carrier pigeons.
Photo: Joe Raedle/2016 Getty Images
Hillary Clinton is inching closer and closer to the Democratic nomination, but she can't seem to shake her "damn emails." On Wednesday, a federal judge issued an order saying it "may be necessary" for Clinton to testify in regards to her private email server. The order also calls for testimony from top Clinton officials, including Huma Abedin, the vice-chair of Clinton's campaign; Cheryl Mills, who was Clinton's chief of staff during her time as secretary of State; Patrick Kennedy, who served as undersecretary; and Bryan Pagliano, the Clinton staffer who helped set up her private email server, the Washington Post reports.
The decision, made by U.S. District Judge Emmet Sullivan, is in response to a lawsuit filed by Judicial Watch, a conservative watchdog group that submitted a Freedom of Information Act request seeking records concerning Abedin's employment arrangement — for a brief period in 2012, Abedin worked simultaneously for the State Department, as a consultant for the Clinton Foundation, and for a financial-advisory firm with ties to the Clintons. 
Sullivan wrote that Clinton's private email server may have been a "purposeful attempt to skirt disclosure under FOIA" by a federal agency. "In sum, the circumstances surrounding approval of Mrs. Clinton's use of clintonemail.com for official government business, as well as the manner in which it was operated, are issues that need to be explored," he wrote.
Whether or not Clinton will be called to testify depends on information disclosed during the testimony of her staffers. But the eight-week period for testimony ends in June, which means that if she is ordered to testify, she'd have to do so right before the Democratic convention in Philadelphia where she's expected — barring a poorly timed lightning strike or a truly monumental tsunami — to receive the Democratic nomination.
According to the Post, it's not clear whether all six current and former Clinton aides called to testify will actually do so — although government lawyers say current State Department staffers will be available for questioning, Judicial Watch will have to subpoena former staffers, who could object. But Judicial Watch president Thomas Fitton sees Sullivan's order as a victory. "We're going to get facts that have been withheld from the American people," he told the Post. "This was a scheme designed to thwart transparency, and it's come undone." 
Clinton's use of a private email server is being investigated separately by the FBI in conjunction with the Justice Department — the two agencies are trying to determine whether the presence of classified information in Clinton's emails is a crime. That investigation, said Brian Fallon, a spokesperson for the Clinton campaign, is the campaign's main focus. "Hillary Clinton has long expressed her willingness to cooperate in that review," he said. "We remain confident that review will affirm that nothing inappropriate took place."
Critics say that Clinton's private email server made sensitive information vulnerable to hackers, and one — a Romanian named Marcel Lazar who goes by the name "Guccifer" — yesterday claimed to have accessed "hundreds of folders" on her "completely unsecured" server. Although Lazar is the one who initially revealed Clinton's private email address, in this case, the Clinton campaign says his claims are unfounded. 
Still, Lazar's allegations sound exactly like something Donald Trump, who Clinton will likely run against in the general election, will use against her. He's already shown that, unlike Sanders, he has no qualms against attacking Clinton for her emails: "It's a criminal activity," he told Good Morning America back in March. "What she's getting away with is absolutely murder." And that was when he had other Republicans to besmirch.