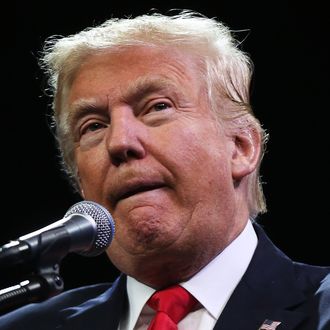 Trump isn't pleased with the verdict.
Photo: Spencer Platt/2016 Getty Images
On Monday, a federal judge in San Diego ordered the release of hundreds of pages of internal documents belonging to Trump University, the school designed to teach aspiring real-estate investors how to mimic Trump's decision-making process and end up rich. The plaintiffs in the case, filed in 2010, accuse Trump and his now-closed school of defrauding people who paid "as much as $35,000 for real estate advice," according to The Wall Street Journal; a similar case was filed in New York in 2013.
U.S. District Judge Gonzalo Curiel's order requires that, among other documents, two sets of Trump University "playbooks" will be released — one published by Politico in 2010 reportedly instructed Trump University employees to rank each student by their assets to figure out which course packages they could afford.
Other documents released will include a sales handbook that gives employees instructions on selling Trump University programs and procedures on dealing with students and the news media, the New York Times reports. Curiel added that making such documents public in a fraud case is "routine" and "commonplace." The deadline for the documents' release is June 2.
On the same day Curiel's ruling was handed down, Trump lambasted the judge by name at a rally in San Diego, devoting a full ten minutes of his 58-minute speech to the case. "I have a judge who is a hater of Donald Trump," he said. "He's a hater. His name is Gonzalo Curiel. He is not doing the right thing. And I figure, what the hell? Why not talk about it for two minutes?"
"We're in front of a very hostile judge. The judge was appointed by Barack Obama," Trump said, before adding that he believed Curiel to be Mexican. (Curiel was, in fact, born in East Chicago, Indiana.) He later added a few tweets to his diatribe for good measure:
Looks like the Republican-nomination process isn't the only thing that's "rigged."