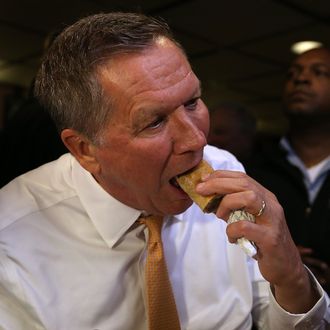 Eat the pain away.
Photo: Justin Sullivan/Getty Images
Shortly after it became apparent that the Hoosier State had no interest in turning back the tide of Trumpism Tuesday night, Ted Cruz told a crowd of mourning movement conservatives that it was time to cut their losses. John Kasich, who still trails Marco Rubio in the delegate count months after the Florida senator dropped out, offered no such concession.
In fact, the Ohio governor appeared committed to carrying on his quixotic crusade. After all, Indiana didn't really hurt Kasich's chances of securing the the nomination, which were zero going into Tuesday and zero coming out of it. But after RNC chair Reince Priebus commanded Republicans to line up behind the Donald on Twitter last night, Kasich decided that no amount of free sandwiches or self-delusion could make his campaign tenable any longer.
According to multiple reports, the governor will announce the suspension of his campaign at a press conference in Ohio at 5 p.m., making Donald Trump really, truly, indisputably the Republican nominee for president.