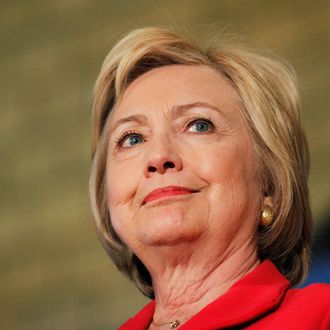 You win some, you lose some.
Photo: John Sommers II/2016 Getty Images
After almost three agonizing hours in which first Clinton pulled ahead, then Sanders, then Clinton again, the Democratic primary in Kentucky is still too close to call. With 99 percent of precincts reporting, Clinton is ahead of Bernie Sanders by less than a single point, according to the Upshot — at last count, she and Sanders were separated by a few more than 4,000 votes.
NBC went ahead and called the race for Clinton — and Clinton herself declared victory on her official Twitter account — but other outlets have yet to declare a winner. Only one thing is certain: It won't be O'Malley.
Meanwhile, the results of the Republican primary in Oregon are out, and in a real shocker, multiple outlets have named Trump the winner. With 21 percent of precincts reporting, Trump holds 64 percent, which isn't surprising given all his opponents have dropped out. He'll likely win most — if not all — of Oregon's 28 delegates, putting him even closer to officially clinching the Republican nomination.
Oregon's Democratic primary proved slightly tougher to parse, but about 45 minutes after polls closed, multiple outlets declared Sanders the projected winner. With 60 percent of precincts reporting, Sanders holds a six-point lead over Clinton, according to the Upshot.
This post will be updated as more information becomes available.