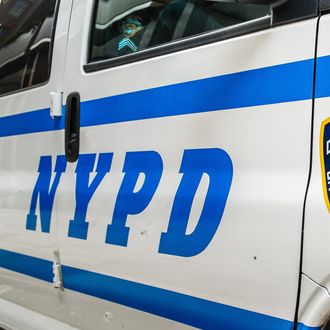 An appellate court ruled that details about the X-ray vans' use can remain a secret.
Photo: Edi Bähler/Getty Images
For years now, the NYPD has used specially designed X-ray vans that can scan vehicles and buildings for weapons and drugs. It's a controversial program, drawing criticism from the ACLU not just because of privacy issues, but because of concerns over the possible health risks they may pose. But an appellate court Tuesday overturned a lower-court decision and ruled that the NYPD doesn't have to disclose details about how the vans have been used or how much they cost, agreeing with the department that concerns over terrorism outweighed the public interest.
ProPublica has long sought information about the NYPD's secretive counterterrorism vans, and the court did rule that the department must disclose to the media organization how many of the unmarked vans it has and what tests it has done to make sure the radiation they emit is at safe levels.
The vans use Z Backscatter technology similar to the body scanners pulled from airport security checkpoints by the TSA in 2013 after the flying public raised questions about privacy. The technology is banned in European airports because, per the Daily News, it emits radiation doses that are 40 percent stronger than those used by regular airport scanners. ProPublica explains that the Backscatter X-rays bounce back from the target to create an image, and that they may also expose people to ionizing radiation, which can increase the risk of cancer.
Police commissioner William Bratton said he and his deputies were "very happy" about the decision, calling the vans "an essential part of our counter-terrorism capabilities."
The NYPD had argued that releasing details about how the vans are used, or have been used, would allow terrorists to infer the locations and times that the vans aren't deployed, and plot attacks accordingly. The department's top lawyer said the vans are used "selectively based on the situations we confront on a day to day basis," but that vague description may now be the closest we get to learning exactly how the secretive program operates.