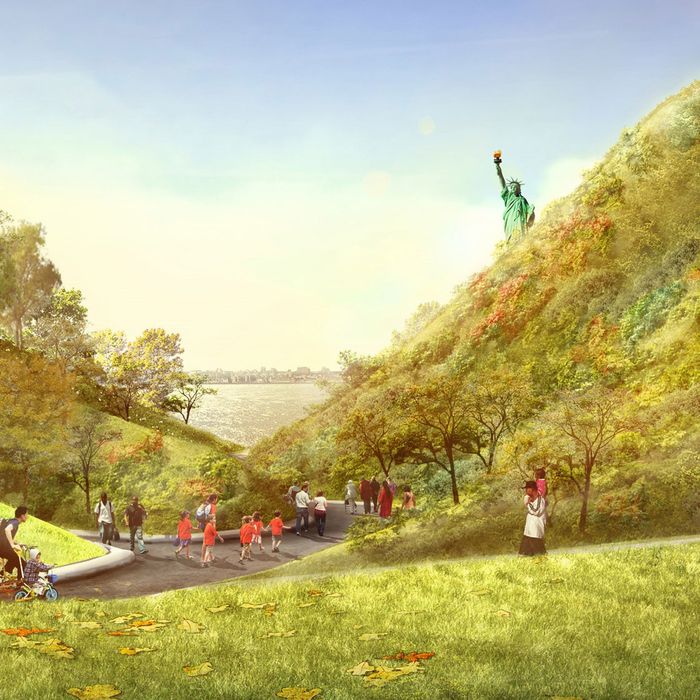 A rendering of one of Governors Island's man-made hills.
Since 2012, nearly 300,000 cubic yards of fill have been added to Governors Island in a massive project to create man-made hills with spectacular views of lower Manhattan and New York Harbor. And in a turn of events New Yorkers may be unfamiliar with, the whole project is actually ahead of schedule, so rather than opening to the public in May 2017, the hills will now open this summer, on July 19.
As part of the project, four different man-made hills, rising from 25 to 70 feet, are being constructed. Each has a distinct feel: One, for instance, has a gentle grassy slope, while another features a path to a summit that offers 360-degree views of the harbor. (Another has a series of slides, including one that, at 48.5 feet, is the longest in the city.)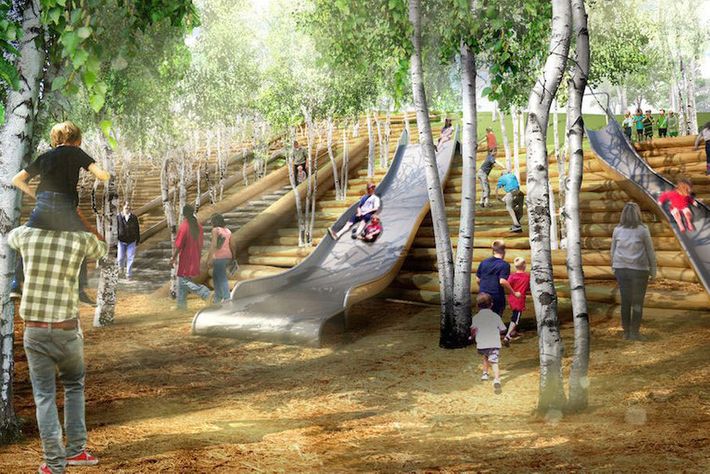 Originally, the plan called for all of this to be completed in December of this year, and to open to the public in May of 2017, when the island begins welcoming visitors for that year's summer season. Instead, it'll be completed nearly a year early and open on July 19. (Other attractions on the island open for the summer this year on May 28.)
Earlier this year, when Governors Island first announced the Hills would be opening sometime in 2016, they credited an unseasonably warm fall and a rigorous construction schedule. So, thanks, El Niño!